Drivers May Be Their Own Worst Enemy in the Pipeline Hack
(Bloomberg Opinion) -- When it comes to the Colonial Pipeline shutdown, it would be going too far to say East Coast drivers have nothing to fear but fear itself. In the immediate future, though, fear is the biggest threat to their gasoline supply.
With the hacked pipeline still mostly inoperable, it's time to look at how much gasoline drivers stretching from Maine to Florida have lying around to cover a shortfall in supply. The good news: There's quite a lot. The bad news: It also depends on where you live along the Eastern Seaboard and, crucially, how relaxed you are about all this.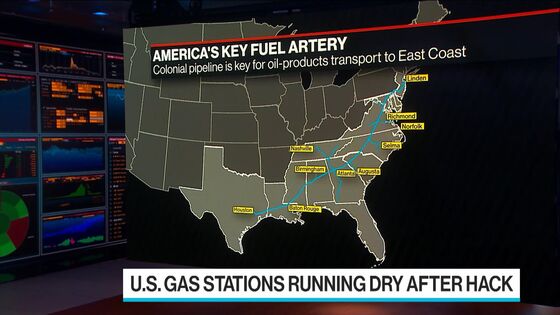 At the end of April, the Petroleum Administration for Defense District 1, which covers 17 eastern states plus the District of Columbia, had almost 65 million barrels of gasoline in commercial storage (the one-million-barrel strategic reserve barely counts as a jerry can). But it isn't distributed evenly. Storage tends to be co-located with refining and import centers, which in this case means New York Harbor and Philadelphia dominate. So while the Central Atlantic states constitute only a third of the East Coast's gasoline demand, they hold more than half the stocks. New England, which lies at the extremity of the U.S. oil logistics network, and the Southeast, which accounts for half the East Coast's demand but has no refineries, are more exposed.
The chart below shows gasoline stocks for the three sub-regions at the end of April as a function of demand over the subsequent three months. This includes part of the all-important summer driving season after Memorial Day. While that was subdued in 2020, Americans should be itching to get on the road this summer. The exact level is open to debate, of course, so for 2021, I've given a range based on the highest and lowest gasoline consumption for the period May through June in the years 2015-2019.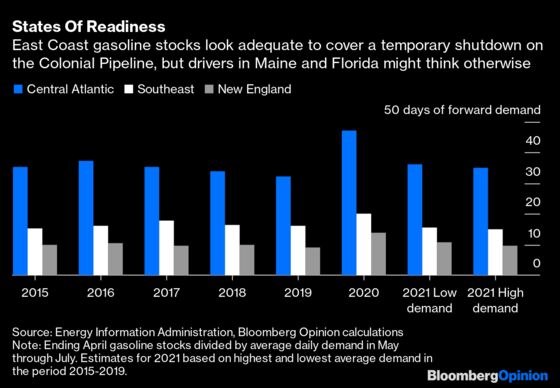 Overall, the East Coast has about three weeks' worth of likely demand cover, but drivers north of New York City and south of Washington might take less comfort in that. Herein lies the problem.
I wrote here that Saturday morning headlines about a 1970s-style oil embargo probably would have spurred gas lines that day. A cyber-attack on the main pipeline supplying the East Coast, while also potentially very serious, is just that bit more abstract. As it is, gasoline cracking margins are up, but there's no sense of panic in the oil market just yet.
However, if the shutdown drags on and as knowledge of it spreads, more drivers will take the precaution of filling up even when they normally wouldn't. That in turn drains inventories more quickly, which also pushes prices higher, which in themselves are a visible signal to drivers to pump gas sooner than later. The Colonial Pipeline hack is a crisis demanding a national response. For now, though, drivers' biggest threat may be their own instinct to hoard.
This column does not necessarily reflect the opinion of the editorial board or Bloomberg LP and its owners.
Liam Denning is a Bloomberg Opinion columnist covering energy, mining and commodities. He previously was editor of the Wall Street Journal's Heard on the Street column and wrote for the Financial Times' Lex column. He was also an investment banker.