Americans Stop Covid Wiping, Clorox Takes a Beating
(Bloomberg Opinion) -- The year of the Clorox wipe is over. The disinfectant company's latest quarterly results show how far the U.S. has come since the worst of the Covid-19 pandemic. It's also a lesson in how short-lived pricing power can be for sought-after consumer brands. 
Clorox Co. said Tuesday that sales fell in all of its businesses in the three months ended in June, led by a faster-than-expected drop in its cleaning-products division. A year ago, sales were up across the board as virus fears and lockdowns drove demand for everything from bleach and wipes to grilling supplies and ranch dressing — yes, Clorox makes all of those items. At the time, consumers had been so desperate that retailers such as Costco Wholesale Corp. had to ration packages of Clorox wipes for the lines of masked shoppers that stretched around store buildings and parking lots. Some shoppers were even using them to wipe down their other grocery purchases because virus transmission was less understood than it is now. Even as Clorox ramped up production, it said last May that sales reached five times the normal level.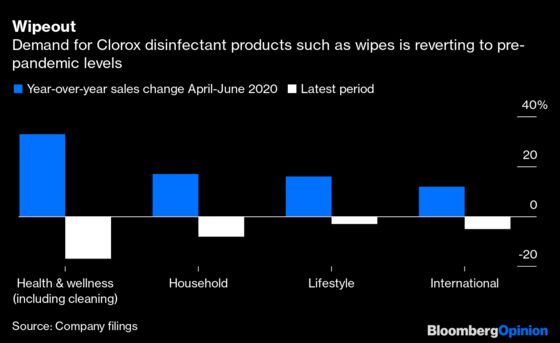 This May and June looked entirely different. The lines moved from Costco back to venues such as Chipotle and Disney World as Covid-19 vaccines became available around the U.S. and lockdown restrictions loosened. Even with the threat of the delta variant bringing back masks and cautious behavior, households probably aren't going to return to the obsessive sanitization habits of the early pandemic days. Clorox's gross margin — a measure of its strength in setting prices to cover production costs — fell to 37.1% last quarter from 46.8% a year ago as manufacturing and transportation of goods became more expensive.
It was the first time that Clorox's gross margin fell short of analysts' estimates in nearly three years, and investors didn't greet the news well: The stock plunged 12% Tuesday morning, its biggest one-day drop in more than 20 years. Executives cited "significant cost inflation" for commodities, which is expected to get worse this period before it gets better. For Clorox, the timing is unfortunate because just as demand for its products is waning, input costs are surging and its pricing power just isn't what it was. (When its products were most in demand last year, the economy was also in turmoil, so the company refrained from price-gouging.)
Other consumer brands are raising prices and turning to "shrinkflation" — shrinking packages to charge more for less — to offset higher commodity and labor expenses. For example, burrito vendor Chipotle Mexican Grill Inc. said it raised menu prices about 4% after increasing its average hourly wage to $15 in June. Procter & Gamble Co. announced price hikes for many of its items, including a double-digit increase for Swiffer cleaning mops. In the sneaker wars, Nike Inc. and Under Armour Inc. have pulled back on discounts as they push full-price merchandise. 
But let Clorox be a cautionary tale. The pandemic-driven surge in demand for consumer goods above and beyond pre-Covid levels won't necessarily last, and at some point shoppers will flinch at higher sticker prices. As government stimulus money recedes, it may expose a consumer much less willing to absorb companies' inflation pain. The prospect of new lower levels of demand could eventually ease some business cost pressures, but the lag may put profit margins and rich stock prices at risk. In July 2020, shares of Clorox were trading at more than 32 times earnings, a 35% premium to their three-year average. With the stock down this year, it now trades at a multiple of 21.
"Recent spikes in the producer price index and a smaller increase in the consumer price index is enough to raise a caution flag for equity margin expansion potential for the next few quarters," Gina Martin Adams, chief equity strategist for Bloomberg Intelligence, wrote Monday. Essentially, there are already signs that companies are having a harder time passing off costs to customers, and dips in operating-margin forecasts suggest stock prices will follow. 
It's a relief to no longer be racing to the disinfectant and toilet-paper aisles at the grocery store and feeling the utter despair of empty shelves. But the recovery has taken a wayward path, and the return to normal won't be an easy adjustment for either Clorox or the rest of corporate America. 
This column does not necessarily reflect the opinion of the editorial board or Bloomberg LP and its owners.
Tara Lachapelle is a Bloomberg Opinion columnist covering the business of entertainment and telecommunications, as well as broader deals. She previously wrote an M&A column for Bloomberg News.