A Carbon Border Tax Is a Necessary Nuisance
(Bloomberg Opinion) -- The European Union wants to prove to the world just how serious it is about fighting climate change. But can it coerce other countries to act as decisively?  
On Wednesday, the European Commission will outline a hugely ambitious package of climate legislation with the aim of achieving the bloc's goal of cutting greenhouse gas emissions by at least 55% from 1990 levels. The "Fit for 55" measures encompass several vital areas: phasing out combustion engine vehicles, a minimum tax on polluting aviation fuels and the inclusion of shipping in Europe's emissions trading system.
While these are all radical and important, a new levy on heavy industry imports that fail to meet Europe's more exacting climate protection standards is the most contentious. No wonder.
Under the plan, importers will have to pay a surcharge based on the carbon content of their products, one that reflects the emissions-trading costs a European producer would face if it polluted the same amount. The mechanism will be phased in and applied only to a handful of sectors — iron, steel, cement, aluminum, fertilizers and electricity imports — at first.  
It's set to annoy a lot of people. Trading partners will inevitably view it as a protectionist measure that unfairly penalizes their exports. Russia, China and Turkey are among those with most to lose. It threatens to worsen trade tensions, while potentially unfairly penalizing poorer countries.
Within the EU, domestic companies are demanding the right to retain the pollution exemptions granted to them under the current system, the climate policy equivalent of having their cake and eating it. While the steel industry is generally supportive of the move, aluminum producers want no part of it.

Despite all these complications, a carbon border tax is necessary. It will allow Europe to take more decisive climate action while preserving a level playing field for its companies. It can't afford to sit still if it's to become carbon-neutral by 2050.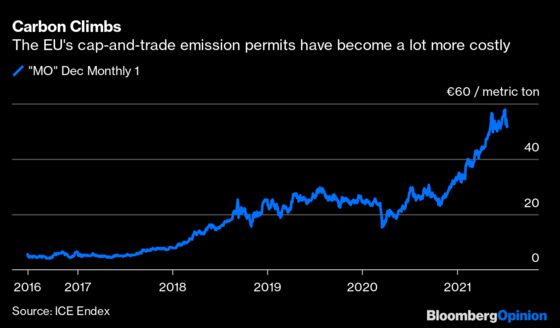 Of course it would be better if the world agreed a common minimum price for carbon and moved lockstep to reduce emissions. But that's not happening. Though blunt and unilateral, the EU's levies might just encourage more synchronized action, while protecting domestic companies from "dirty imports." 
The pace of reductions needs to pick up. Compared to the power sector, heavy industry has made comparatively slow progress. While that's partly due to a lack of cheap new technologies to do so, energy-producing industries have long received free emissions allowances covering the vast majority of their emissions, meaning there's been little incentive to improve.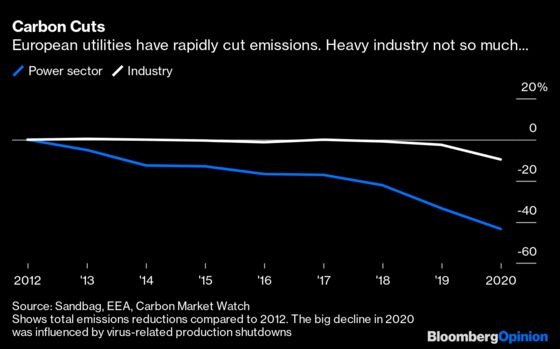 To ensure compliance with World Trade Organization rules, these free permits will have to be phased out, eventually. In the short-term, a transition period is likely, where European industry keeps the bulk of them, while importers are cut a corresponding amount of slack. 
Administering the new rules will undoubtedly be complex and there may be opportunities for importers to game the system. A metals producer might allocate its comparatively small proportion of "clean" production to the European market, for example, while doing little to clean up the rest of its plants. The EU should set aside money to limit the burden on poorer countries.
Europe is setting down an arduous path, but it will be worth the effort. This continent grew wealthy from an industrial revolution that's heating the planet; it has a responsibility to act first to mitigate the damage that's been caused. European companies shouldn't have to suffer unduly for doing the right thing.
This column does not necessarily reflect the opinion of the editorial board or Bloomberg LP and its owners.
Chris Bryant is a Bloomberg Opinion columnist covering industrial companies. He previously worked for the Financial Times.