The U.K. Belatedly Escalates Its Green Gilt Ambitions
(Bloomberg Opinion) -- By the end of this quarter, the U.K. will finally have gilts on the global menu of green sovereign bonds. But unless it ramps up the scale and speed of its planned sales of the debt, the nation will lose out on both cheaper funding and a good opportunity to address the climate emergency.
The government on Wednesday published its Green Financing Framework, detailing the kinds of projects it intends to fund, including introducing more zero-emission public transport, installing renewable heat technologies and enhancing biodiversity. To meet its goals of reducing carbon emissions by at least 68% in 2030 and 78% by 2035, both compared to 1990 levels, the U.K. plans a mix of government bond sales and retail-targeted savings bonds to finance more initiatives.
But it's already taken far too long for Britain to join the list of green debt issuers.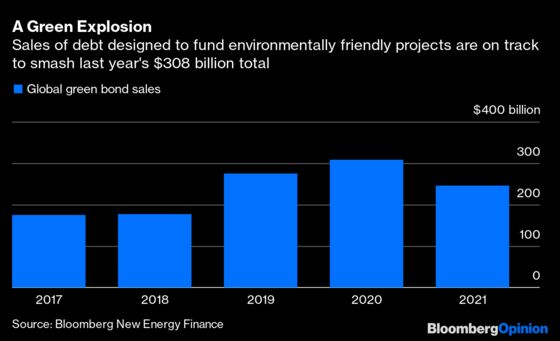 Robert Stheeman, who's been in charge of U.K. borrowing since 2003, has slowly come round to the idea. In January 2020, he told the Financial Times that selling green gilts would be "symbolic" unless there was a cost advantage for the government. Six months later, he told my Bloomberg News colleague John Ainger, "I would definitely not rule anything out."
But the delay means the U.K. has already probably paid more than it needed to on at least part of the almost 200 billion pounds ($276 billion) of gilts sold this year.
That's because the numbers suggest investors are indeed willing to pay more for green debt. Germany, for example, has two bonds repayable in 2030 that are identical, except one is designated as climate-friendly. Since its September sale, the yield on the green security has dropped further and further below that of its twin — evidence that the so-called greenium is growing.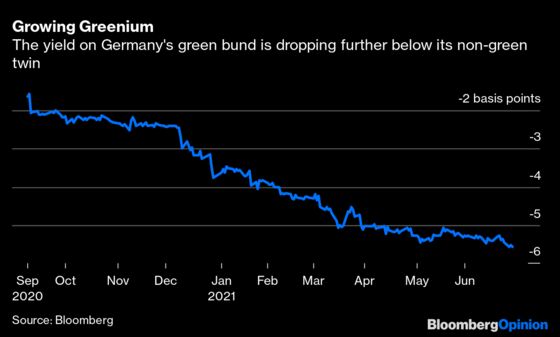 New laws that come into force in October oblige big U.K. pension managers to report on how climate change affects the retirement savings they oversee. Those requirements, coupled with a structural shift that's prompting so-called defined benefit schemes to increase their fixed-income holdings, will drive "strong demand for green gilts," according to RBC Europe insurance analyst Gordon Aitken.  
The U.K. program will "probably be the most ambitious green sovereign gilt issuance of any major country in the world and will certainly be the largest," Chancellor of the Exchequer Rishi Sunak told Bloomberg Television on Thursday. That smacks of hyperbole, given the European Union's intention to use green debt for as much as a third of its planned 800 billion-euro ($944 billion) fundraising for the bloc's NextGeneration pandemic recovery program in the next five years. The biggest outstanding sovereign green bond currently in the market comes courtesy of the French government and has a size of almost 29 billion euros.
But at least Sunak seems to recognize the scale of the opportunity in climate-friendly financing, not least as the City of London needs to capture as big a slice as possible of any new capital markets initiatives if it's to shake off post-Brexit malaise.
Next month, the DMO will meet with investors and market makers to work out the tenor of the first green gilt, planned for September. A 10-year issue is seen as the most likely maturity. I'm willing to bet that investors will be queuing around the block to buy — and at a discount to the prevailing yield on the benchmark gilt, which is currently about 0.75%. Better late than never, I guess.
This column does not necessarily reflect the opinion of the editorial board or Bloomberg LP and its owners.
Mark Gilbert is a Bloomberg Opinion columnist covering asset management. He previously was the London bureau chief for Bloomberg News. He is also the author of "Complicit: How Greed and Collusion Made the Credit Crisis Unstoppable."