Will New York's Fitness Scene Stay Home?
(Bloomberg Opinion) -- Rewind to February 2020: Fitness studios are booming in New York City. As the workday winds down, young professionals, largely women, are scurrying out of office buildings with yoga-mat sacks or gym bags slung over their shoulders. Many of them have booked their workouts on ClassPass, a subscription service that allows members to take classes at gyms and boutique studios all over the city (and elsewhere in the world). ClassPass Inc. had just joined the $1 billion unicorn startup club, and it created a way of life — until, of course, Covid-19 shut everything down and life became confined to one's living space. 
More than a year later, some ClassPassers may have forgotten they were still signed up. The reminder came this week when the company notified New York customers by email that it would "unpause" membership plans on May 10 as the city reopens. In other words, you'll be charged soon unless you cancel. It raises the question, what happens to ClassPass now? As some customers took to social media to say they can't wait to get back to their favorite spin or Pilates studio, another set expressed hesitancy about the safety of doing so just yet. Others dismissed the idea of paying for ClassPass in this new normal. The prospect of continued work from home for some people, along with Peloton Interactive Inc.'s surging sales, perhaps points to why. 


With an uncertain road ahead, ClassPass appears to be looking for a deal.  Bloomberg News reported Tuesday that the company has held merger talks with Mindbody Inc., a business that was taken private by Vista Equity Partners in a $1.9 billion leveraged buyout two years ago. Mindbody is the maker of appointment-booking software used by gyms and salons, and together with ClassPass they may be able to cut costs and find other benefits of scale — potentially with the goal of going public.
The services have a bit in common, although ClassPass customers pay for a monthly allotment of credits to book classes at discounted rates, and studios negotiate a cut. In that way, it's both a marketing tool for gyms and a competitor of sorts. Before the pandemic, it wasn't unusual for fitness instructors to complain about the trade-offs of working with ClassPass or pressure users into switching to a gym membership. But the appeal of ClassPass is not being tied to one studio. It also came to encompass other forms of so-called wellness, such as acupuncture and massage sessions offered by spas. And it has livestream and on-demand virtual classes.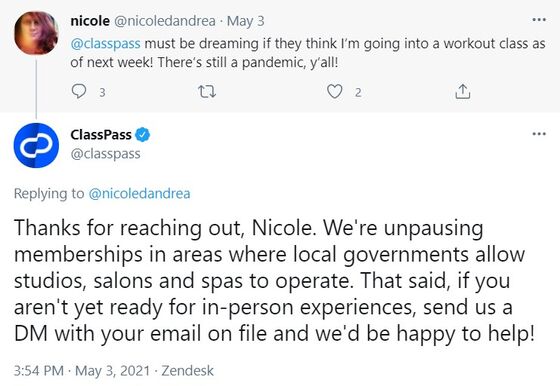 Many fitness industry businesses failed during the crisis. In New York, capacity limits and calls to upgrade ventilation systems made it difficult for small businesses to make money. "It would've completely bankrupted me," Lisa Eskenazi Boyer, the owner of the once-bustling Simply Fit in Astoria, Queens, told me last summer after she permanently closed her nearly 10-year-old business because of the pandemic. New York-based Flywheel Sports Inc. also filed for bankruptcy in September and closed its locations, followed by YogaWorks Inc. in October.
Larger chains 24 Hour Fitness Worldwide Inc., Town Sports International Holdings Inc. and Gold's Gym International Inc. filed for Chapter 11 restructuring. As of December, about 6,800 U.S. health clubs, or 17%, had closed permanently, according to the International Health, Racquet and Sportsclub Association. In the same way that many office tenants are rethinking their workplace policies to include more remote-work options, gyms may need to adopt a hybrid model, given that 68% of Americans who started using an online fitness service last year plan to keep doing so.
Peloton, which has benefited from the demand for in-home fitness equipment and courses, is scheduled to report earnings on Thursday, giving an early glimpse at how Covid vaccines may change the equation. Apptopia data compiled by the Wall Street Journal last month showed Peloton's hold has remained strong so far in 2021 even as apps tied to gyms such as Blink Fitness have recovered; ClassPass, though, has languished.
New York State is removing capacity limits for businesses such as stores, restaurants and fitness centers beginning May 19. Whether people go back to lugging their yoga mats around the city may depend on how many get the call to come back into the office and whether they've already shelled out $2,000 for a Peloton.
This column does not necessarily reflect the opinion of the editorial board or Bloomberg LP and its owners.
Tara Lachapelle is a Bloomberg Opinion columnist covering the business of entertainment and telecommunications, as well as broader deals. She previously wrote an M&A column for Bloomberg News.