Chipotle Drive-Throughs Open a Window of Opportunity
(Bloomberg Opinion) -- When Chipotle Mexican Grill Inc. reports earnings Tuesday afternoon, the burrito chain's digital prowess will likely be on display, with strong online ordering helping it turn in another quarter of robust comparable sales growth amid an extraordinarily difficult time for the wider restaurant industry. But as much as Chipotle's digital innovations have helped set it apart from rivals and drive gains, its future success may depend on something decidedly more old-school: the drive-through. 
This familiar fast-food format hasn't been a requisite of the fast-casual formula, and it is relatively new for Chipotle, with more than 120 such locations in a restaurant fleet that totaled 2,710 as of September. But the set-up doesn't just shuffle burrito orders from one channel to another — Chipotle has said it adds to sales and helps with profitability. Indeed, an analysis in a recent research note from Sara Senatore, a restaurant industry analyst at Bernstein, deconstructs what sales and costs look like at an individual Chipotle location with a drive-through. While the company has said a drive-through lane adds $75,000 to $100,000 to the cost of building a new restaurant, the benefit of embracing the model is obvious. Chipotle's per-store economics were already among the best in the business; adding drive-throughs can help keep it ahead.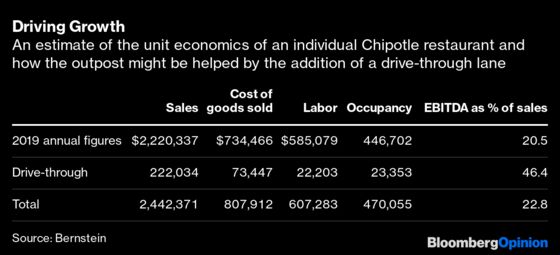 Chipotle's drive-through works slightly differently from the conventional version. Rather than pull up to a menu board and yell burrito ingredients at an intercom, customers must place the order online. This setup is key to the model's power. It gives diners incentive to download Chipotle's app and join its loyalty program, and more customers in its digital ecosystem means better data with which to plan everything from new menu items to store hours. It also means customers can move through its drive-through lanes unusually quickly, which should help with customer satisfaction and potentially allow the window to serve more customers at peak times of day.
The layering on of drive-through and mobile pickup orders to Chipotle's traditional business reminds me a bit of the benefits old-school retailers are reaping from the increased adoption of curbside and in-store pickup of online orders. It lets them leverage existing real estate to pick and pack online orders, saves the expense of last-mile delivery and eliminates some of the downsides of doorstep delivery for customers, such as slower fulfillment. In this way, drive-through and mobile ordering are important counterweights for delivery, another fast-growing area of Chipotle's business that has profitability headwinds because of the costs of ferrying the meal.
If some day Chipotle wants to wring more sales out of each restaurant by adding breakfast or late-night hours, drive-throughs could play an important role, BTIG analyst Peter Saleh points out. Some fast-food chains offer only drive-through service outside of prime business hours to keep a lid on operating costs.
Even before the pandemic, drive-through presented an opportunity for Chipotle. The feature had already been a reliable growth vehicle for the wider industry, and the past year's Covid restrictions and social-distancing recommendations may have made drive-through culture even more entrenched in day-to-day life. McDonald's Corp., for example, has already returned to comparable sales growth in the U.S. with the help of its ubiquitous drive-through lanes, while Starbucks Corp. has said its U.S. drive-through locations had positive comparable sales in the latest quarter. The coffee chain plans to incorporate drive-through at a significant share of its new stores. Shake Shack Inc., meanwhile, is planning to add its first drive-through lanes in 2021.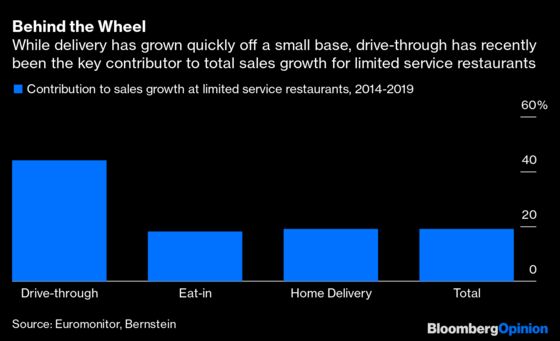 The lift Chipotle gets from drive-through depends heavily on how many locations it has that offer it. The chain has not provided precise guidance for how many restaurants it plans to open in 2021, given pandemic-related uncertainties, though it has signaled it intends to get back toward around 200 openings a year. And it intends for more than 70% of its openings in 2021 to have drive-through lanes. I'd suggest the company move to make 2021 an especially aggressive year for adding new outposts. Its fleet is nowhere close to its long-term size target, and it is in a very strong position to negotiate with landlords to open new restaurants or retrofit existing ones, given that many retail tenants are seeking rent forgiveness or closing locations. 
Drive-throughs with a digital twist looked promising for Chipotle even before the extraordinary changes that shook the industry in 2020. Going forward, they may prove to be essential in helping the burrito chain retain and win market share. 
Chipotle is also experimenting with price increases on delivery orders to help make the economics of this format more favorable.
This column does not necessarily reflect the opinion of the editorial board or Bloomberg LP and its owners.
Sarah Halzack is a Bloomberg Opinion columnist covering the consumer and retail industries. She was previously a national retail reporter for the Washington Post.