Chipmakers Are Sending a Warning About the Economy
(Bloomberg Opinion) -- It's transitory. That seems to be the message investors are sending as they push market indexes to new highs daily right after several technology companies warned supply-chain bottlenecks, labor shortages and delivery problems would crimp their holiday results.
But investors might be missing something. Disappointing results from three key chip companies could mean cracks are forming around the bull narrative. And they may turn out to be the warning signs this upturn is nearing its end.
Consider Texas Instruments Inc. The semiconductor stalwart sells the basic building-block chips that go into products in nearly every sector of the economy from autos and industrials to consumer electronics. The broad-based nature of the company's more than 100,000 customers makes it a reasonable economic bellwether.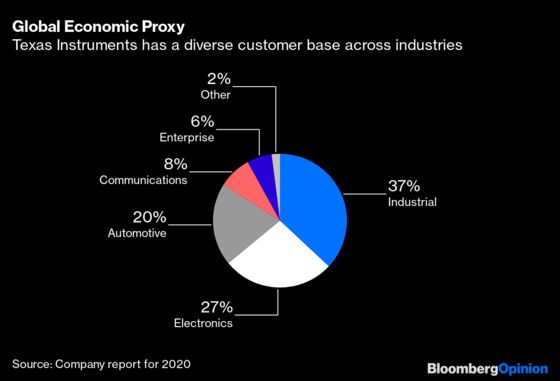 That's why it was a big deal when the company's management noted last week that it saw a notable behavior change in customer order patterns. On top of providing a lower-than-expected forecast for the December quarter, Texas Instruments said clients were now being "more selective" in asking for rush delivery for chips. This was happening, the company said, across industries and geographies. The company's stock fell 5% the day after its report.
Texas Instruments wasn't alone in delivering bad news. Last Thursday, hard-drive and flash memory maker Western Digital Corp. stunned investors with an adjusted earning-per-share projection roughly 20% below expectations, driving its shares 9% lower the following day. It came after memory-chip maker Micron Technology Inc. also provided a worse-than-expected outlook in late September.

Not all semiconductor firms are doing poorly. Nvidia Corp. is thriving with its more expensive and complex graphics chips that are benefiting from the long-term growth of gaming and artificial intelligence, while Advanced Micro Devices Inc. is flourishing by taking market share from Intel Corp. because of its better-performing server processors.
But Western Digital and Micron make cheaper, more commodity-oriented chips that go into a variety of end markets. Their broad use makes them a good indicator of economic trends, too. The two companies defended themselves, saying the weakness wasn't due to demand but related primarily to shortages for other components experienced by their customers.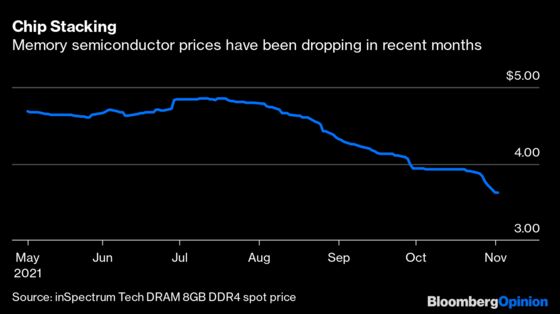 It doesn't add up. First, memory chip prices have been tumbling for months. If this were a short-term phenomenon, buyers would appear at some point. Second, major retailer websites – including Microcenter, Best Buy Co. Inc. and Costco Wholesale Corp. – reveal plenty of discounted laptops and other devices in stock. It feels as if the chipmakers are making excuses by pointing to external factors for their poor performances while hoping things will turn around later.
The semiconductor industry is known for trending in cycles. During upturns, companies tend to "beat and raise" versus Wall Street consensus, meaning they report better-than-expected results and raise their forecasts. Then near the cycle peak, the companies typically overbuild and customers tend to order more chips than they need. That's when the cycle reverses, leading to gluts and plunging prices. What other things should we look for to confirm a downturn is underway?  Companies missing targets, along with rising inventories on their balance sheets and deteriorating profit margins.  
The combination of falling chip prices, changes in order behavior and disappointing forecasts all look like red flags. It is always possible the component shortage explanations will turn out to be accurate and that demand returns next year. But I wouldn't count on it.
This column does not necessarily reflect the opinion of the editorial board or Bloomberg LP and its owners.
Tae Kim is a Bloomberg Opinion columnist covering technology. He previously covered technology for Barron's, following an earlier career as an equity analyst.