China Won't Save Evergrande for Many Good Reasons
(Bloomberg Opinion) -- With Chinese high-yield issues experiencing their worst selloff in a decade, murmurs are growing that China is poised to blink and relent on its property tightening measures. That hope was shattered on Friday.
At a news briefing, the People's Bank of China broke its silence on China Evergrande Group and said financial risks posed by distressed property developer, which is on the brink of a $300 billion debt restructuring, is "controllable." That is a code word for "no bailouts." The central bank tossed the blame to Evergrande. "In recent years, the company failed to manage its business well and to operate prudently amid changing market conditions," an official said. "Instead it blindly expanded and diversified." 
And so, China's real estate developers are poised to enter their harshest winter ever. With over 400 tightening measures this year alone, property sales at major developers slumped by as much as 30% in September. Financing has also become impossible. Is China being too harsh on an industry that makes up 15% of its gross domestic product? 
The PBOC can be forgiven for being cold-blooded. This is not the first time China has tried to tame home prices. In the last decade, there have been at least three tightening cycles. However, the country's clever, unruly and resourceful developers always found a way to profit. Even with its steely knives, Beijing couldn't kill the beast.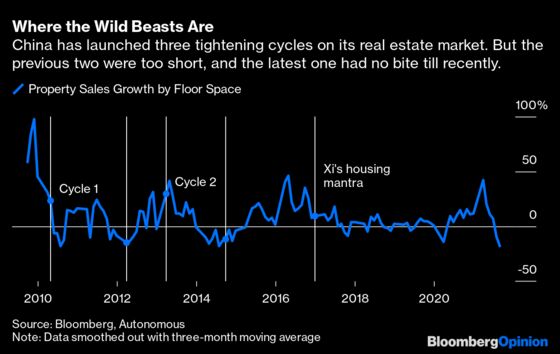 Some of the developers' financing deals were worthy of death-defying circus acrobats. One tactic was to scale-up at all costs — because size matters. Banks won't lend unless you are perceived as too-big-to-fail. The moment you have access to much cheaper bank loans, the average cost of borrowing will come down substantially. It's an extreme and tough act. But some developers managed to do it.
Mainland developers have abused practices that work elsewhere. Pre-sales, for example. In Hong Kong, apartments are sold even before they are built but there are no problems with delivery because the city's big property tycoons are cash rich. Not so on the mainland. Because of working capital issues, Evergrande still has to deliver 1.6 million homes to consumers who have already paid.
There are other daredevil antics. We recently discovered that Evergrande was borrowing from everyone, including its own employees and suppliers. And this practice is by no means an Evergrande invention. Asking staff to co-invest was commonplace among the more aggressive developers.
Fujian Fusheng Group Co., a luxury builder, did that via trust products its own employees had bought. The company promised a 30% return in less than a year. It deployed a so-called "3691" model, vowing to break ground on new developments in three months, start pre-sales in six months, finish construction within nine months, and return the money with interest in a year. It's high churn, high leverage. And, surprise, Fujian Fusheng has gone into default.
But what gives any company the confidence to swallow 30% in financing costs? 
The problem is that Beijing never really convinced developers that it was serious about reform. It's almost a policy embarrassment. The government never quite loosened its home purchase policies despite President Xi Jinping talking up his mantra of "housing is to be lived in, not speculated on" way back in December 2016. Even in the midst of the trade war, the Politburo pledged not to use the property market as stimulus. In the first-half this year, the country's 50-plus listed developers accrued $2.5 trillion in liabilities, almost double that of 2017, data compiled by Bloomberg Opinion shows. In other words, they continued to expand, going against Xi's will.
Previous cycles were simply not deep enough to reverse the notion that home prices would always be allowed to rise. Take a look at the one from 2010-2012, when the central bank hiked banks' reserve ratios 11 times; or the one between 2013 and 2014, when local governments implemented home purchase restrictions. Both times, Beijing blinked after just a few months of negative property sales growth.
So, most of those willing to live dangerously survived, and continue to live dangerously. Moral hazard has become such a big problem that some developers believe they are immortal. 
Even now, as China's overall home price growth slows because of Beijing's latest initiatives, there are still pockets of opportunities for aggressive developers. For instance, the city of Dongguan — a manufacturing hub with 7.4 million people that borders the tech hub of Shenzhen — saw housing prices surge nearly 30% last year and another 8.5% this year. If developers worked fast enough bidding, building and selling, they'd have made a handsome return. 
So, there is logic to the government killing a few beasts — that is, letting some developers go bust — just so they learn a different way of doing business. Beijing, don't blink this time.
This column does not necessarily reflect the opinion of the editorial board or Bloomberg LP and its owners.
Shuli Ren is a Bloomberg Opinion columnist covering Asian markets. She previously wrote on markets for Barron's, following a career as an investment banker, and is a CFA charterholder.