China Leaves Money on the Table in Its Euro Bond Sale
(Bloomberg Opinion) -- The People's Republic of China has no problem raising debt internationally — nor should it with an A+ credit rating. A 4 billion-euro ($4.6 billion) sale of new debt in three-, seven- and 12-year maturities on Wednesday showed investor demand is still strong for the sovereign even as worries mount about the state of the corporate bond market domestically.
However, China missed a trick by not issuing a green tranche — as it had suggested was possible at an investor forum in October — with the COP26 climate change conference still ongoing.  
"Greeniums" — the premium commanded by environmentally friendly debt — now cut yields by between 1 and 10 basis points, translating into lower costs for issuers, according to data from ING. So China could have shown it was engaging with the spirit of climate action and saved money too. Compared with some recent sovereign green deals in Europe that have seen order books more than 10 times oversubscribed, China's sale drawing over 17 billion euros of orders wasn't exactly a barn burner.
Initial price talk levels tightened substantially, with the three-year tranche being reduced by 20 basis points, securing the lowest credit spreads yet for China as an international issuer. The sovereign repriced its entire yield curve, and demand was comparable to deals last year and 2019, with order books on average over four times oversubscribed. The dollar tranches that were sold last month received nearly six times the $4 billion on offer.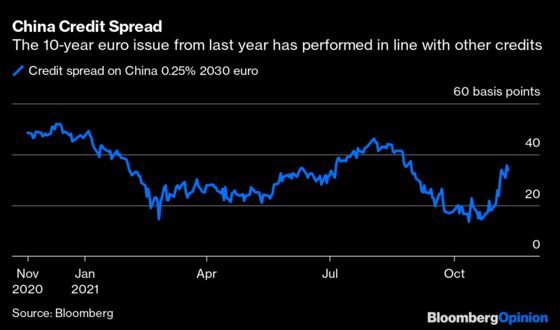 Issuing in euros makes a lot of sense for China.  Most three-year European Union government bonds offer negative yields, so China was able to borrow at about 20 basis points below zero. For the 12-year tranche it's paying around 0.7%, which compares favorably to the 3%-plus yield for domestic government debt.
This is the third year in a row, after a 15-year hiatus, that China has raised international debt in both dollars and euros. The existing deals have largely tightened over time in line with the overall market. The recent secondary spread widening is probably due to the new supply and will likely reverse when the new deals become established.

With the most important political event of the year, the annual communist party plenum, underway, little was being left to chance. Perhaps that is also why a green tranche was left to another time. 

Nonetheless as in previous years, with less challenging backdrops, there is still investor interest in adding exposure to a hugely under-owned sovereign credit. It is, after all, the second-largest economy in the world with only $35 billion available in liquid foreign currency debt.
A successful result, on the busiest day in two months, with 16 other new bond issues vying for investor attention — but it is galling that the obvious step of joining the green bond world was missed.  
This column does not necessarily reflect the opinion of the editorial board or Bloomberg LP and its owners.
Marcus Ashworth is a Bloomberg Opinion columnist covering European markets. He spent three decades in the banking industry, most recently as chief markets strategist at Haitong Securities in London.