No Detours Around the Three Red Lines, Please
(Bloomberg Opinion) -- China's distressed real estate developers have survived many blood baths. Ever ambitious despite their indebtedness, they've deployed nimble tactics to tackle Beijing's policy clampdowns. Sometimes, however, it doesn't pay to be too artful. 
Beijing is tightening the noose again with the so-called "three red lines," regulatory borrowing limits formulated last August that developers must meet: A 70% ceiling on liabilities to assets, a 100% cap on net debt to equity, and cash to cover short-term borrowing. Failing those broad guidelines, companies may see their onshore financing channels shut altogether. 
On paper, developers appeared compliant. By 2020 year-end, seven out of 17 tracked by Bloomberg Intelligence analyst Kristy Hung already showed improvement in their metrics from six months earlier. In early June, China Evergrande Group, the nation's most indebted, promised to meet at least one of the three metrics by the end of the month. 
The reality is a lot murkier. In the last year, companies have used their connections in Hong Kong to issue sizable off-balance-sheet dollar bonds, and deployed convoluted corporate structures to hide debt in order to meet Beijing's new financing rules. Joint ventures, for instance, came in handy. Land auctions can be expensive so developers have incentive to team up with financial investors who are not third-party peers. The accounting benefit of partnerships where the developers hold minority interest is that they can be considered equity instead of liability. The property moguls can consolidate the projects once they've become cash cows.
Apart from prettying up the balance sheet and passing Beijing's three red lines, this joint-venture structure allows companies to rely on capital contributions from its partners to finance its expansion, instead of seeking debt funding from the broader marketplace.
Over the last year, there's been a surge in minority interests in the shareholder mix, a measure of how much joint venturing there could be. Developers that failed the three red lines in August saw that ratio rise to 31% by the end of 2020 from 28% a year earlier, while the shareholder mix of those that passed the test barely budged, data provided by CICC show. S&P Global Ratings, which tracks a larger set of companies, notes that minority interests now account for 39% of a median company's total equity, up from only 14% five years earlier.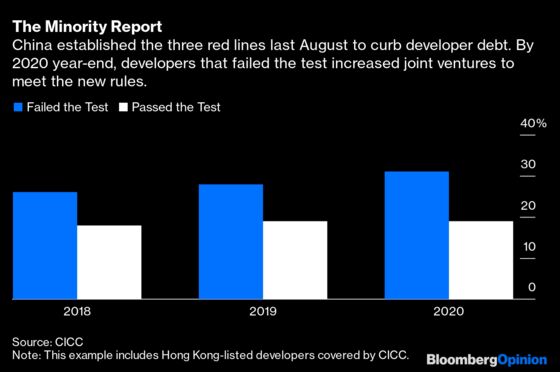 Lately, markets have caught on to this maneuver and are now focusing on the quality of developers' balance sheets. Bond traders began dumping companies that relied on joint venture partners as important funding sources. 
It started in late March with a profit warning from midsized Yuzhou Group Holdings Co Ltd. The company, a prolific user of the joint venture structure, blamed auditor Ernst & Young's "strict" standard — such as requiring documents that showed the developer indeed controlled its joint ventures — before allowing it to move associated projects onto its balance sheet. Last year, while contracted property sales, which include contributions from its joint ventures and associates, rose 39.7% to 105 billion yuan, Yuzhou's actual revenue on the income statement tumbled by 57% to only 9.7 billion yuan. It was not able to consolidate sales of its more profitable projects for the year. 
There was apparently immediate spillover. China Aoyuan Group Ltd., for instance, witnessed a massive selloff. Its $350 million 5.88% dollar bond, issued as recently as late February, is now trading at 85 cents on a dollar. Last year, minority interest at Aoyuan jumped to account for 66% of its total equity, from 59% a year earlier, the company disclosed a week after Yuzhou's profit warning. Others that rely heavily on joint ventures, such as Sichuan Languang Development Co. Ltd., got sold off too.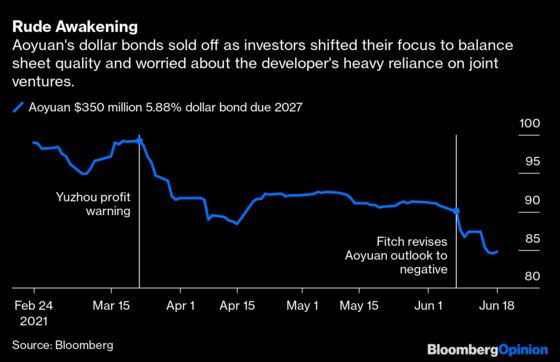 With Beijing casting a sharper eye on accounting maneuvers, a distressed developer without full control of a project won't be able to sell as easily as in the past to improve liquidity. Meanwhile, ratings agencies are closing in. A quarter of rated developers with significant minority interests may face downgrade pressure if these equity stakes are reclassified as short-term debt, S&P warned this month. High-yield developers long accustomed to the voracious appetite of Hong Kong's dollar bond market may suddenly see this door shut, too. 
Beijing is not pleased. Its three red lines were meant to steer developers away from their habitual debt-fueled expansion. It's not a lengthy legal document that spells out all the do's and don'ts. Developers are not supposed to exploit the loopholes. 
As more analysts and media outlets discuss the perils of off-balance-sheet financing, China will take notice. Earlier this year, Beijing's watchdogs started asking large developers to submit monthly leverage reports that include joint ventures' debt conditions, noted S&P. Over time, more developers may have to do the same. It's better to obey the rules — in spirit and truth. 
This column does not necessarily reflect the opinion of the editorial board or Bloomberg LP and its owners.
Shuli Ren is a Bloomberg Opinion columnist covering Asian markets. She previously wrote on markets for Barron's, following a career as an investment banker, and is a CFA charterholder.