The White Knights Bailing Out China's Distressed Companies Aren't Generous
(Bloomberg Opinion) -- As the end of 2021 approaches, China is trying to close some troublesome books. It wants to find solutions for the distressed companies whose dollar-denominated bond defaults and selloffs this year sent shock waves through global markets.
China Huarong Asset Management Co., the country's largest manager of bad debt that went bad itself, is edging closer to recapitalizing and repairing its balance sheet. Meanwhile, a consortium led by Alibaba Group Holding Ltd. is emerging as the frontrunner to help keep afloat chip manufacturing giant Tsinghua Unigroup Co., the nation's indebted semiconductor champion that has defaulted on its dollar bonds.
Yet, looking at the initial details emerging from the rescue packages, one can't help feeling that China's white knights are very generous. Are they just doing the least necessary to show their patriotism as Beijing kicks smelly cans down the road?
In a filing with the Hong Kong Stock Exchange, Huarong said top-tier state owned financiers, including CITIC Group and China Insurance Investment, agreed to inject equity, confirming media reports that the distressed asset manager — majority-owned by the Ministry of Finance — was indeed getting a state-led bailout. With about $21 billion outstanding, Huarong's dollar bonds rebounded and stabilized as investors waited for the arrivals of the white knights and their money.
The actual rescue package, however,  is falling short of investors' expectation. The asset manager is looking to raise only about 42 billion yuan ($6.6 billion) from the share sale, less than the 50 billion yuan package discussed in the summer. Huarong needs a lot more money than that. In 2020, it posted a record $15.9 billion loss.
To make matters worse, the Ministry of Finance — the controlling entity before the share sale — is squirming out of the situation. After this transaction, it will have only about a 28% stake and no longer be responsible for Huarong. Meanwhile, CITIC, widely expected to the new boss, does not seem willing to take over either. It will have just 23.5% of its stock. With such a scattered ownership structure, who will be in charge if Huarong's debt problem blows up again?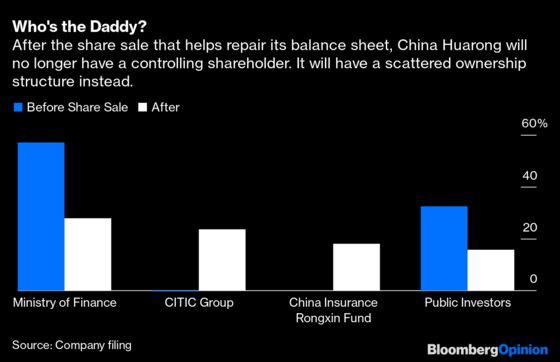 The $7.8 billion deal for Tsinghua Unigroup is not so rich either. With its cutting-edge flash memory factory in Wuhan, Unigroup is one of the two crown jewels in President Xi Jinping's grand "Made in China 2025" plan. It's the closest thing China's got to South Korea's high-tech conglomerate Samsung Group.
Still, Unigroup has a lot of goodies that the new consortium can offload. Unisplendour Corp., which does cloud computing and is 46% owned by Unigroup, has a $12.3 billion market cap. The chip conglomerate also has holdings in Unigroup Guoxin Microelectronics Co., a smart card chip designer with $20 billion market cap. Is this national service or another way for Alibaba to make money?
All these bits and pieces of news out of China can leave the impression among foreign investors that Beijing is finding solutions to its debt problems. Beware! These are just temporary fixes to shore up market sentiment. The fundamental issues have not gone away and might well come back to bite. Perhaps in 2022.
This column does not necessarily reflect the opinion of the editorial board or Bloomberg LP and its owners.
Shuli Ren is a Bloomberg Opinion columnist covering Asian markets. She previously wrote on markets for Barron's, following a career as an investment banker, and is a CFA charterholder.