Everyone's Picking on Evergrande and Its $25.8 Billion Cash Pile
(Bloomberg Opinion) -- The networking skills of China Evergrande Group's billionaire founder Hui Ka Yan are breathtaking. In turbulent times, he got his Hong Kong tycoon friends to prop up his stocks and bonds. On July 1, as speculation swirled about the fate of his company, Hui showed up at the Communist Party's 100th birthday party, a sign that he's got good connections in Beijing.
Yet gravity can only be defied to a point. Despite Hui's resourcefulness, the trajectory of Evergrande's descent into financial crisis in the last two months is clearly recognizable: It's how distressed companies in China edge into default. With its refinancing options dwindling, Evergrande's creditors may just start staking claim to its free cash pile of $25.8 billion. And it owes much more than that.
Evergrande's woes began in late May. Caixin, an influential local financial news outlet, reported that China's regulators were looking into related-party transactions between the developer and a mid-sized bank that counts Evergrande as its largest shareholder. 
Since then, the news has grown worse. There were reports that Evergrande had missed a few payments on its commercial bills, and that three banks with $7.1 billion credit exposure have decided not to renew loans to the company when they mature this year. Evergrande had about $32 billion of commercial bills outstanding as of December, a 24% increase from 2019. Some of its notes traded at an implied yield of as much as 36%. 
But Monday's news was something else: A Chinese court froze a 132 million yuan ($20.3 million) deposit held by Evergrande's onshore real estate subsidiary at the request of China Guangfa Bank Co., a financial institution also headquartered like Evergrande in the Guangdong province. The loan in question is not due till next March. It's already not great if some banks refuse to extend their loans. But if a lender can't even wait until maturity and wants to pull its loans early, it's hard to come to any other conclusion than the debtor company is in an existential crisis. 
About 47% of Evergrande's total borrowings, or 335.5 billion yuan, is due this year, against only 158.8 billion yuan of unrestricted cash at 2020 year-end, company filings show. If the Guangfa court order leads to a rush of banks and trust companies following suit and freezing Evergrande's deposits against their loans as well, we could see a sudden drop in the cash available to the developer. 
Investors have learned to be nervous about how much cash a high-yield developer really has. Is what's entered into a company's latest financial statement really there? In February, China Fortune Land Development Co., the nation's largest industrial park developer, surprised bondholders by disclosing a substantial drop in unrestricted cash from just a few months earlier. The developer has defaulted on its dollar bonds since. It did not have enough cash to meet its repayments. 
The latest news clip is a sign of how fast Evergrande's relationships with some Chinese banks have deteriorated. Its liquidity crunch could be a lot worse than cash coverage ratios — a relatively simple measure of whether a company has enough to repay short-term loans. Perhaps to stave off concerns among its bond- and stockholders, Evergrande said it would sue Guangfa over the court-ordered asset freeze. Guangfa is not a major lender to the developer. 
Evergrande has been in trouble before, notably in 2018 when Beijing launched a deleveraging campaign in earnest, and in early 2020 when the Covid-19 pandemic forced lockdowns across China. But this time is different, if only because Beijing seems to have gotten used to the sell-offs in Evergrande's stocks and bonds: They appear to be contained and have not been market contagions. The government may be convinced that Evergrande is not too big to fail.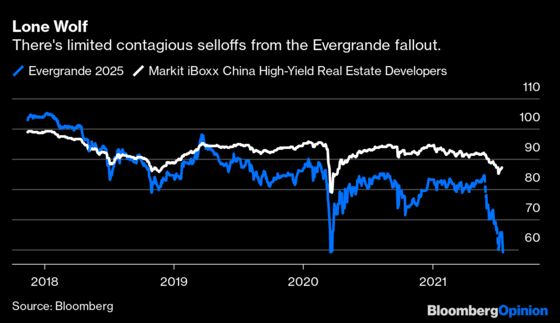 Still, Monday was a bloodbath for the developer. Its Hong Kong-listed shares tumbled 16% to a four-year low, while its China Evergrande New Energy Vehicle Group Ltd. sank 19%. As usual, Evergrande was quick to engage in damage control, putting out a filing after the market close saying that first-half profit at its property management unit Evergrande Property Services Group Ltd. is expected to increase by about 70% from a year earlier. But is that enough? On Monday evening, Shaoyang, a fourth-tier city in the central Hunan Province, said it halted sales of Evergrande's two residential projects there. 
Regional banks and obscure local governments now do not hesitate to reprimand the country's second-largest real estate developer by sales. This is what happens when a conglomerate in China becomes distressed. Hui's invitation to a prime seat in Tiananmen Square on the Party's 100th birthday may not have meant a thing. 
This column does not necessarily reflect the opinion of the editorial board or Bloomberg LP and its owners.
Shuli Ren is a Bloomberg Opinion columnist covering Asian markets. She previously wrote on markets for Barron's, following a career as an investment banker, and is a CFA charterholder.