Chevron's Climate Question: What Wouldn't Exxon Do?
(Bloomberg Opinion) -- As Chevron Corp. contemplates its choices in a low-carbon future, it surely asks itself: What wouldn't Exxon do?
The other half of U.S. Big Oil haunted Chevron's "Energy Transition" event this week — or rather, was invited, if not by name. Early in the proceedings, CEO Mike Wirth said "Chevron begins in a different place than others in our sector," begging a purely rhetorical "such as?" in rejoinder. He then listed a series of advantages that have little to do with net-zero, such as low (and dropping) leverage and the only Big Oil dividend higher now than before the pandemic. Exxon Mobil Corp. cannot claim the same. As if to drive the point home, Wirth also dropped in the resumption of share buybacks, something that used to be its Texan rival's calling card.
The growing momentum against fossil fuels has forced the widest divergence in Big Oil strategies since the supermajors were formed two decades ago. European peers have moved furthest in terms of setting zero-carbon goals and investing in renewable energy and associated businesses. France's TotalEnergies SE even has a new name. In the U.S., Exxon took a rapid series of small steps to indicate it was at least net-zero curious in order to fend off a green-tinged proxy battle — unsuccessfully, as it turned out.
The same day Exxon lost that battle, Chevron's management suffered a defeat of its own, albeit less dramatic. A solid majority of investors backed a proposal calling on the company to cut so-called "scope 3" emissions from its products; essentially, those associated with their use and which account for the vast majority of oil and gas emissions. It was a clear signal that even a relatively clean balance sheet and rising payouts couldn't insulate the company fully from the ESG pressures now endemic to the sector.
This week's event was a response to that — but also, it would seem, to that other vote over at Exxon.
Wirth clearly has no interest in a European-style pivot. He correctly points out the sheer weight of money targeting renewable energy suppresses returns in a business where Big Oil would appear to have few incumbent skills to offer anyway. Rather, while Chevron is tripling its capex budget for low-carbon businesses, it remains in single digits as a proportion of spending and will go into things that fit with the core business, such as renewable natural gas, hydrogen and carbon capture.
What's notable about this posture is that, apart from the higher dollar figure, it doesn't differ in substance from the climate pitch Exxon CEO Darren Woods made earlier this year. Both favor cautious steps along the oil-and-gas continuum rather than leaping to a new path altogether, with low-carbon businesses looking more like pilot projects at least for the remainder of the 2020s. The big difference is their starting positions — which is exactly what Wirth sought to emphasize with his invocation of the "others."
While the arrival — or, perhaps more accurately, gatecrashing — of ESG to the oil sector impacts all companies, it is now also a wedge issue to help set each other apart in an industry that long traded mostly on common commodity prices. The latter's influence appears to have waned, at least in terms of how Big Oil relates to the wider market. Despite Wednesday morning's oil-fueled rally, energy's weighting in the stock market has dropped by almost half since the start of 2020. It is, once again, vying with utilities as one of the smallest sectors in the S&P 500.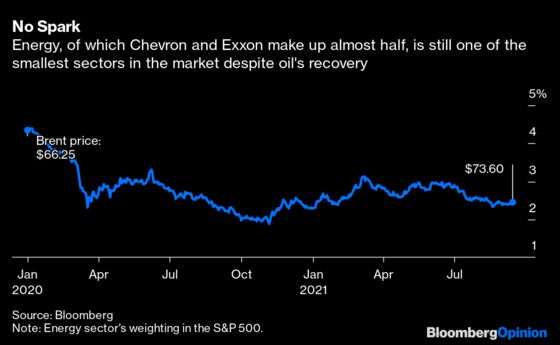 This continuing aversion stems from a mix of the sector's prior profligacy and exposure to the threat of disruption exemplified by, for example, the energy-related measures floated in the Biden administration's budget proposal. For now, the market seems to place more emphasis on the former. Broadly speaking, harder pivots by the European majors haven't helped their valuations vis-a-vis their U.S. counterparts.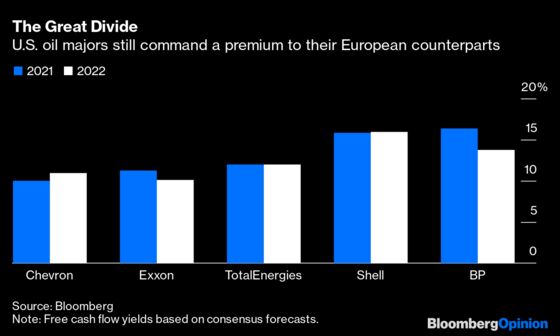 There is a danger in reading too much into immediate multiples in the context of a complex and all-encompassing issue such as climate change, especially in the wake of a pandemic. TotalEnergies, for example, trades at a similar valuation to its U.S. counterparts.
In any case, Chevron's premium provides it some breathing room to focus discussion more on its immediate financial strengths — and emphasize the contrast with its more immediate competitor. It is staking out a position of fiscal responsibility while, bloodied by that vote in May, also making a small but more pronounced nod to decarbonization. Chevron has effectively seized Exxon's old crown of discipline while also going just that bit faster on the issue that humbled its rival. In purely tactical terms, like the proverbial two guys being chased by a bear, Chevron needn't outrun the bear, just the other guy.
This column does not necessarily reflect the opinion of the editorial board or Bloomberg LP and its owners.
Liam Denning is a Bloomberg Opinion columnist covering energy, mining and commodities. He previously was editor of the Wall Street Journal's Heard on the Street column and wrote for the Financial Times' Lex column. He was also an investment banker.