Chevron's Unusual 2020 Shows Big Oil's New Normal
(Bloomberg Opinion) -- Chevron Corp. is first out of the gate with oil-major results for 2020, AKA the year oil closed in the red. And the company served up a another first: Last year, Chevron paid out more cash in dividends ($9.7 billion) than it spent on capex ($8.9 billion). That hasn't happened in at least the past 30 years at Chevron, according to data compiled by Bloomberg; or, indeed, at any of the big five majors .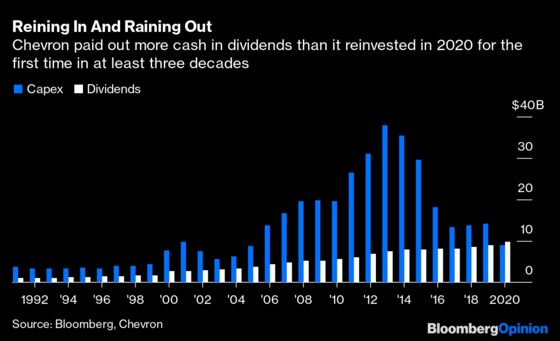 Obviously, last year was something of a special case; by the third quarter, Chevron had slashed capex to its slowest pace in many years. Even so, the company sold assets and borrowed to pay dividends. Along with the acquisition of Noble Energy Inc., which closed in October, that meant Chevron's leverage ratio jumped to 23%, the highest year-end level since 2002.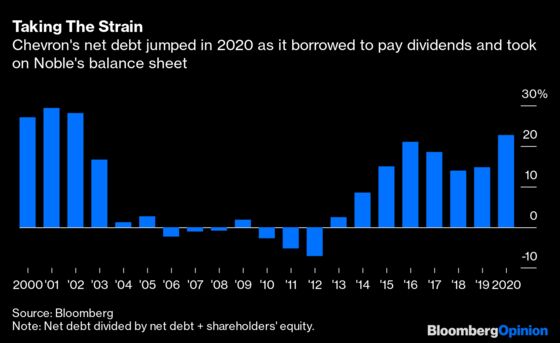 Chevron came into 2020 with the best balance sheet in its peer group. It exited with what is likely still the strongest — and with leverage still within its target range — but not as distinct. The acquisition of Noble, at a low-point for the market, offset the impact of low oil prices and slower activity on reserves to some degree. The deal also allows for production growth next year despite muted capex; absent that, it would be heading lower.
Meanwhile, the collapse in oil demand due to the Covid-19 pandemic poleaxed Chevron's downstream business (along with everyone else's). While diesel demand has mostly come back, continuing weakness in gasoline and, especially, jet-fuel demand means it will take time for utilization at Chevron's refineries to come back.
The upshot is that Chevron emerges from 2020 bloodied but relatively better than its peers; its dividend yield is still below 6% versus Exxon Mobil Corp.'s 7.7%. Yet there is no escaping the reality that while Chevron's strategy of holding spending on a tight leash is the right one, it needs the recent recovery in crude oil prices to hold and the (less pronounced) recovery in refining margins to accelerate. This is still fragile, given uneven progress on combating Covid-19 and the dependence on OPEC+ discipline.
For the sector, the takeaway is that oil at sub-$40 a barrel puts incredible strain on even a relatively lean operation like Chevron's. This has implications broadly given the longer-term pressures building on the oil and gas market. For rival Exxon specifically, which reports Monday, it highlights the burden of trying to target both growth and high dividend payouts, which has inflicted low returns, high debt and, lately, brought the attention of activists. Like with Chevron in 2020, Exxon's change of heart on spending should mean it also pays out more cash in dividends in 2021 than it reinvests.
This reflects a changed reality for the oil business after a decade of weak returns and now facing a decade of uncertain demand and politics. Under the old paradigm, supportive capital markets and the assumption of growth allowed more leeway in growing dividends alongside big project budgets. Today, balance-sheet capacity to enable that balancing act is much tighter and payouts must take precedence. As much as 2020 was an unusual year, it also points to Big Oil's new normal.
Although Royal Dutch Shell Plc came mighty close in 2001.
This column does not necessarily reflect the opinion of the editorial board or Bloomberg LP and its owners.
Liam Denning is a Bloomberg Opinion columnist covering energy, mining and commodities. He previously was editor of the Wall Street Journal's Heard on the Street column and wrote for the Financial Times' Lex column. He was also an investment banker.