Everybody Wants To Be A Used Car Billionaire
(Bloomberg Opinion) -- What's the fastest way to get rich nowadays? Non-fungible token artworks might work for some but huge fortunes are also being made in the more humdrum business of used cars.
British start-up Cazoo Ltd. began selling second-hand cars online in December 2019. It handed over just 12,000 vehicles last year and its gross profit margin — the money left over after deducting the cost of acquiring vehicles and preparing them for sale — was negative 2%. Yet the deal it announced last month to go public by merging with Ajax I, a special purpose acquisition company, values it at about $7 billion, excluding its cash. Founder and Chief Executive Officer Alex Chesterman will own a 25% stake after the transaction, so he's poised to become a paper billionaire.
While this validates his decision to list in the U.S. rather than London, it's an eyepopping number for such a young company in a competitive industry. Lookers Plc, a traditional U.K. car dealer, is valued at 420 million pounds, including net indebtedness.
Cazoo is one of a cohort of online dealers promising to take the hassle out of buying second-hand cars. Customers are offered a fixed, transparent price and the vehicle's delivered to their door. If they're not happy, they can send it back, no questions asked — much as they would with a pair of shoes. The benefits of this model showed last year when traditional dealers had to shutter real-world showrooms.
While online car sales are great for consumers, I wonder whether these companies will end up generating the profits to justify their elevated values.
Right now investors are eager for more and that's mostly down to the performance of one dealer: Carvana Co. of the U.S. Its value has increased about 10-fold since March 2020 to $43 billion, or more than 30 times its expected gross profit this year.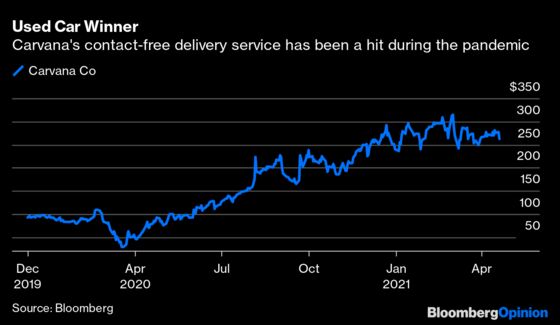 Carvana's boss Ernie Garcia III and his father Ernie Garcia II are together worth about $25 billion, according to the Bloomberg Billionaires Index. That's despite the company racking up $1.4 billion in losses since being founded in 2012. Analysts expect the red ink will continue for a couple more years.
The companies trying to replicate Carvana's stock-market success are enjoying ready access to capital. Vroom Inc. raised about $500 million in a Nasdaq initial public offering last June, while Shift Technologies Inc. completed a SPAC merger in October. Mexican used car platform Kavak recently raised $485 million at a $4 billion valuation. Germany's Auto1 Group SE, whose Autohero brand provides a similar online service, raised 1.8 billion euros in an IPO and is valued at 9.5 billion euros. Cazoo's U.K. rival Cinch is reportedly eyeing a 5 billion-pound valuation, according to Sky News.
The opportunity is clear: Big-ticket purchases such as houses and vehicles are among the last bastions of real-world selling. Hence the used car business has remained local and fragmented. While customers might begin their search online, they typically visit a dealership at some point or transact directly with a private seller.
By centralizing distribution and digitizing transactions, these companies achieve economies of scale and avoid the expense of showrooms. They aim to lift profit per car by attaching ancillary services such as financing and insurance. About half of Carvana's gross profit comes from selling finance receivables and vehicle-protection plans.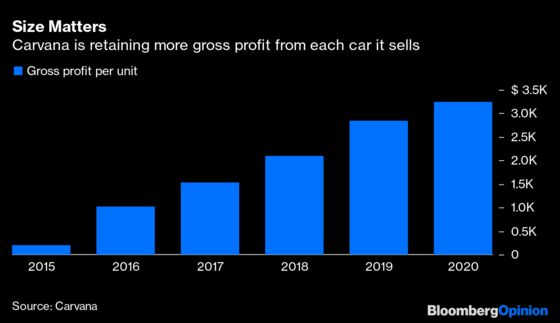 However, unlike classified-advertisement sites such as Auto Trader Group Plc and AutoScout24, this isn't an asset-light business model. Besides having to acquire large vehicle inventories, heavy investment is often needed in delivery trucks and refurbishment centers.
Companies also spend heavily on marketing. Some of this is gimmicky. Carvana customers can opt to receive their cars from a giant vending machine: Insert a token and the car descends from a multistory glass tower. There are 28 of these towers dotted across the U.S. Cazoo sponsors two Premier League soccer teams. This all burns up cash.
Furthermore, established dealers have spotted the emerging threat and are investing more in digital capabilities and hybrid online/offline business models.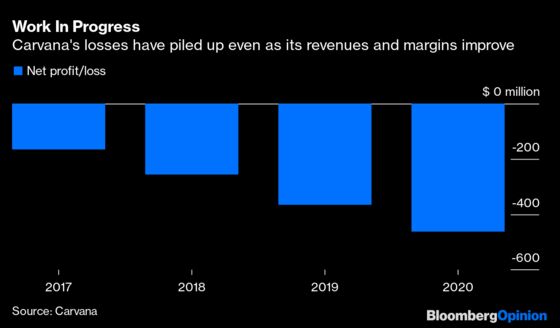 No wonder these stocks divide opinion. Carvana has been a favorite long bet of hedge funds, which believe it can become the "Amazon of used cars." Yet more than a fifth of the float has been loaned to short sellers. "Carvana's execution has been great, there's been consistent margin improvement but they're not making money," says Doug Arthur, analyst at Huber Research Partners. "It's very capital intensive and the model isn't yet proven"   
This week shares of the Ajax SPAC dipped fractionally below the $10 level at which the Cazoo merger was struck. While this reflects in part a broader selloff in SPACs, shareholders could elect to redeem their holdings for cash rather than fund the deal if the lull continues.
Handling vehicle returns is more expensive than an unloved pair of jeans bought online. Fortunately Autohero's customer return rate is a modest 4% according to this prospectus
That's based on his proportionate shares of the deal's $600 million in secondary proceeds. This is on top of the 100 million pounds that Chesterman has already cashed out according to thisTimes report
This column does not necessarily reflect the opinion of the editorial board or Bloomberg LP and its owners.
Chris Bryant is a Bloomberg Opinion columnist covering industrial companies. He previously worked for the Financial Times.