Cathie Wood Knows What She Wants. Passive ESG Doesn't
(Bloomberg Opinion) -- We all want to invest in the future. But, to get the best returns, do we stay with professional stock pickers or buy passive index funds that track innovative fields such as green tech and clean energy? 
The betting is still on, with active and passive funds almost neck and neck in the race for investors. This year, about $70 billion went into active ESG, while the passive side saw a net inflow of $54 billion, data compiled by Bernstein Research show. In the broader equity fund universe, passive funds surpassed active ones in total assets under management back in 2019.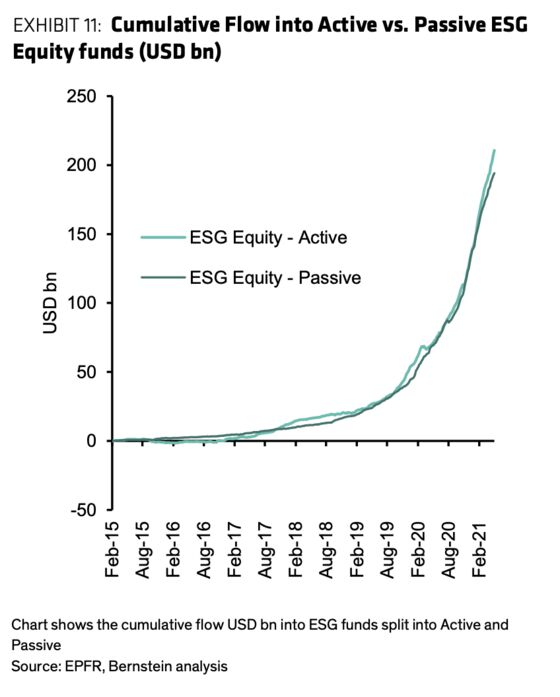 All these high-flying thematic funds — active or passive — have sold off lately with the market downturn. The passively managed iShares Global Clean Energy ETF fell by more than a third from its peak, so did Cathie Wood's flagship ARK Innovation ETF.
But Wood is digging in. Unperturbed by the recent biblical drawdowns, she claims to "love this setup," Wood told CNBC in a recent interview. "Nothing has changed except for the price." The recent selloffs, she said, would only give her investors higher returns. She felt "gratified". 
To show why an active manager like Wood is still valuable, let's put the current situation another way.
Too few of these save-the-planet unicorns have listed in public markets. Until index providers figure out what green tech or ESG really mean, passive funds that track thematic indexes can look very different from month to month. For instance, the $5.4 billion iShares Clean Energy ETF holds over 80 stocks. Three months ago, there were only about 30 names in this passive ETF. Do we know why the index provider has chosen these stocks? Or if there were any compromises in the definition of clean energy as it expanded its list to cater to a broader investor base?
S&P Dow Jones Indices, the provider for the underlying index that iShares ETF tracks, came under fire from people who wanted a smoother ride for putting together a highly concentrated portfolio. So it did a major makeover in April, drastically expanding its stock count to as much as 100. On the positive side, this change could tame the ETF's volatility. The index will see 16% of its weight shifted from small-cap stocks to large companies with market caps of over $50 billion, according to Bloomberg Intelligence analyst Adeline Diab. 
But something fundamental changed. Instead of innovative startups, the ESG fund now counts U.S. utilities giants such as NextEra Energy Inc. and Xcel Energy Inc. among its top holdings. By S&P's own account, the two companies only have "moderate clean energy exposure." True, the portfolio is less lopsided: its companies are bigger, cash flow is higher and valuation is much lower and more stable. But it's almost as if the iShares ETF was reborn as a brand-new fund. We have to discard all of its historical returns and risk characteristics. 
By contrast, Wood as an active manager, is not beholden to any philosophical changes from index providers. Nor does she lack conviction. In March, she walked the other way from S&P, eliminating a 30% cap on how much each of her fund's assets could be invested in a single stock. She is not afraid of concentration risk. 
Granted, a portfolio is less prone to sharp price swings if it's made up of more than a handful of stocks. But what if there are just not that many innovative, or clean tech, stocks, out there? To lessen portfolio volatility, S&P diluted what it meant to be clean energy. It traded away pure plays. 
Take a look at fund flows. After plowing $2.6 billion into the iShares Global Clean Energy ETF in December and January, investors quickly lost interest the moment the fund's performance peaked. This seems to suggest the ETF had been buoyed by momentum chasers. Meanwhile, Wood's flagship fund continued seeing inflows after its February high. Investors were buying her stock picking skills.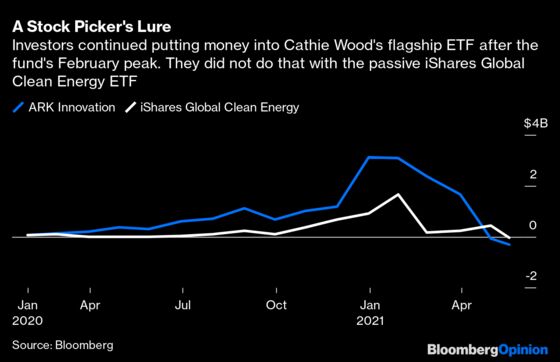 As inflation ticks up, some of Wood's stock picks won't be easy for investors with nervous stomachs. She's predicted a $3,000 price target by 2025 for Tesla Inc., the top holding of her flagship ETF. It's at just below $600 a share now. Nonetheless, in a nascent market lacking enough listed stocks or an industry standard — it's still too early to talk up passive investing. Wood is an active manager, and her conviction has value. 
This column does not necessarily reflect the opinion of the editorial board or Bloomberg LP and its owners.
Shuli Ren is a Bloomberg Opinion columnist covering Asian markets. She previously wrote on markets for Barron's, following a career as an investment banker, and is a CFA charterholder.