Cathie Wood Says She's Having No Second Thoughts
(Bloomberg Opinion) -- The most prescient investor of 2020 is besieged this year with rat-a-tat headlines reporting record outflows from her signature funds. Cathie Wood, founder and chief executive of Ark Investment Management LLC, has suddenly been forced to defend the strategy that made her the best stock picker of the previous year, returning an average of 173% to investors of her $42 billion exchange-traded funds.
But a chorus of questions about the risks, liquidity, capacity and very premise of her approach has done nothing to dent Wood's confidence in the power of innovation. Inflation anxiety that has rattled other investors leaves Wood unmoved.
Three Ark funds over periods of one, three and five years continue to outperform 389 U.S.-based mutual funds and ETFs with at least $5 billion of assets 60% invested in American stocks, according to data compiled by Bloomberg. Ark is managing about $80 billion, or eight times what it handled at the bottom of the coronavirus market a year ago, with its strategic composition and weighting of equities consistent regardless of the market's fluctuations.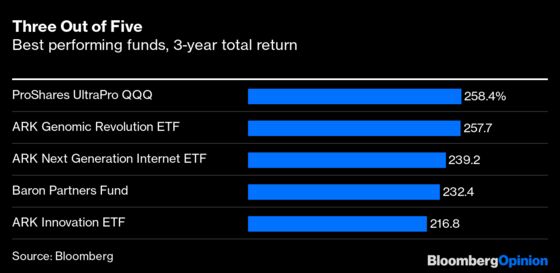 Contrary to suggestions by some market commentators that she might need or choose to close her funds, Wood says she neither wanted to do so nor was ever in a position of being forced to take such a step.
The 65-year-old champion of Tesla Inc. before its 2,100% appreciation since Ark was launched in 2014, said in an interview that temporary setbacks haven't dented her enthusiasm about the outlook for the innovative companies she extolls. She said she's not intimidated by the torrent of pessimism in the bond market, where interest rates tripled during the past 12 months and where investors say inflationary pressures will force the Federal Reserve to tighten credit abruptly and undermine confidence in the economy.
"We are going to see 3% to 4% year-over-year in some inflation metrics over the next few months," she said earlier this month, speaking by video hookup from a South Carolina residence. "Oil prices went negative and now they're in the 60s, right? So that's a big increase. Do we expect that to last? We do not. We see two powerful deflationary forces at work in the economy. One is good and one is bad."
She said the good one, "technologically-enabled innovation," is "inherently deflationary." She cited Wright's law, which says that "for every cumulative doubling in the number of units produced, costs decline at a consistent percentage rate." Applied to the electric-vehicle business, which she said produced 2.2 million units last year, she expects an 82% compound annual rate of growth during the next five years, to 40 million.
"That's exponential growth to be sure," she said. "It's happening because battery pack system costs are declining at a 28% rate for every cumulative doubling in units produced. So we expect that cumulative doubling to occur a number of times during the next five years."
Wood predicted earlier this month that the value of Tesla will appreciate 4.5 times to $3,000 a share during the next five years, buoyed by the Palo Alto-based automaker's increasing market share in China to 22.5%, its 80% share of U.S. electric vehicles and the likelihood of becoming America's  autonomous taxi network.
"We're looking at a massive opportunity that I don't think is priced in at all," she said. "This is an 80% to 85% gross margin business compared to 25% to 30% for electric vehicles, so it's more like software as a service."
Autonomous ride sharing globally "will deliver roughly $7 trillion in revenue by the end of this decade," Wood said, adding that as "more analysts do their homework on how big this market is going to be, we think that Tesla's valuation is going to increase significantly."
What Wood described as bad deflation is her forecast for the auto industry at the end of five years, when "the Toyota Camry still will be priced in the $25,000-to-$26,000 range" and is struggling to compete with electric cars that cost $7,000 to $8,000 less.
"It's a no-brainer that's going to put downward pressure on pricing in two ways: One, that price decline over time and two, the creative destruction that's going to occur in the traditional auto market," Wood said.
She said the combination of "good deflation caused by innovation" and "bad deflation caused by creative destruction from innovation" is likely to keep inflation at bay.
Wood has confronted and survived doubters before. Her funds were buffeted four years ago when investors favored value equities over growth stocks.
Now, even after the recent wild valuation swings, Ark's Next Generation Internet ETF was up 225% during the past 12 months as the S&P 500 Information Technology shares were gaining 88%. Ark's Genomic Revolution ETF advanced 233% when the S&P 500 health-care group was up 56%, and Ark's Innovation ETF appreciated 233% when the S&P 500 index climbed 78%.
Wood's funds still are among the top five performers since 2016, and when accounting for the market's volatility, the same Ark funds are among the 10 best risk-adjusted return (total return divided by volatility) performers during the past 12 months, according to data compiled by Bloomberg.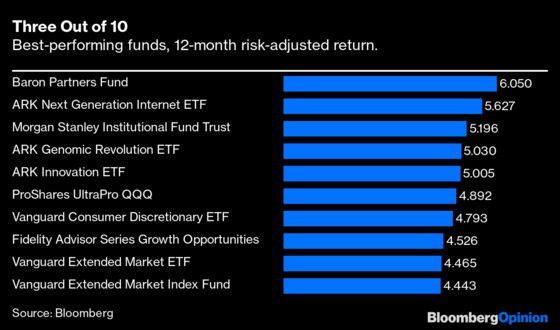 She recalled that stocks surged in the fourth quarter of 2016 after Donald Trump won the presidential election and investors anticipated lower taxes and a business-friendly White House.
Then as now, she explained: "Value stocks took off and we were in negative territory. We were still quite young and so I had to answer as we always do to our two boards of directors. One on the ETF trust side and one on the company side. And my answer to them at the time was, you know what, this is great. The bull market is getting stronger. This is really good news for us. I think the same thing is true now."
This column does not necessarily reflect the opinion of the editorial board or Bloomberg LP and its owners.
Matthew A. Winkler is Co-founder of Bloomberg News (1990) and Editor-in-Chief Emeritus; Bloomberg Opinion Columnist since 2015; Co-founder of Bloomberg Business Journalism Diversity Program in 2017. During his 25 years as Editor-in-Chief, Bloomberg News was a three-time finalist and winner of the Pulitzer Prize for Explanatory Reporting and received numerous George Polk, Gerald Loeb, Overseas Press Club and Society of Professional Journalists and Editors (Sabew) awards.