This Blockbuster Rail Deal May Make It to Destination
(Bloomberg Opinion) -- When it comes to massive railroad mergers, the third time may be the charm.
Canadian Pacific Railway Ltd.'s proposed blockbuster takeover of Kansas City Southern is its third attempt in recent years to further consolidate the already concentrated North American railroad industry. Having been rejected first by CSX Corp. and then by Norfolk Southern Corp. in recent years over too-low bids and serious antitrust concerns, the carrier is trying a new tactic that's very much of the moment: It's offering investors in the target a bubble-like takeover valuation while pitching the deal to regulators in climate-friendly terms. It just might work. 
First the valuation: Canadian Pacific's stock-and-cash bid values Kansas City Southern at $275 a share, based on Friday's closing prices, or about $29 billion including the assumption of debt. That's a 23% premium to where Kansas City Southern shares settled last week — itself a fresh record amid a furious stock market rally for industrial companies that's defied both the pandemic and more recent inflation concerns. The bid is also a more than 30% premium to the $208-a-share offer from private equity firms Blackstone Group Inc. and Global Infrastructure Partners that the railroad reportedly rejected in September. No one can say this deal undervalues Kansas City Southern. Indeed, Canadian Pacific needs to be downright giddy about a post-pandemic economic rebound and the prospects of burgeoning commerce between the U.S., Mexico and Canada under the renegotiated North American trade agreement to justify this kind of price tag.
Cost cuts will also play a role in ensuring a return on this expensive outlay. Kansas City Southern is in the middle innings of implementing what's known in the industry as precision-scheduled railroading — a strategy focused on reducing the capital, cars and people needed to run trains efficiently and  popularized by former Canadian Pacific Chief Executive Officer Hunter Harrison. The technique has helped the company shave off $154 million of its operating expenses since CEO Patrick Ottensmeyer rolled it out in 2019. Canadian Pacific thinks the combined company can cut an additional $780 million in cost and revenue benefits over three years by combining their respective PSR programs and smoothing out inefficiencies in their networks. The two railroads connect at a Kansas City, Missouri, facility and the merger would allow them to avoid the expensive, time-consuming process of handing over freight cars to different lines. It could also potentially allow them to bypass the congested hub of Chicago on certain routes. The gridlock there and the need for a more efficient network were a key source of motivation for Canadian Pacific's past attempts at consolidation.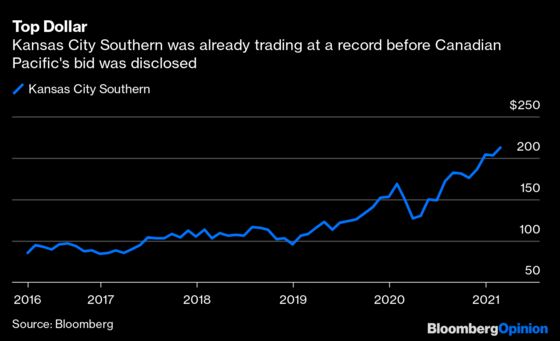 This deal isn't just about making money, though, according to Canadian Pacific and Kansas City Southern. It's also about saving the environment. "We have been champions for the environment recognizing the important role rail plays in lowering overall transportation emissions," Kansas City Southern CEO Ottensmeyer and his Canadian Pacific counterpart Keith Creel said in a statement. "This combination advances our shared science-based pledges in line with the Paris Agreement to improve fuel efficiency and lower emissions in support of a more sustainable North American supply chain."
The railroad industry has been honing its climate pitch in recent weeks, hoping to appeal to President Joe Biden's affinity for train travel and his commitment to greening U.S. industry. The Association of American Railroads has backed a proposal that would replace the current gasoline tax with a fee on vehicle miles traveled and a surcharge tied to fuel efficiency. The idea is to better balance the primary funding source for infrastructure projects, but it will arguably have the effect of pushing more freight traffic toward railroads and away from the trucking industry. If 10% of freight shipped by the largest trucks were moved by rail instead, greenhouse gas emissions would fall by more than 17 million tons annually — the equivalent of removing 3.35 million cars from the road — the rail association said earlier this month. While the industry hasn't aggressively engaged on climate policy before, "it's a very relevant moment in time to be talking about this," AAR CEO Ian Jefferies told Bloomberg News. Especially if you're trying to get regulatory signoff for the first major railroad deal since Warren Buffett's Berkshire Hathaway Inc. acquired Burlington Northern Santa Fe in 2010. 
Canadian Pacific may not face as high of a hurdle in getting regulators' blessing for a Kansas City Southern merger as it did for its past pursuits of CSX and Norfolk Southern. That's because Kansas City Southern, the smallest of the major North American railroads, was exempted from 2001 rules that require a higher burden of proof that a merger between large railroads serves a public interest. Even so, there's no guarantee the deal will sail through. Another railroad could challenge the treatment of a Kansas City Southern takeover and argue that the tougher standard that applies to them should be met in this case too. More broadly, regulators are signaling a tougher stance on consolidation under the Biden administration, with an emphasis on a more expansive view of the impact mergers have on competition, innovation and the economy. So Canadian Pacific and Kansas City Southern are already starting the process of proving the public and competitive benefit of their merger, just in case.
The two railroads contend that they're actually increasing competition by providing an enhanced alternative that will force other railroads to improve their service levels, too. They also argue that the more direct routes made possible from the linked network will make rail travel a more attractive alternative to dirtier trucks, and that bypassing the Chicago hub will reduce emissions in that major U.S. city.
One other potential pitfall is Canadian Pacific's decision to revive the arcane voting trust deal structure that drew explicit criticism from regulators in its pursuit of Norfolk Southern. The idea is to close the transaction on a financial basis ahead of actual regulatory approval so that shareholders can get their money faster, while holding off on any official operational integration until antitrust signoff is complete. The amount of independence a railroad held in trust can truly have when its shareholders have already been paid off is questionable. But notably, Canadian Pacific is planning to keep current Kansas City Southern management in charge during the trust period. When pursuing Norfolk Southern, the railroad had proposed to put then-CEO Harrison in charge of the trust. So it's at least a less glaring conflict of interest.
Canadian Pacific has long sought a megamerger. With Kansas City Southern, it may have its best chance of sealing a deal.
This column does not necessarily reflect the opinion of the editorial board or Bloomberg LP and its owners.
Brooke Sutherland is a Bloomberg Opinion columnist covering deals and industrial companies. She previously wrote an M&A column for Bloomberg News.