With the Return of the '90s, Burberry Tries to Be Cool Again
(Bloomberg Opinion) -- Burberry Group Plc has found its check mate. The British luxury brand, best known for its black, white, tan and red plaid, has named Jonathan Akeroyd, currently the head of Capri Holdings Ltd's Versace, as its new chief executive officer.
Burberry had been looking for a new boss since Marco Gobbetti resigned in June to join Italy's Salvatore Ferragamo SpA. The former LVMH Moet Hennessy Louis Vuitton SE executive had spearheaded Burberry's transformation plan since 2017, and his departure left it searching for a leader midway through its turnaround. Never ideal. The two key issues were: Would a new CEO be able to work within the confines of an already established strategy? And would Creative Director Riccardo Tisci, who Gobbetti hired, stick around?
In Akeroyd, Burberry has made a sensible choice, and the company has a good chance of overcoming both of these hurdles. The shares rose as much as 4%.
First, Gobbetti's blueprint was all about catapulting Burberry from a premium to an ultra-luxe brand. Akeroyd led a similar exercise at Versace. He helped make the Italian fashion house cool again, by capitalizing on the trend for all things '90s and taking it more upmarket. Just last month, Versace collaborated with LVMH's Fendi for the "Fendace" catwalk show at Milan fashion week.
Within Burberry's broader strategy, there is enough scope for Akeroyd to make his own mark. He is British, for example, so he could make more of the company's heritage. And he's no stranger to well-known English brands — earlier in his career, he held senior fashion roles at London's famous Harrods department store.
Second, although it's too early to tell how well Akeroyd and Tisci will get along, the indications are good. They've never worked together, but they know each other. And Akeroyd has experience managing influential designers, such as Donatella Versace and the late Alexander McQueen. (He was CEO of Kering SA's Alexander McQueen brand before joining Versace.)
I've long been skeptical of Burberry's 2018 decision to bring in Tisci. The Italian designer's aesthetic falls somewhere between the sleek minimalism of former Celine designer Phoebe Philo and the bold maximalism of Gucci's Alessandro Michele. That might not be distinctive enough to revive the more than 150-year-old Burberry. While sales have stabilized, the brand hasn't achieved the sort of buzz that Kering's Gucci did after Michele embarked on its reinvention about five years ago. 
Although a new head designer would be unhelpful at this point, if change is needed, Akeroyd has experience here too. He appointed Sarah Burton as creative director of Alexander McQueen after the death of the brand's founder. The following year she designed the dress Kate Middleton wore for her wedding to Prince William. 
One worry, though, is that neither Versace nor Alexander McQueen are particularly known for handbags, though the latter has successfully developed other accessories such as sneakers. Bags are the sales and profit engines of the luxury industry, holding up much better than other categories including apparel. Gobbetti laid the foundation for Burberry to expand its bag range, but Akeroyd will have a lot more work to do.
The new CEO, who joins Burberry in April, will also take the helm at a delicate time. Chinese consumers, which account for about 40% of Burberry's sales, may be more hesitant to spend on the brand, due to China's crackdown on inequality and interest in "common prosperity." The pandemic remains an issue as well: Gucci missed sales expectations in the third quarter of this year after China implemented more virus restrictions.
If Akeroyd can build on Gobbetti's groundwork, he has a good chance of turning Burberry into a British luxury champion. Given it had almost 1 billion pounds ($1.4 billion) of net cash on its balance sheet at the end of its last financial year, it's easy to imagine it eventually even acquiring smaller brands.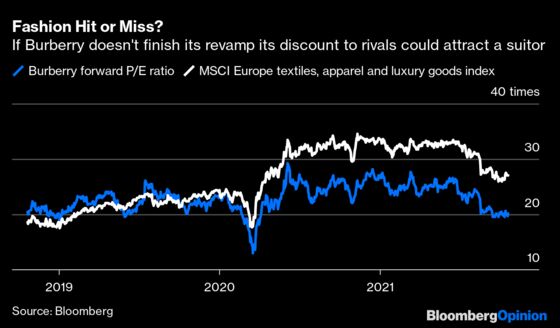 But if Burberry's turnaround comes apart at the seams, that cash, plus its valuation discount to bigger rivals, makes it vulnerable. Burberry is one of the few luxury brands not controlled by a family shareholder. That makes it an attractive target for luxury conglomerates with strong balance sheets from the post-pandemic bling binge.
Hopefully Akeroyd will have enough time to delve into the company's fashion archives before he needs to open up its takeover defense manual.
This column does not necessarily reflect the opinion of the editorial board or Bloomberg LP and its owners.
Andrea Felsted is a Bloomberg Opinion columnist covering the consumer and retail industries. She previously worked at the Financial Times.