Can Danone Pull a Nestle? Activists Are Betting On It
The investor assault on French dairy giant Danone SA is intensifying. Artisan Partners, a big, long-only shareholder in the group, is publicly calling for the replacement of Chairman and Chief Executive Officer Emmanuel Faber.
This is worth watching as it represents a significant ratcheting up of efforts to overhaul Danone's management and strategy. Activist investor Bluebell Capital Partners had previously only called for the chairman and CEO roles to be split and an independent chairman appointed. The latest intervention leaves Faber in a weakened position, with some form of change looking more likely.
On Tuesday, Artisan presented the board with a plan to rejuvenate Danone. It was designed by Jan Bennink, a consumer executive who previously worked with Dan Loeb's Third Point on its successful activist campaign to shake up rival food group Nestle SA. Bennink told the FT that Danone needed a CEO change as well as a new chairman with consumer goods experience.
Although Bennink has played a role in both the Danone and Nestle campaigns, the two situations are notably different. Third Point's activist stance at Nestle was swiftly answered by the Swiss group. Loeb's intervention was a blessing for its then-newly appointed CEO Mark Schneider — Third Point taking a stake in Nestle in June 2017 gave him license to take actions like selling off its U.S. confectionary business and acquire Starbucks' grocery coffee lines. Nestle shares rose on Third Point's intervention and have continued to hold up.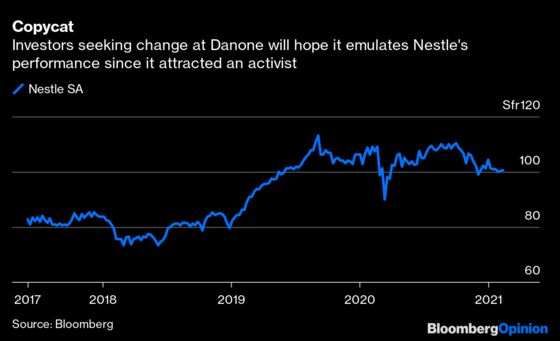 Danone clearly needs to rebuild trust with investors, but it's hard to see an equally quick response. Faber has been at the helm since 2014, and the company has to deal with French politics, which recently scuppered Alimentation Couche-Tard Inc.'s takeover approach to retailer Carrefour SA.
As I have argued before, there is scope for Danone's assets to be managed more effectively and for it to spin off less lucrative units. Artisan is calling for Danone to sell its underperforming water businesses. And there is potential to be realized there: Nestle on Wednesday said it was selling its North American water brands for $4.3 billion. 
All eyes will be on the dairy group reporting its 2020 earnings on Friday. If it does not do well or meet Artisan's demands, the investor could step up its efforts by seeking to appoint directors or pursuing a more fundamental overhaul of the board.
One way to defuse the current situation would be for Faber to relinquish the chairman's role while staying on as CEO. He could focus on delivering, while a new chair could formulate a governance plan that appeases investors. It's worth considering if Danone wants to avoid an even messier dairy spill.
This column does not necessarily reflect the opinion of the editorial board or Bloomberg LP and its owners.
Andrea Felsted is a Bloomberg Opinion columnist covering the consumer and retail industries. She previously worked at the Financial Times.