Can China's Developers Just 'Lie Flat' and Not Repay Debt?
(Bloomberg Opinion) -- Everyone gets a second chance or numerous second chances — like Argentina, which has defaulted plenty of times, and yet foreigners still buy its bonds. We may now be entering a similar realm with companies, where defaults are so accepted — even expected — they have few consequences.
It's an urgent question for China's distressed real estate developers. China Evergrande Group on Friday warned it may not have enough money to "continue to perform its financial obligations." Meanwhile, Kaisa Group Holdings, the second-largest high-yield issuer after Evergrande, is dangerously close to becoming a repeat offender. Can China's developers just "lie flat" when it comes to paying their debts — getting by while doing as little as possible? 
Consider Kaisa. In February 2015, it became the first among its peers to default on its dollar obligations, only to re-emerge after completing a debt restructuring 1 1/2 years later. Six years on, Kaisa is once again staring into a liquidity crisis. It has a $400 million dollar-denominated bond due Dec. 7, and close to $3 billion of notes due next year, on top of about $1.1 billion in annual coupon payments. 
Yet creditors are still trying to play nice. A group of bondholders, advised by Lazard Ltd., have offered about $2 billion of new financing to Kaisa — with seven possible fund-raising strategies, including selling equity or convertible bonds. Another option was facilitating asset sales. Kaisa plans to sell 18 projects in Shenzhen, valued at $12.8 billion, a big bite even for state-owned enterprises. The consortium could provide $3.25 billion financing to potential buyers, according to a November presentation prepared by Lazard and seen by Bloomberg Opinion.
The question is why bondholders remain lenient. (The Hong Kong-listed shares have lost about 75% this year). Not every developer gets treated with such kid gloves. After Fantasia Holdings Group, a smallish developer, surprised the market with a default early October, a winding-up petition was filed against one of its subsidiaries over $149 million of loan facilities. Fantasia had to pay a price.
The answer perhaps is that Kaisa can still dangle a juicy business model in front of investors. Unlike Evergrande, which built ghost towns across China, Kaisa's exposure is to the Greater Bay Area, the prosperous southeast region that includes its home city of Shenzhen. As such, Kaisa can sell its properties quickly. Its inventory turnover is almost half Evergande's.
Kaisa also fits into President Xi Jinping's common prosperity drive. It has a lot of urban redevelopment projects. With the unofficial mandate to rebuild old towns, villages and factories into modern abodes, Kaisa is nothing like Fantasia, whose semi-luxury projects cater to China's nouveaux riches. Investors just seem unable to walk away.
So now creditors are in a difficult situation. The company knows it's got bargaining power. Most investors do not want to see a liquidation. They are still keen to help Kaisa power through. The group of investors that offered $2 billion financing also proposed a three-week to three-month forbearance period on the $400 million note. Knowing this, will Kaisa behave?
Granted, there's some real economic consequence to bad credit. In November, contracted sales at Kaisa tumbled 93% from a year earlier, while China Vanke Co., which is also based in Shenzhen but has an investment grade rating, saw only an 8% decline. Since pre-sales are the predominant strategy in China, homebuyers are obviously reluctant to transact with a developer that might just go bankrupt. Last month, sales at Evergrande fell 89% too.
However, if history is any guide, Kaisa will be just fine as long as it solves its liquidity crisis in a reasonable time frame. Back in 2015, sales dipped, but Kaisa bounced back the year after. Its dollar-denominated bonds also rebounded well before the completion of its debt restructuring in July 2016. Foreigners gave it a second chance. In fact, they have become Kaisa's biggest lenders. Asset managers such as Allianz SE, Blackrock Inc., HSBC Holdings Plc and Ashmore Group Plc were all investors, according to data compiled by Bloomberg.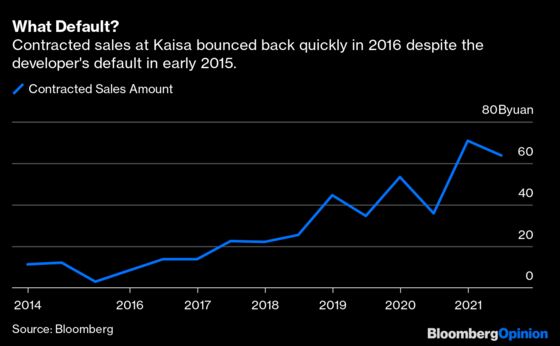 With sovereigns that have a long history of defaulting, foreign investors are understandably more forgiving because they know the International Monetary Fund often acts as the disciplinarian, forcing countries to swallow fiscal diets after debt restructurings.
But what about distressed companies? In a posting late Friday night, the People's Bank of China signaled a hands-off approach, praising the efficiency of offshore markets and the sophistication of international investors — code for no intervention — while singling out Evergrande for "poor management" and "reckless expansion."
If lenders now want to instill restraint among China's dollar-denominated bond issuers, they've got to learn to say no refinancing — no matter how tempting the underlying assets. But do they have that kind of discipline themselves?
This column does not necessarily reflect the opinion of the editorial board or Bloomberg LP and its owners.
Shuli Ren is a Bloomberg Opinion columnist covering Asian markets. She previously wrote on markets for Barron's, following a career as an investment banker, and is a CFA charterholder.