How Texas' Freeze Could Spoil California's Summer
(Bloomberg Opinion) -- California's hydropower reserves are drying up in the most literal sense. This summer, however, the fuel that normally stands in for water is also running lower than usual.
Natural gas typically fulfills two roles for California's power grid during a hot, dry summer. First, it fills in the gap left by depleted hydropower (see this). Second, it handles much of the state's surge in electricity demand during the early evening, when solar power fades; especially important if that surge is powering a lot of air-conditioning (see this).
So summer is typically good for anyone selling gas out West, and this one looks especially so.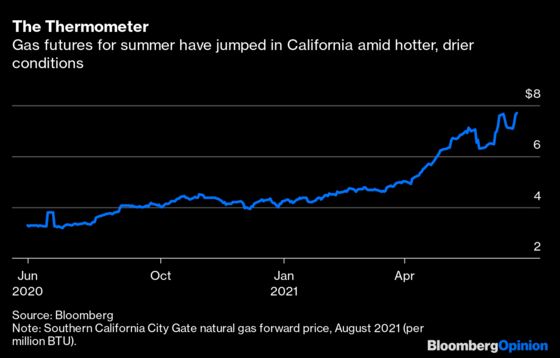 California's gas market is twitchy. PG&E Corp.'s recent announcement of maintenance on a key pipeline through the end of June caused the premium on local gas supplies to jump to its highest level since February, as Bloomberg NEF's Jade Patterson points out. It didn't help that, around the same time, power stations in California and Nevada were suddenly burning double the amount of gas compared to the previous month as a heatwave washed over the West.
PG&E has also just reclassified about 50 billion cubic feet of its gas inventory as "base" gas — which stays in the tank to maintain pressure — from the "working" gas that can actually be drawn upon to meet demand.
Net net, it looks like California may be entering the height of a particularly demanding summer with the lowest stockpile of gas in more than a decade.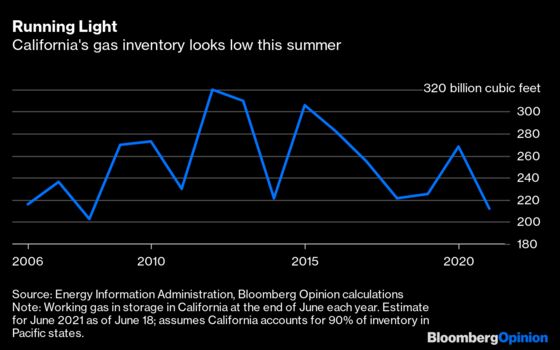 One reason for this concerns prior events in another state some way, geographically and philosophically, from Sacramento: Texas.
California produces very little gas of its own, relying on imports from the Rockies, Canada (via the Pacific Northwest) and Texas (via the desert Southwest). A little of that gas then usually heads south out of California to Mexico.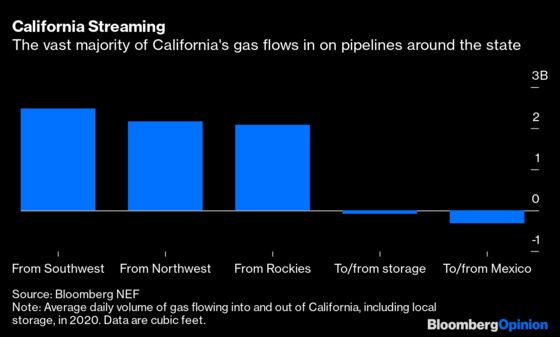 When Texas suffered its devastating freeze earlier this year, the isolation of its power grid rightly came under criticism. But its natural gas network, which also failed, definitely isn't an island. Permian basin gas flows all over, to East Texas and the Gulf, to Mexico, to the Midwest — and to California.
So when Texas' gas sector seized up in mid-February, it wasn't just that state that went short. The chart below shows natural gas imports from the major regions supplying California on Tuesday, February 16 — in the depths of Texas' energy crisis — compared with the third Tuesday in February for previous years.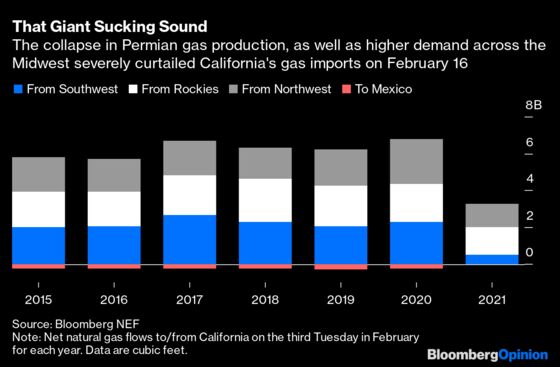 Gas production from the Permian that day was down by 3.4 billion cubic feet, or roughly half, compared with a week earlier; which matches almost exactly the drop in California's gas imports. Hence, California drew heavily on its stores of gas that month. Combined with an unusual draw this month due to the hot weather, low hydropower reservoirs and PG&E's reclassification, the first half of 2021 saw the biggest drop in the state's inventories in at least a decade or so.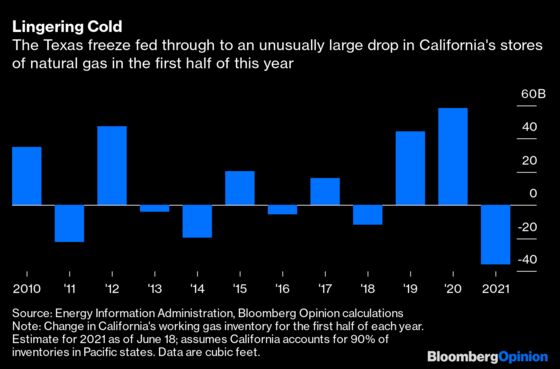 There are two conclusions to draw. In the immediate term, California will be paying up for gas, especially if it suffers more heatwaves. While shortages aren't a prospect, prices of any commodity rise when inventory drops. Assuming gas consumption in July through September is at similar levels to last year, then California has enough on hand to cover 39 days of average demand over the next few months, down from 49 days of cover at the end of last June.
The second conclusion is that, like, everything's connected, isn't it? One of the shocks arising from Texas' freeze was that its natural gas industry wasn't as reliable as believed, in part because of a feedback loop that meant gas-starved power plants couldn't supply juice to pipeline compressors, reinforcing gas shortages. Granted, this was a freak weather event, so California may not feel too worried about being tethered to those faraway fields and pipelines.
On the other hand, California's own energy policy is predicated on the likelihood that freak weather events are becoming less freakish. And Texas' grid is also showing strains this summer. Like Texas, California relies on gas showing up when it's needed, with the grid operator recently designating old gas-fired plants as critical resources to head off potential blackouts. This year has offered a timely reminder that even those aren't failsafe, and the risks extend far beyond the Sierra Nevada.
This column does not necessarily reflect the opinion of the editorial board or Bloomberg LP and its owners.
Liam Denning is a Bloomberg Opinion columnist covering energy, mining and commodities. He previously was editor of the Wall Street Journal's Heard on the Street column and wrote for the Financial Times' Lex column. He was also an investment banker.