Bud's Wiser Super Bowl Move Isn't Game Over for Advertising
(Bloomberg Opinion) -- Television advertisers just want to find someone who looks at them the way Super Bowl fans look at a plate of juicy chicken wings. And they will — just not at Sunday's big game. 
With the Covid-19 crisis continuing to limit how consumers spend money and political tensions still high in the U.S., big advertisers, from Budweiser and Pepsi to Hyundai and Avocados From Mexico, have chosen to sit out Super Bowl LV. For Budweiser, it's the first time in almost four decades that it won't sponsor the National Football League's championship game. Traditionally, it's the advertising event of the year, with commercials just as much a part of the festivities as the game and halftime show. But the mood is different this time, and the excitement is lacking, even if M&M's, Pringles and some of the other usual suspects will still be there.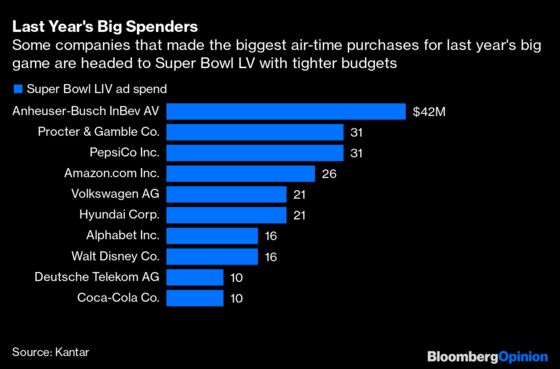 A 30-second spot during CBS's Sunday broadcast reportedly cost $5.5 million, up from $4.37 million in 2016, according to Kantar. For some companies that would be happy most any other year to pay the going rate, the risk of an ad flop — or worse, a message sounding tone-deaf in an eruptive digital society — is too high now compared with the reward of reaching the quarantined masses.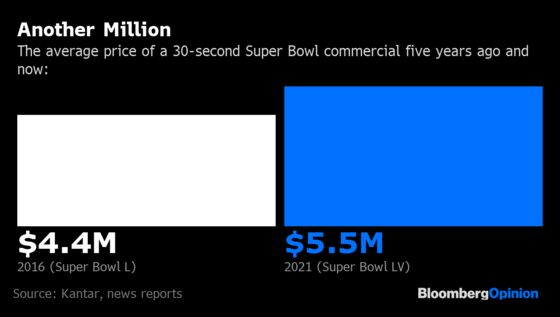 Don't take the hiatus as more evidence that TV advertising is over, though. This period of cord cutting, social distancing and cultural strain will surely have lasting effects on many industries, but what they won't do is bring about the end of the commercial. There's too much money to be had.
The TV ad market did suffer a 15% drop in 2020, according to EMarketer, as companies tried to conserve capital and lockdowns left hotels, restaurants and other brands with little incentive to buy air time. Meanwhile, subscription video services such as Netflix and Disney+ are making a growing number of users accustomed to watching entirely commercial free. All of this feels temporary, though.
With EMarketer predicting that fewer than half of U.S. households will subscribe to traditional pay TV by 2024, big brands are eager to get in front of streaming audiences. And for the streaming apps, advertisers are that plate of juicy chicken wings — even if they don't sound so appetizing to viewers. Without ads, it will take years for programmers and studio owners to replace the profits generated by traditional pay TV and the box office as both go away. Once Covid-19 vaccines make it safe to go back to socializing and travel, consumers will look to pare back home-entertainment expenses that have been inflated during quarantining. But ads can help subsidize monthly streaming subscriptions to keep prices reasonably low and users from canceling. It's no surprise that Hulu's most popular plan is the cheaper one with ads.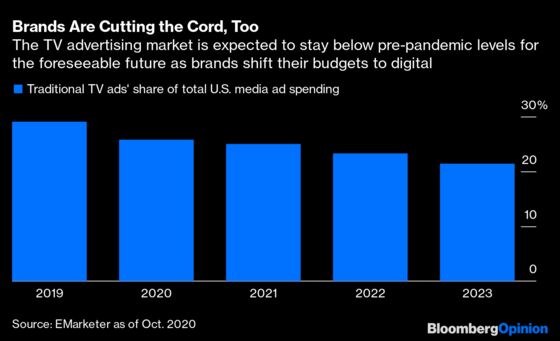 One of the biggest motivations for companies such as Walt Disney Co. and AT&T Inc. to create their own direct-to-consumer video offerings was to have direct access to and control over an immense amount of user data — information that is invaluable for advertising. AT&T CEO John Stankey has called targeted ads and streaming "a winning combination," and the company will soon introduce a lower-priced, ad-equipped version of its $15-a-month HBO Max service. (It's even considering a similar option for its wireless plans.) Comcast Corp.'s Peacock embraced ads right out of the gate. Netflix Inc. may be the one holdout, and as the far-and-away leader in streaming it can afford to be. But for all the protestations against ads by Netflix executives, it's conceivable that a shifting industry will change their minds.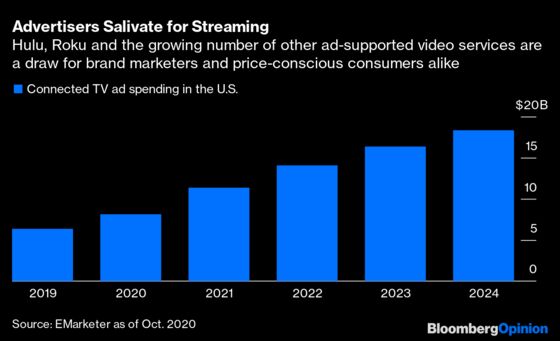 Ads don't have to be torture, though. Streaming services should experiment with less bothersome tactics than the long stretches of commercial time that are part of the scorn of cable TV. For example, Hulu sells "pause ads" that display a brand while the video is paused. There's more that can be done on this front. The industry leaders also appear set on at least giving consumers the choice to turn off ads for a price. 
As for Sunday's game, advertisers are smart to wait out the residual weirdness of 2020 — we wouldn't want a repeat of Pepsi's cringeworthy Kendall Jenner moment. But while various forces upend the businesses of cable TV and live sports, the future of the ad looks certain.  
Anheuser-Busch InBev AV did purchase air time for other product lines, such as Bud Light and Michelob Ultra. Likewise, PepsiCo Inc. will advertise Mountain Dew and its Frito-Lay snacks, while Pepsi is sponsor of the halftime show.
This column does not necessarily reflect the opinion of the editorial board or Bloomberg LP and its owners.
Tara Lachapelle is a Bloomberg Opinion columnist covering the business of entertainment and telecommunications, as well as broader deals. She previously wrote an M&A column for Bloomberg News.