Britain's Retail Giants Shouldn't Get Too Cozy
(Bloomberg Opinion) -- Two British retailers emerged as winners this Christmas: Tesco Plc and Marks & Spencer Group Plc. While that's a far cry from disappointing results of holidays past, both face considerable challenges ahead with concerns about inflation eating into consumer spending power and a slowdown in demand. Shares fell on Thursday morning despite the good news.
Tesco's U.K. same-store sales in its fiscal third quarter rose 0.2%, slightly below analysts' expectations but ahead of J. Sainsbury. This confirms early indications that Tesco is the fastest-growing supermarket among the U.K.'s Big Four, which also includes Asda Group Ltd and Wm Morrison Supermarkets Ltd.
Meanwhile, M&S said total food sales rose 10% compared with last year and 12.4% against two years ago. Clothing and home furnishing sales were up 37.7% year-on-year and 3.2% from 2019. Full-price non-food sales rose 45% from two years ago. The company said it was more confident in achieving at least 500 million pounds ($686.7 million) of underlying pre-tax profit in the year to the end of March.
For the first time in a decade — roughly since Terry Leahy retired as chief executive officer in 2011 — Tesco has the most momentum among Britain's big supermarkets. The company said it was continuing to win customers from rivals, helping its market share reach its highest level for four years. Tesco also upgraded its full-year profit forecast on Thursday.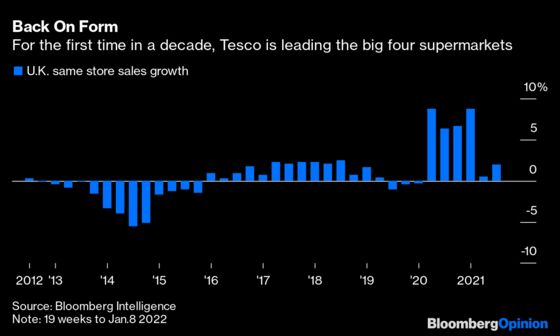 Current CEO Ken Murphy shouldn't squander the advantage. The best course of action would be to hurt Asda and Morrison by aggressively cutting prices. While that might seem counter-intuitive since food price inflation is accelerating — up about 1% according to Tesco — it would put pressure on the rivals, whose new owners have taken on significant borrowings to fund recent buy-outs.
Sure, Murphy is committed to value — meaning he's focused on quality and convenience as much as price. His key weapon here is giving Tesco's loyal Clubcard customers more special offers. And Tesco is already matching Aldi's prices on about 650 product lines.
But he has a once-in-a-lifetime opportunity to weaken rivals further by slashing what customers pay the at checkout. Everyone in the market is grappling with higher costs from suppliers right now. As Britain's biggest retailer, Tesco has the benefit of scale and should be able to undercut the competition.
Murphy may have little choice anyway. Simon Roberts, CEO of Sainsbury is trying to make the grocer cheaper. And then there are the no-frills German supermarkets Aldi and Lidl either. If cash-strapped shoppers start trading down, the budget stores will win back customers that defected to Tesco.
As for M&S, it managed to avoid some of the self-inflicted wounds that have dogged it in the past, such as stocking too many slim-fitting trousers (not popular among its customer base), mince pies and unattractive gifts. In food, the company has more recently emphasized value for money through its expansion in everyday areas such as bread and pasta and its "Remarksable" range of lower-priced items. That's so far proved to be a smart move.
Like Tesco, M&S must not let this focus on everyday value drift, as it did a decade ago when costs spiked and its food became too expensive for many shoppers. This time around, M&S said its grocery inflation was lagging the broader market.
The retailer faces big challenges in its clothing and home furnishing divisions. While it benefited from pent-up demand in 2021, as well as the demise of rivals, there will be fewer tailwinds this year.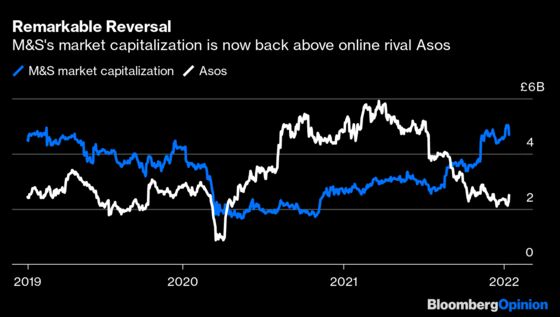 Customers of both Tesco and M&S face more expensive living costs. At M&S, shoppers in its non-food business tend to be older, so they may be living off of pensions too.
Even with Thursday's slump, Tesco shares are up about 30% from February, when it paid a 5 billion pound special dividend, depressing the stock. M&S shares are about 80% higher than a year ago.
Investors clearly think these retail stalwarts can keep on winning. But that is far from guaranteed.
More From Bloomberg Opinion: 
This column does not necessarily reflect the opinion of the editorial board or Bloomberg LP and its owners.
Andrea Felsted is a Bloomberg Opinion columnist covering the consumer and retail industries. She previously worked at the Financial Times.