The LBO Crowd Offers London a Piece of the Action
(Bloomberg Opinion) -- Call it recycling buyout-style. The private equity industry has been coaxing investors to cash out of U.K. stocks in a frenzied shopping spree on the London market this year. Now it's asking them to put money back in via a rare initial public offering of a leveraged buyout firm. The carrot is the chance to earn a cut of the huge fees garnered by this voracious part of the finance sector.
London-based Bridgepoint Group wants to join a small coterie of listed peers dominated by U.S. firms such as Blackstone Group Inc. and KKR & Co. An IPO will provide capital to develop new strategies and a partial, but lucrative, exit for its partners. For stock market investors, buying into the firm, rather than its funds, has obvious attractions. Pension plans are shunting more assets to buyout vehicles that tie up their money for five to ten years or more. The resulting asset management fees are generous and predictable. Potential performance fees are the cherry on top.
A gauge of how much investors value this combination of durability and growth can be found in the punchy 48 times forward price-earnings ratio of Sweden's EQT AB. With considerably less scale and diversification, Bridgepoint should not expect to match that. The firm aspires to add a third leg to its existing private equity and credit funds, most likely in infrastructure or real estate. As of today, it's not clear why investors should ascribe it a premium to the 20 times multiple commanded on average by U.S. peers and London-based private-credit specialist Intermediate Capital Group Plc.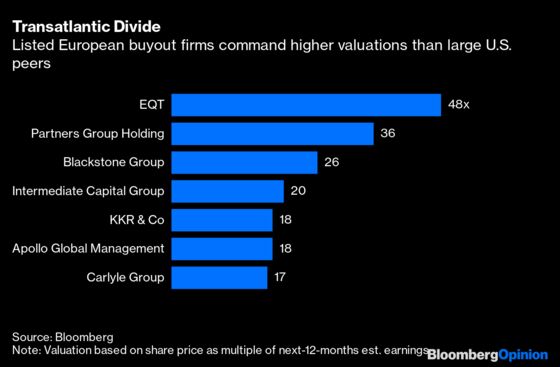 The trickier job is guessing the earnings trajectory. Bridgepoint's fee-earning assets are 18 billion euros ($21 billion). Its current flagship fund raised 5.8 billion euros in late 2017. Given recent trends, it's plausible, but far from guaranteed, the next fund that's about to be marketed could be larger.
Assuming this and other smaller fund launches are successful, fee-earning assets could be 50% higher in time. Management fee income would then be around 290 million pounds ($402 million) scaling up the current quarterly run-rate. Performance fees could add another 70 million pounds if Bridgepoint delivers on its guidance. On a slightly improved profit margin, combined with minimal finance, tax and other charges, net income might grow to 150 million pounds. That would then support a 3 billion-pound market value.
But it's not clear how long it will take to get there. Say not till 2023, and apply a further IPO discount, and a roughly 2.3 billion-pound equity value (including the 300 million pounds Bridgepoint plans to raise) would be more reasonable today. Investors need to decide just how much of the future potential is in bag.
The longer-term outlook is clouded too. Listed buyout firms face pressure from shareholders to grow assets, expand their offering and earn yet more annuity-like management fees. The risk is that supersedes delivering returns for those who actually put money into the funds. In the end, poor buyout performance would stop the fundraising juggernaut. If Bridgepoint gets a warm stock-market reception, it shouldn't forget who it really exists to serve.
This column does not necessarily reflect the opinion of the editorial board or Bloomberg LP and its owners.
Chris Hughes is a Bloomberg Opinion columnist covering deals. He previously worked for Reuters Breakingviews, as well as the Financial Times and the Independent newspaper.