Brazil's Top Court Can Stop Bolsonaro's Unjust Land Grab
(Bloomberg Opinion) -- "The North American cavalry was competent," Jair Bolsonaro, then a lawmaker, told the Brazilian legislature in 1998. "Having wiped out its Indians in the past, nowadays the country doesn't have this problem." Land, he added, should be allocated "in proportion to the population." Nothing suggests his retrograde views on Brazil's original inhabitants have changed since he became president nearly three years ago.
The rights promised to indigenous people in Brazil's constitution, never exactly adequately protected, have been actively undermined during Bolsonaro's term, and none more so than land. He has supported development at all costs, dismantled environmental checks, weakened federal agencies overseeing forests in indigenous areas and presided over a rise in wildcat mining, deforestation and destruction — this June, the Amazon recorded the greatest number of fires for the month since 2007. Demarcation of indigenous territories has remained paralyzed, leaving tracts open to disputes and abuse. His environment minister resigned in June over apparent efforts to impede an investigation into illegal logging, only to be replaced by a former agricultural lobbyist whose family of coffee farmers has outstanding claims on indigenous territory.
A Supreme Court ruling, now possible next week after multiple delays, could slow this wave of cultural and environmental destruction.
In question is a land claim by the Xokleng people which the southern Santa Catarina state has opposed by leaning on a long-debated narrow definition that rejects recognition when groups were not present on their traditional territory on October 5, 1988, the day Brazil's constitution was enacted. The cut-off, "marco temporal" or time limit in Portuguese, is a neat interpretation that is embraced by farming groups; but its construction also conveniently ignores a long history of forced expulsions and violence against indigenous groups. 
Allowing that principle to stand would be one of the most significant setbacks in decades for indigenous rights. It would hamper long-outstanding claims and enable powerful interests to challenge existing ones, or even trigger expulsions. It also paves the way for lawmakers to put this interpretation into the statute books with a bill known as 490/2007, promoted for years by the agricultural lobby and given fresh impetus by Bolsonaro. Among other things, the bill moves responsibility for indigenous land allocation to the legislature, where farming interests are far more strongly represented; forbids expansion of existing titles; allows for the removal of title from communities considered to have "lost" their culture and therefore no longer considered tied to the land; and even opens the door for contact with voluntarily isolated tribes.
It would support other damaging bills working their way through the system, including one that would remove Brazil from an International Labour Organization convention requiring it to consult with communities on issues concerning them, and one facilitating mining on indigenous land.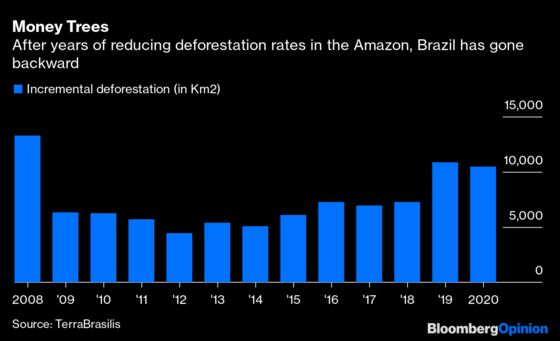 By contrast, if the Supreme Court scraps the "marco temporal," it would affirm the legitimacy of the rights and protections available to indigenous people. It's not an end to a complex problem, but making the 490/2007 unconstitutional would be a start.
There's a multifaceted imperative to do just that. Brazil has a moral responsibility to communities marginalized under the current government, ravaged by the pandemic and now at risk of being erased. Moreover, indigenous land policy has been key to conservation, because secure tenure and demarcation prevent environmental degradation: A United Nations report published earlier this year found that between 2000 and 2012, deforestation rates in recognized territories with collective legal titles in the Bolivian, Brazilian, and Colombian Amazon were half to one-third that of other ecologically similar areas. And judicially, the strict date set in the "marco temporal" runs counter to the spirit of Brazil's constitution. The assault on indigenous rights in Brazil did not start in 1988 or even during the military dictatorship's colonialist and assimilationist push into the Amazon decades earlier. Abiding by the "marco temporal" both ignores that history of suffering and contravenes a charter that sought to right those wrongs.
Investors, direct and otherwise, will cheer too. The increasingly poor management of natural wealth has rightly been seen as a symptom of deeper dysfunctions manifest elsewhere in Bolsonaro's Brazil, which is increasingly unattractive to environmental, social and governance-minded investors. A group of large international retailers in May warned in an open letter that absent improvement in sustainable practices, they would source goods from elsewhere.
Clearly, a positive ruling doesn't solve the complex question of demarcation and land rights or the problem of devastation already left by Bolsonaro, even if he is not reelected next year. It isn't the end of the agricultural lobby's efforts to eat into virgin land, nor is it much good without sustained enforcement. It doesn't solve the complex issue of poverty among smallholders who may suffer.
But for the battered Amazon no less than for embattled tribes, it would be a cornerstone on which to rebuild after years of destruction.
This column does not necessarily reflect the opinion of the editorial board or Bloomberg LP and its owners.
Clara Ferreira Marques is a Bloomberg Opinion columnist covering commodities and environmental, social and governance issues. Previously, she was an associate editor for Reuters Breakingviews, and editor and correspondent for Reuters in Singapore, India, the U.K., Italy and Russia.