Bolsonaro's Sound and Fury Can't Hide His Failures
(Bloomberg Opinion) -- Brazilian President Jair Bolsonaro's bet that adoring crowds on Independence Day would help him out of a tough spot didn't quite go to plan. Tens of thousands did turn out in Sao Paulo and elsewhere, decked in the green-and-yellow flag. He responded with now-familiar attacks on the electoral system, his opponents and the Supreme Court, vowing he would never go to jail. "Only God," he told his audience, could remove him.
But what was intended as a show of force revealed instead a figure isolated from all but die-hard supporters, relying on bluster and the looming threat of a coup to distract from the president's inability to navigate Brazil's messiest crisis in years, if not decades. Worse, by whipping up political ferment he has made it harder to resolve a deepening fiscal conflict and push through desperately needed economic reforms.
With an election just over a year away, it's going to get harder to avoid reality. In addition to the disastrously handled pandemic that has claimed more than 580,000 Brazilian lives, there are metastasizing corruption investigations and a drought that has pushed up power bills as reservoirs run dry, worsened an already grim inflation picture and battered the crucial agricultural sector. Unemployment remains near record levels and, along with underemployment, has been crushing the informal workers who comprise two-fifths of the labor force. 
Back in 2019, Bolsonaro brought hopes among investors that he and University of Chicago-trained Economy Minister Paulo Guedes could galvanize an ailing economy by overhauling pensions, boosting privatization, cutting red tape and taxes and reining in government spending. When I followed the president's team around Davos on his first trip abroad, he was feted by attendees. The former army captain wasn't exactly personally palatable, but the free-market, corruption-fighting credentials of his team inspired confidence and he was seen as the one who just might break with the graft and cronyism of the past. Brazil could finally move on from the recession of 2014-16 and up from the inglorious bottom of the ease-of-doing-business rankings.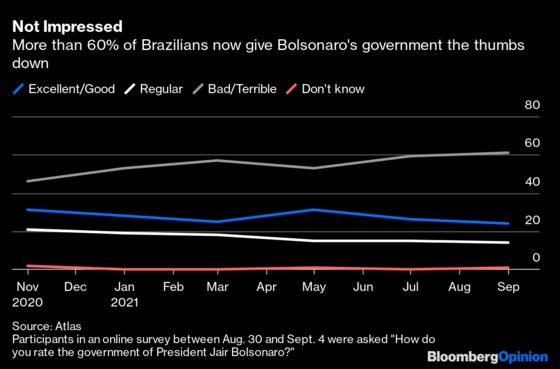 Early successes — specifically, pension reforms — have since been overshadowed by unmitigated disasters like the handling of the coronavirus. Bolsonaro denied the gravity of the illness, fought lockdowns, embraced quack cures and cycled through health ministers. Brazil has the world's second-highest number of fatalities from Covid. More shots are now going into arms, but with fewer than one in three fully vaccinated, the country faces the prospect of continued high infection rates and a lingering risk of surges.
Now the political turmoil fanned by Bolsonaro is dashing hopes of a post-pandemic return to the early economic agenda. Bitter clashes on all fronts, with the Supreme Court, with electoral authorities and with opponents in the legislature, make meaningful progress on an overhaul of the burdensome tax system or administrative reforms to reduce the crippling cost of public sector wages look unlikely. There is, as the economy minister said last month, just too much noise.
Constant sparring, particularly with the judiciary, is also making it harder to resolve the country's budget impasse as the government struggles to balance court-ordered payments and inflationary pressures with the president's eagerness to widen monthly transfers for Brazil's poorest, given the predictable popularity of pandemic handouts. It's all weighing on the currency and pushing up the cost of borrowing too, with 10-year bond yields at over 11%, the highest since Bolsonaro took the helm. Fresh moves toward impeachment proceedings won't improve matters.
Meanwhile the post-Covid economic recovery is facing headwinds, ranging from cooler prices for key commodities like iron ore and soybeans to aggressive monetary policy tightening — the benchmark rate is at 5.25% and expected to rise another full percentage point this month — as the central bank battles destabilizing price increases.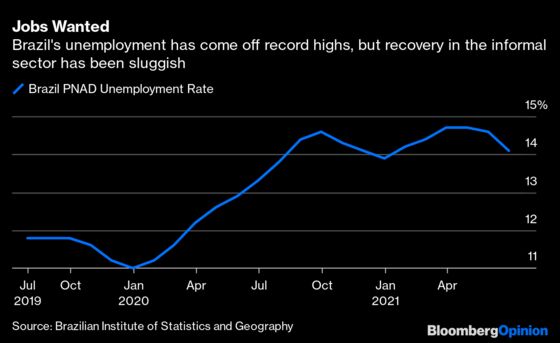 There can be some relief that provocative statements did not result in a full-scale U.S. Capitol-style insurrection on Tuesday. Institutions like the Supreme Court have stood firm against presidential onslaughts. Christopher Sabatini, senior fellow for Latin America at Chatham House, argues the judiciary is likely to continue to resist if Bolsonaro sticks with head-on confrontation — rather than opt for a slow hollowing out, a far more dangerous prospect and harder to resist.
But there's a long way to go before October 2022, and, absent unexpected successes, the president will keep resorting to provocation and conspiracy, tugging at the fabric of Brazil's democracy and unsettling markets further. As William Jackson of Capital Economics put it to me, investors may find it hard to see a good outcome ahead if the presidential race is, as expected, a choice between an ever more populist, profligate Bolsonaro and leftist former president Luiz Inacio Lula da Silva — whose current incarnation is an unknown quantity.
Brazilians and investors hoping for a change may have longer to wait. More sober presidential rhetoric, in the meantime, may at least stop Guedes' job from getting even harder.
This column does not necessarily reflect the opinion of the editorial board or Bloomberg LP and its owners.
Clara Ferreira Marques is a Bloomberg Opinion columnist covering commodities and environmental, social and governance issues. Previously, she was an associate editor for Reuters Breakingviews, and editor and correspondent for Reuters in Singapore, India, the U.K., Italy and Russia.