Sorry Brits, Don't Count on That Ibiza Getaway Just Yet
(Bloomberg Opinion) -- You might want to put the sangria on hold. Just as the U.K. government dangles the possibility of Brits traveling to more Mediterranean hotspots, European countries could begin imposing more restrictions on visitors.
This week has seen a slew of positive news for English holidaymakers. The U.K. added Malta and Spain's Balearic Islands to the so-called "green list" of countries that residents can travel to without having to quarantine upon their return.
The potential game changer for summer holidays came from Prime Minister Boris Johnson, who signaled that fully vaccinated people will gain extra freedoms. With some 60% of U.K. adults having had their second shot, this could unleash significant demand for travel. That's badly needed by the likes of TUI AG, the world's biggest tour operator, as well as budget airlines EasyJet Plc and Ryanair Holdings Plc.
But I wouldn't count on that beach holiday just yet.
Although the additions to the green list are certainly helpful, major holiday destinations such as mainland Spain, Greece, France and Italy remain on the medium-risk "amber list" of countries that come with more restrictions. And even the newly green locations of Ibiza, Mallorca and Menorca are currently on a "watch list." The potential for their risk status to be elevated at any time may make consumers nervous about booking holidays, though the U.K. arm of TUI has still seen bookings to the Balearics rise.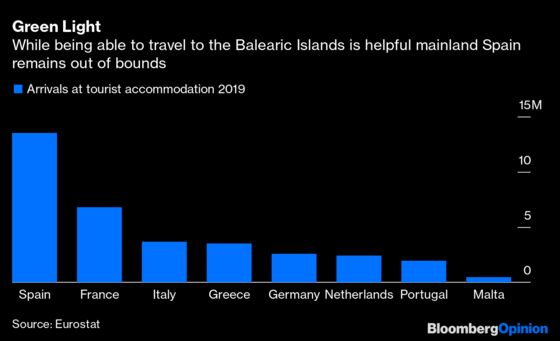 There are also many unresolved questions around the plan for the fully vaccinated. It's not clear what exactly their extra freedoms will be, and when they'll come into force. Later in the summer has been mooted. But restrictions would need to be lifted before July and August — the peak travel season — to make a big difference to tour companies and airlines.
If double-jabbed people can travel to amber countries without an at least five-day quarantine, as is expected, they would still likely need to take a Covid-19 test before departure and at home. So the higher cost of going on holiday won't be coming down. With TUI offering reduced-price tests, and many consumers flush with cash savings, that may be manageable for most. But the extra expense will inevitably force some families to skip the vacation this year.
Another question is how unvaccinated children would fit into the new framework. Clarity on this is needed — and soon — as the next few months are the peak time for family vacations.
Perhaps the biggest setback to travel is other countries trying to keep Brits out.
German Chancellor Angela Merkel has suggested the whole European Union should coordinate its travel rules and be more cautious about allowing in visitors from countries outside the bloc with high rates of the Delta variant of the virus. That would include the U.K. So far, Germany, Italy and Poland have already imposed quarantine rules on people arriving from the country. France and Portugal said they may tighten restrictions on British arrivals as well.
Meanwhile, tourist-dependent nations such as Greece and Spain have been keen to open up, and may resist efforts to impose fresh curbs on sun seekers from Britain. Spain indicated on Friday that it would not impose quarantines on arriving British tourists, but it may require proof of vaccination or a negative test.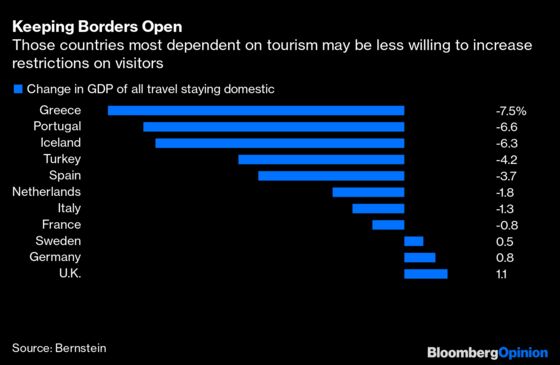 Hopefully it won't take too much longer for travel rules across the continent to get straightened out. But the clock is ticking, and the summer isn't looking so sunny anymore.
This column does not necessarily reflect the opinion of the editorial board or Bloomberg LP and its owners.
Andrea Felsted is a Bloomberg Opinion columnist covering the consumer and retail industries. She previously worked at the Financial Times.