Market Madness Puts Pension Funds in a Risky Bind
(Bloomberg Opinion) -- A 25-year-old bond that matures in the U.K. this summer neatly encapsulates the trend that has driven investors to chase higher returns by buying private assets, lower-rated debt and other riskier securities. Its expiration also illustrates that as older issues roll off in the debt market, pension funds will struggle to find assets that generate sufficient cash flows to fulfil their obligations to retirees. So the hunt for yield in less liquid pockets of the market is set to continue for the foreseeable future.
With the income available to pay retirees from fixed income investments shrinking, pension providers are in a bind. In Denmark, for example, a state-run fund has decided it needs to take more risks with the $150 billion it oversees to provide basic pensions for Danes. ATP got government permission last week to slash its 80% allocation to bonds in favor of buying real estate and infrastructure assets.
The rewards for buying less liquid assets are potentially greater and so are the corresponding risks. But maintaining the status quo "isn't an option," ATP Chief Executive Officer Bo Foged said earlier this week.
While more than eight years of negative central bank rates make Denmark the country with the longest stretch of sub-zero official borrowing costs in the world, the slump in bond yields is a global phenomenon.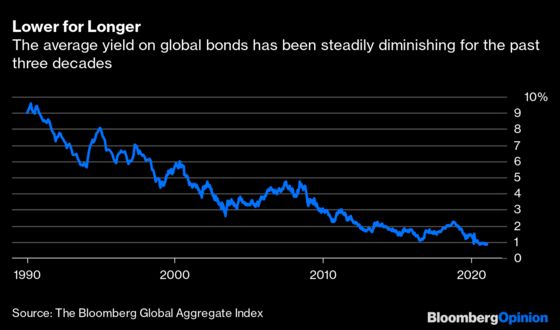 Back in the U.K., in June the government is scheduled to repay the bond issue worth almost 25 billion pounds ($34 billion). The securities were first issued a quarter of a century ago in a 3 billion-pound auction, and have been tapped regularly since then, boosting the total outstanding. Jim Leaviss, a portfolio manager at M&G Plc, reckons at one point it may have been the biggest single bond issue in the world.
Its size, combined with a semi-annual interest rate of 8%, means that every six months the government pays bondholders almost a billion pounds. That coupon makes it far and away the highest-paying U.K. government bond currently available. Its scheduled demise will leave investors with a paucity of alternatives.
Once it matures, there's a 6% gilt repayable in December 2028; a 5% issue due in March 2025; and a couple of 4.75% bonds, one redeeming in 2030, the second in 2038. Reinvesting 1 million pounds in the next-best gilt would see your annual income drop to 60,000 pounds from 80,000 pounds. By the time you're stuck with one of those 4.75% gilts, though, your yearly proceeds will have fallen to 47,500 pounds.
As more older, higher-coupon bonds mature around the world, pension funds will have to scramble even harder to garner income. The four highest coupon offerings in the U.S. Treasury market, ranging from 8.125% to 7.875%, will all disappear this year. The French bond that pays the highest rate at 8.5% matures in April 2023, a year after the second-best security offering 8.25%. After that, investors have to drop to a 6% coupon — and that only lasts until 2025. In Italy, a 9% bond and an 8.5% issue both mature by the end of 2023, leaving a third-best 7.25% security that runs until November 2026.  
The new bonds coming on stream offer much less income for pension funds. At current market levels, the U.K. government can sell 25-year debt at a yield of just 0.8%. So refinancing the entire 25 billion-pound issue when it matures in June would deliver annual interest income of just 200 million pounds — 90% less than the old bond.
The immutable mathematics of more than a quarter-century of declining yields amid a bull market in fixed income explains why fund managers of all flavors have been compelled to take on more risk to juice their returns, stoking concern about bubbles in everything from stocks to junk debt to Bitcoin.
Doom mongers who've predicted the end of the winning streak for bonds have thus far been wrong. Ten years ago this week, legendary bond fund manager Bill Gross said U.K. gilts were "resting on a bed of nitroglycerine" and should be avoided. At the time, the benchmark 10-year gilt yield was about 3.9%. Today, it delivers about 0.3%.
Still, the good times for borrowers might not last forever. "Bonds could have a very significant and abrupt and intense price readjustment," Paul Singer, the billionaire founder of Elliott Management Corp., said last week. 
But until and unless that debt market repricing happens, pension funds will be caught between sacrificing income to seek the relative safety of government debt or adding risk to try to boost their portfolios. For the retirees depending on those nest eggs, neither option is particularly attractive. In today's low-yield environment, the dream of a comfortable retirement is becoming ever more elusive.  
This column does not necessarily reflect the opinion of the editorial board or Bloomberg LP and its owners.
Mark Gilbert is a Bloomberg Opinion columnist covering asset management. He previously was the London bureau chief for Bloomberg News. He is also the author of "Complicit: How Greed and Collusion Made the Credit Crisis Unstoppable."