Bond Traders See Fed Facing an All-or-Nothing Decision
(Bloomberg Opinion) -- On Feb. 25 at 3 p.m. New York time, Federal Reserve Vice Chair Richard Clarida said it was "still too soon" to say whether the spreading coronavirus would result in a material change to the central bank's economic outlook. For months, that has been the lofty bar for officials to shift from their current stance on monetary policy. At that moment, the S&P 500 Index was at 3,155, down about 7% from its record set the week before, and the benchmark 10-year Treasury yield was near a record low at 1.34%.  
Suffice it to say, the financial markets have only worsened since then. Stocks entered a correction at the fastest pace ever by falling more than 10% from their Feb. 19 peak, while 10-year yields dipped below 1.25% and two-year yields hurtled toward 1% in the steepest weekly decline since the financial crisis. Remember, the current fed funds rate is well above those, at 1.5% to 1.75%. Simply put, in a matter of just a few days, the bond market has priced in a tremendous amount of action from the Fed, in stark contrast to Clarida's comments and those more recently from Chicago Fed President Charles Evans, who on Thursday called it "premature" to think about changing monetary policy.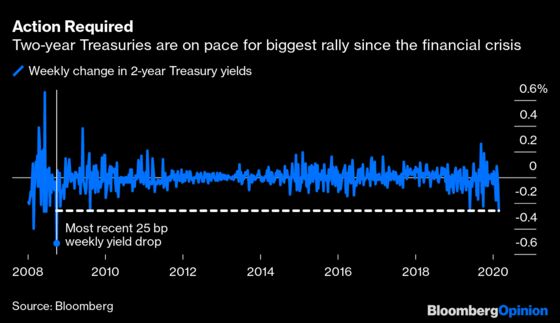 In one example spotted by Bloomberg News's Edward Bolingbroke, some bond traders are placing huge bets that the fed funds rate will approach the zero lower bound in just the next few months. While short-term rates markets were already pricing in close to two quarter-point interest-rate cuts from the central bank by mid-year, this kind of wager, combined with growing calls for immediate central-bank support, puts into play the idea that the Fed will cut its lending benchmark by 50 basis points in one fell swoop.
That's a remarkable stance to take, given recent Fed commentary and the broad acknowledgment that a coronavirus outbreak simply can't be cured by lower interest rates. Bond traders, effectively, are speculating that the Fed won't replicate its "mid-cycle adjustment" strategy of a few consecutive quarter-point rate cuts given the recent market turmoil. Rather, it's going to be an all-or-nothing event, starting with its March 18 decision.
"If risk markets do not stabilize almost immediately, the Fed may attempt to ease market pressure by taking a softer stance in public statements on policy," Ward McCarthy and Thomas Simons at Jefferies LLC wrote on Thursday. "If that does not work, it is likely that the Fed will act by cutting the fed funds rate by 50 bps."
Meanwhile, in a sign of how accustomed the financial markets have become to central banks coming to the rescue, "many folks are asking about inter-meeting cuts with the Fed," said Russ Certo at Brean Capital LLC. It's somewhat ridiculous to think that would actually happen, though perhaps it was more a question of whether that sort of action is unprecedented. It's not.
Rising above all the market carnage of the past week, the reality is the Fed's March decision will be a close call. For one thing, officials have only one more week to convey their outlook to investors before their self-imposed "blackout" period begins. As it stands now, New York Fed President John Williams will have the last word on March 5. If central bankers were of the mind to cut interest rates next month — and certainly by any more than a quarter-point — expect more speakers to make last-minute appearances.
Ordinarily, I'd take a firm stance that the bond market is expecting far too much from the Fed and that policy makers would be wise to hold interest rates steady. After all, it's not as if borrowing costs are punishing U.S. companies, local governments or individuals. Quite the opposite. The yield on the Bloomberg Barclays U.S. Corporate Bond Index fell to a record low 2.45% this week, yields on top-rated 10-year municipal debt fell below 1% for the first time, and it's probably just a matter of time before 30-year mortgage rates reach a new low. 
However, I also thought the Fed would remain on pause and let the U.S.-China trade war run its course last year. Instead, Chair Jerome Powell embarked on back-to-back-to-back interest-rate cuts. The difference between benchmark Treasury yields and the upper bound of the fed funds target range has reached extreme levels similar to the period from early June through mid-September of last year. That was precisely when the Fed gave in to traders' demands for easier policy.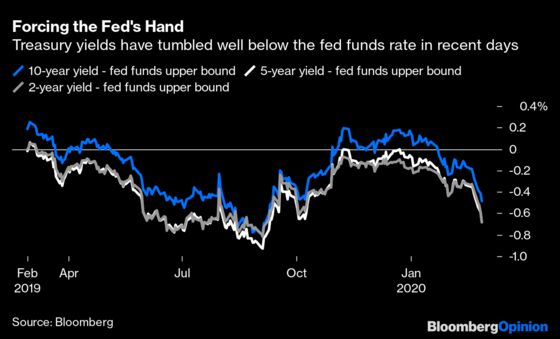 Because of that precedent, I wouldn't be surprised if the Fed reduced its short-term rate by 25 basis points next month. An even bigger cut seems unlikely, barring a complete collapse in the stock market. It's reasonable to assume that the coronavirus outbreak and the various efforts to contain it will cause economic activity around the world to worsen in the coming months and potentially in the U.S. as well.
My hunch is still that the Fed would prefer to hold steady in March and use the statement and Powell's press conference to indicate that policy makers stand ready to act in April or June if the impact of the coronavirus shows up in economic data. For that reason, I'd expect coming speakers to mimic Clarida's words, with Williams or another official swooping in at week's end if it's clear the bond market is priced for a cut and financial conditions don't improve. 
It's notable that on Thursday, European Central Bank President Christine Lagarde said the coronavirus outbreak was not yet at the stage where it would require a monetary policy response. While the ECB clearly has less room to maneuver than the Fed, its next decision is even sooner, on March 12, and the virus has caused pockets of havoc in the region, including Milan, Italy's financial hub. If there's a coordinated global monetary policy response in the offing, central bank leaders are doing a good job of hiding it.
All told, I can't help but be of the mind that the Fed should fight the impulse to cut interest rates after the stock market's swoon. Tom Porcelli at RBC Capital Markets summed it up well:
"Markets are calling for policy prescriptions that address demand shocks to solve what is a potential transitory supply shock, driven by pandemic fears. Even if it gets worse, unless you all of a sudden think we are looking at a 1918 Spanish Flu-like event, this too shall pass folks. And what do rate cuts at the front-end do exactly to shift the trajectory of the core short-term problems stemming from COVID-19? It boggles the mind."
However, traders place their bets based on expectations for what the Fed will do, not should do. And they've made up their minds that the central bank has no choice but to ease policy — definitely by its April meeting and quite possibly in March. Headlines like "Bank of America Says World Economy Weakest Since 2009" only add to their case.
Will Fed officials stand up for themselves in the face of these massive trades and gloomy outlooks? History suggests not.
This column does not necessarily reflect the opinion of Bloomberg LP and its owners.
Brian Chappatta is a Bloomberg Opinion columnist covering debt markets. He previously covered bonds for Bloomberg News. He is also a CFA charterholder.