Bond Investors Love Greece. Really.
(Bloomberg Opinion) -- This southeastern European home of 10.7 million people has the lowest risk and highest returns wherever major government bonds are traded. Economists expect the second-fastest growth among 34 developed countries. It's also an emblem of unanticipated economic rejuvenation and the power of 19 nations sharing a currency, the euro.
We're talking about Greece, given up for dead six years ago because of persistent austerity in the aftermath of the 2008 financial crisis.
The Greek revival began not too long after 2015, the year when former U.S. Federal Reserve Chairman Alan Greenspan told the British Broadcasting Corp. that it was "just a matter of time" before Greece abandoned the monetary union and the euro disintegrated. George Soros, the billionaire chairman of Soros Fund Management said in an interview with Bloomberg Television around the same time that "Greece is going down the drain." Marcel Fratzcher, the Oxford- and Harvard-educated former head of policy analysis at the European Central Bank and president of the German Institute for Economic Research, weighed in, too, calling Greece a "political and economic catastrophe."
The gloom-mongering was the result of efforts by newly elected Prime Minister Alexis Tsipras to end five years of reduced government spending during a depression while securing the final 7.2 billion euros ($8.7 billion) of a 240 billion-euro bailout package from resistant European Union creditors. To much of the outside world, it appeared that the EU pressure on Tsipras to keep austerity in place would drive him to default on debt and abandon the euro in favor of a national currency that could be devalued to stimulate the staggering economy. But public opinion polls in Greece failed to show any preference for returning to drachmas. That's why investors shared little of the rest of the world's anxiety.
Grexit never happened and investors have since made Greece the favorite sovereign bond. The surest measure of their confidence is the diminishing price fluctuation of Greek debt, whose volatility evaporated from 69% in 2015 to a decade-low of 3.8% this month — a measure of stability that outperforms the world benchmark and is very close to that of U.S. Treasury securities, according to Bloomberg Barclays indexes.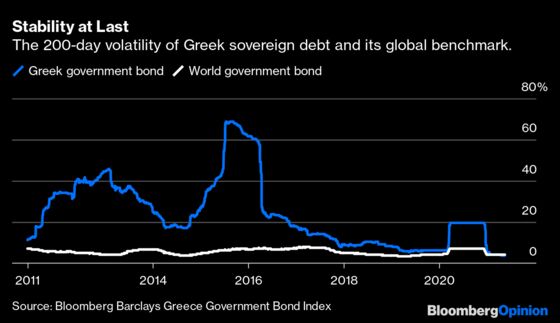 Greek securities are beating all of the world's benchmarks, providing a total return (income plus appreciation) of 120% during the past five years, as European, U.S., Asia-Pacific and World Treasury peers netted 19%, 13%, 8% and 13%, respectively, according to data compiled by Bloomberg. The 39% return for Greece over two years still dwarfs the same competition. Even during the past six pandemic-plagued months, Greece held its own, gaining 1% as European, U.S., Asia Pacific and the world benchmark were losing 1%, 4%, 1% and 2%.
In March 2019, investors snapped up 2.5 billion euros of Greek 10-year bonds priced to yield 3.9%, the first such offering in nine years. The same bonds appreciated so much they yield less than 1% today, the lowest since data was compiled in 1996. Greece was paying more than 33% at the height of its debt crisis in 2012.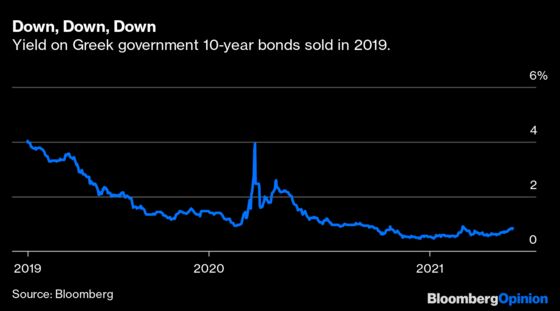 By refusing to return to the inflation-plagued drachma and transforming its debt burden from the short term into the euro zone's longest maturities, Greece belatedly caught up with the rest of the developed world with a gross domestic product forecast to increase 5.1% in 2022, No. 2 among 34 countries, according to data compiled by Bloomberg.
The improved outlook hasn't gone unnoticed. S&P Global Ratings last month raised its long-term sovereign credit rating on Greece to BB from BB-.
"The upgrade reflects our expectation of a rapid improvement in Greece's economic and budgetary performance as the adverse impacts of the Covid-19 pandemic subside," the rating company said in a statement. Moody's Investors Service issued a similar upgraded assessment last November.
So much for leaving the EU, the euro zone disintegrating, and Greece going down the drain.
This column does not necessarily reflect the opinion of the editorial board or Bloomberg LP and its owners.
Matthew A. Winkler is Co-founder of Bloomberg News (1990) and Editor-in-Chief Emeritus; Bloomberg Opinion Columnist since 2015; Co-founder of Bloomberg Business Journalism Diversity Program in 2017. During his 25 years as Editor-in-Chief, Bloomberg News was a three-time finalist and winner of the Pulitzer Prize for Explanatory Reporting and received numerous George Polk, Gerald Loeb, Overseas Press Club and Society of Professional Journalists and Editors (Sabew) awards.