This BOE Is Made for Hiking and That Is What It'll Do
(Bloomberg Opinion) -- Clunk!
With all the subtlety of a dropped hammer, Bank of England Governor Andrew Bailey dispelled what little doubt was left that U.K. interest rates would be raised before the end of this year. The central bank would "have to act" to reduce inflationary pressures, he declared at an online panel held on Sunday by the Group of 30, an organization of financiers and academics.
The whole gilt yield curve shifted higher Monday in reaction, with two-year yields at 0.75%, the highest since May 2019; 10-year yields have doubled over the past two months, making it the worst-performing major government bond market. U.K. money markets have priced in 50 basis points of rate hikes by year-end. It is overreaction, of course. But what else could the markets do as they bore witness to the previously super-dovish BOE's road-to-Damascus conversion? The central bank had just until recently toyed with negative rates.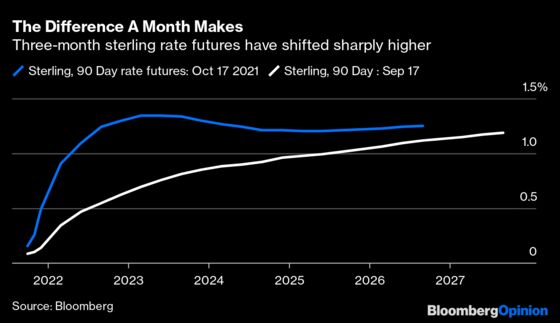 In the minds of most BOE policymakers, the debate whether inflation is transitory is over. Bailey's remark makes clear that inflation is now flashing red because energy prices have soared, and those surges are expected to spill over into consumer behavior, business pricing and, ultimately, potential wage demands. The semantics of inflation is for the birds — and they are turning out to be hawks.
September CPI data to be released Wednesday will shed further light on the stickiness of the ongoing energy, fuel and food crises. The yearly headline rate of 3.2% isn't expected to change, according to the Bloomberg survey, though it may be the last time for a while there will be a "3" handle on inflation. Consequently all eyes will on the details.
The BOE's quarterly review by the Monetary Policy on Nov. 4 should result in hiking the bank rate 15 basis points to 0.25%, a baby step to normalizing policy. Leaving the decision until the Dec 16. meeting would be seen as dithering. It would hardly cheer the festive season. And the BOE could use the time to assess the effect on the recovery of the end of the furlough job-support program and other factors —  that is, before a subsequent, more important and larger interest rate rise.
That should be a move to 0.5% at the quarterly review in February — which is where the rate stayed for an extended period right after the 2008 financial crisis. Under Bailey's predecessor, Mark Carney, there was an oft-stated desire for a "buffer" to be built in to enable the central bank to have ammunition to respond to the next downturn. This may be exactly what the Bailey-led MPC is attempting to achieve. The risk, of course, is that by hiking too early, an economic downturn is exactly what will result. Above all else, the Nov. 4 quarterly review press conference needs to clarify how high rates need to be before the MPC is satisfied it has taken sufficient action.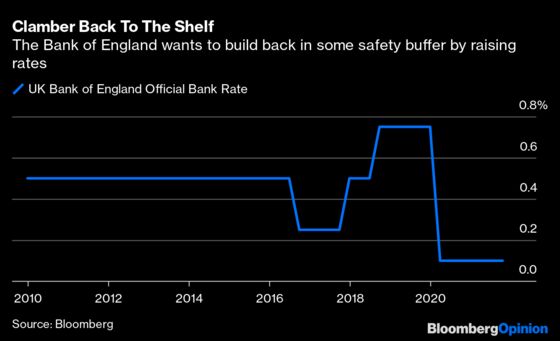 A move to 50 basis points in February has other advantages: it would trigger an "automatic" end to reinvesting in maturing gilts. On March 7, the BOE will receive about 27 billion pounds ($37 billion) when the 4% 2022 bond gets repaid. Under current rules, it would have to plough this cash back into buying gilts again if rates stay below 0.5%. That risks sending a confusing message: Effectively reigniting its stimulus program while simultaneously tightening via interest-rate policy. However, stopping reinvestment would be a twin-tightening maneuver because it will steadily shrink the stock of the central banks' balance sheet. It is a big decision to get right.  
The BOE will need to clamp down on excessive fears of a tightening cycle as money markets are pricing in 1% official rates by May — theoretically triggering active selling of its gilt holdings — which would be the most aggressive action by major central banks to reverse pandemic-era stimulus. That is almost certainly not the message Bailey wants to send. But he needs to control communication to make sure he is not misunderstood: Money markets are now pricing in four rate hikes over the next year, which smacks of overkill.  
Bailey's Sunday comments may be addressed as much to members of the MPC: An attempt to bring outsider members over to the change of mind of the internal policymakers. He said on Sep. 27 at the professional economists annual dinner that all MPC members believe there needs to be modest tightening of policy over the medium-term. Some of the doves might be convinced to act. 
If so, there is much more heavy lifting to be done. Forward guidance needs to set out the MPC's shifting views  to calm the markets over the risk of smothering the recovery because of a policy mistake. Bailey's reputation rests on getting the communication right. Good luck with that.
This column does not necessarily reflect the opinion of the editorial board or Bloomberg LP and its owners.
Marcus Ashworth is a Bloomberg Opinion columnist covering European markets. He spent three decades in the banking industry, most recently as chief markets strategist at Haitong Securities in London.