Blackstone Puts Too Many Chips on a $6.2 Billion Casino Bid
(Bloomberg Opinion) -- It's not hard to see why Blackstone Group Inc. would see value in the stricken Australian casino operator Crown Resorts Ltd. 
The private equity firm, which is offering to take over the operator of casinos in Melbourne, Perth and Sydney for A$8.02 billion ($6.2 billion), would inherit one of the best balance sheets in the industry and by default remove one of the main issues hanging over the stock.
By bringing in its own management to run the show — the normal course of business for most private equity takeovers — Blackstone would automatically be carrying out the wholesale management restructuring that Crown will likely need if it's to hold onto its gaming licenses following a damning money laundering inquiry. 
Any gambler (or investor) knows not to put too much weight on a run of losses, since the future is still unwritten. Viewed that way, Crown is a more attractive stock than it's been in many years. The Sydney casino, a significant drain on cash in recent years, opened in December. Gambling activity is currently suspended following the inquiry, but cash is flowing in thanks to A$870 million of apartment sales in its harborside tower amid a red-hot real estate market.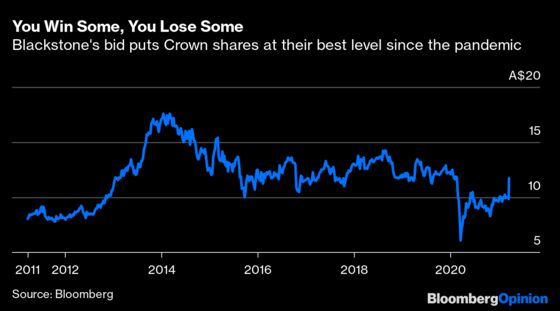 The worst of coronavirus appears to be in the past in Melbourne, too, with 1,000 people now allowed on Crown's main gaming floor and other restrictions being lifted progressively. With Australia expecting to open its international borders once vaccination of the local population is completed, expected in late October, there's even a chance that foreign tourists could return not long after a deal is finished.
The problem is that these benefits already look priced into the stock. On a forecast price-earnings ratio, Crown is currently trading at 48.3 times its blended forward 12-months earnings estimates, putting this trouble-plagued company on a marginally more generous multiple than the 47.8 times rating ascribed to tech darling Amazon.com Inc.
Even if you switch to an enterprise value model to strip out the effects of Crown's superior balance sheet and estimate earnings over the next 24 months to give a more post-Covid flavor to the exercise, the price looks steep. Crown's current valuation of 11.2 times earnings before interest, tax, depreciation and amortization puts it in the company of Las Vegas Sands Corp., MGM Resorts International and Wynn Resorts Ltd. That seems excessive, though, since all of those businesses make a substantial slice of their money in Macau, a market from which Crown is absent that's now sputtering back to life after a Covid-induced shutdown.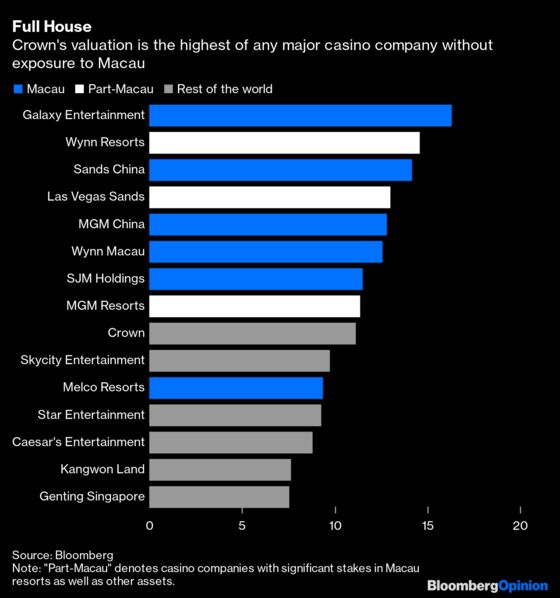 Place it next to the more comparable casinos which can't depend on Macau's cash gusher, and Crown's valuation looks distinctly rich. That 11.2 times multiple is a larger number than its previous partner in the Chinese gambling resort, Melco Resorts & Entertainment Ltd., and well above what any gambling company without Macau exposure can boast. 
That's pretty bold for a company that still can't quite guarantee it will be allowed to operate in its main markets at all, pending the outcome of two more government inquiries and license reviews.
Blackstone helped revive Crown from its Covid- and scandal-induced slump last April when it bought Melco's 10% stake for A$8.15 a share, helping to set a floor under its price ever since. Now it's adding another 19% premium to the share price that's prevailed since first-half results a month ago.
Every gambler knows its a bad idea to bid against yourself. The pile of chips Blackstone is pushing onto the table suggests it's forgotten that fact.
This column does not necessarily reflect the opinion of the editorial board or Bloomberg LP and its owners.
David Fickling is a Bloomberg Opinion columnist covering commodities, as well as industrial and consumer companies. He has been a reporter for Bloomberg News, Dow Jones, the Wall Street Journal, the Financial Times and the Guardian.