Brevan Howard's Crypto Play Shows Hedge Funds Have Their Mojo Back
(Bloomberg Opinion) -- Brevan Howard Asset Management's decision to start buying cryptocurrencies for its main fund is yet more proof that portfolio managers are finding it hard to ignore an asset class that's soared in value this year. It's also evidence that hedge funds, after several years of industry contraction, are starting to get their mojo back.
It's a bold move. Unlike the rest of the foreign exchange universe, cryptocurrencies are literally untethered — no pun intended — from the real world. A decision to buy or sell dollars or euros is typically backed up by an analysis of relative economic performance or the prospects for inflation or likely policy moves by the respective central banks.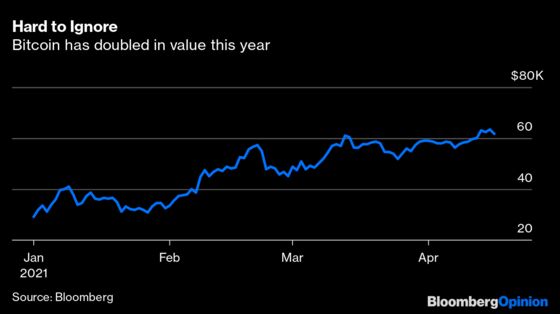 But for a hedge fund, massive volatility should be a feature, not a flaw. And funds that pursue global macro as an investment style are both the most likely to adopt crypto as an asset class and the most in need of a boost to their returns.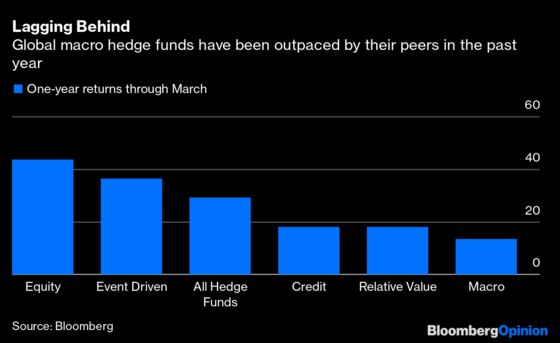 Brevan Howard's move to embrace the price swings inherent in digital assets comes at a time when the hedge fund industry is in its best shape for years. Last year saw 770 hedge funds close, compared with 539 openings, according to data compiled by research firm HFR. But in the fourth quarter alone, 175 starts outpaced the 151 funds that shut shop, a second consecutive quarter of industry expansion after eight periods of contraction.
And customers are returning. Brevan Howard's assets have more than doubled in the past two years to more than $13 billion. Man Group Plc, the world's largest publicly traded hedge fund, saw its assets swell to a record $127 billion in the first three months of this year, up from $123.6 billion at the end of 2020. It anticipates further inflows in the coming quarters.
Man Group already trades Bitcoin, including via futures contracts, Chief Executive Officer Luke Ellis said last month. "One has to temper the excitement about cryptocurrencies and how much you can do in those markets until you can see whether there's real liquidity," he told my Bloomberg Television colleague Erik Schatzker.
But the more that mainstream institutions get involved in digital currencies, the more liquid they'll become. Coinbase Global Inc., an exchange for digital assets, has a market capitalization of about $64 billion after listing on the stock market this week, big enough to make it a must-own equity for many tracker funds and thereby broadening investors' participation in crypto, as my Bloomberg Opinion colleague Nir Kaissar pointed out.
If the Securities Exchange Commission finally relents and approves one of the eight applications from firms wanting to launch a Bitcoin exchange-traded fund in the U.S., crypto's dubious charms will become available to even more investors willing to stomach the price gyrations of a virtual asset. Just hope that the whales don't decide to bail.
This column does not necessarily reflect the opinion of the editorial board or Bloomberg LP and its owners.
Mark Gilbert is a Bloomberg Opinion columnist covering asset management. He previously was the London bureau chief for Bloomberg News. He is also the author of "Complicit: How Greed and Collusion Made the Credit Crisis Unstoppable."