Even Billionaires Will Splurge on Birkenstocks
(Bloomberg Opinion) -- Comfy shoes have never been so hot.
L Catterton, the private equity fund backed by LVMH Moet Hennessy Louis Vuitton SE founder Bernard Arnault, is nearing an agreement to buy a majority stake in Birkenstock, maker of the famously clumpy sandals, for about 4 billion euros ($4.9 billion), Bloomberg News reported on Wednesday.
This would be the second shoe to drop in as many months. At the end of January, PE group Permira listed famous bootmaker Dr. Martens Plc, valuing its equity at 3.7 billion pounds ($5.2 billion). The shares have since risen by a third.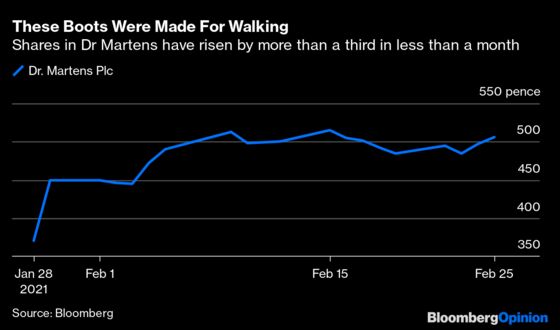 Birkenstock looks like the better bet in terms of recent footwear trends toward casual, no-fuss comfort. The trouble is, L Catterton would be getting into shoes just as they're commanding princely valuations. Permira was able to list Dr. Martens at more than 10 times what it initially paid. To get anywhere near that sort of growth, L Catterton will have to work hard to expand the sandals' international footprint, particularly among young Asian consumers.
Birkenstock was founded in 1774, but made its name in 1896, when it developed the footbed giving its shoes their characteristic support. In 1966, Margot Fraser, a German dressmaker living in California, introduced them to the U.S. Initially sold in health food shops, over the next few decades they were worn by those who rebelled against laced-up, conventional footwear. Then in the early 1990s, Birkenstocks became a fashion favorite after model Kate Moss sported them in an influential photoshoot for The Face magazine.
The shoes have been in and out of vogue since then, helped along by collaborations with designers such as Rick Owens. Somewhere in the last 10 years, Birks transcended fashion to become a wardrobe staple. That gives them more staying power than Dr. Martens, which has ridden its own fashion waves since the creation of its namesake chunky boot in 1960. Although Docs were hot in the 1980s, they have only recently come into style again, thanks to the craze for oversized boots worn by the likes of singer Billie Eilish. 
If post-pandemic workday wardrobes remain casual, Birkenstock should also be in a strong position, particularly if it can develop its range of covered shoes alongside sandals. And this may explain the punchy price L Catterton is reportedly paying for the business.
In the year to September 2019 (the last accounts available), Birkenstock generated revenue of 722 million euros ($883 million), and made earnings before interest and tax of 161 million euros. This was not that far from Dr. Martens's sales and Ebit in the year to March 2020 of 672 million pounds ($948 million) and 142.5 million pounds respectively. The two companies also have similar operating margins, at around 21% - 22 %.
The deal has not yet been finalized and financial details not yet disclosed. But assuming a 4 billion-euro enterprise value, this would be 25 times Birkenstock's 2019 Ebit. That's no bargain, but it would be below Dr. Martens's valuation of 35 times March 2020 Ebit.
That gives L Catterton a good starting point to earn a return on its investment. But to bolster it significantly, it would need to elevate sales and profits by targeting new customers, particularly in Asia, where Birkenstock doesn't yet have a big presence. Dr. Martens generates about 20% of its sales from this region. Young Chinese buyers are poised to drive top-end sales over the next five years, and the more premium end of Birkenstock's offerings could be thought of as accessible luxury.
If the company were also able to draw on the clout of LVMH, it would enable the new owner to get the best retail sites in Asian cities, and potentially pave the way for other designer tie-ups from within the world's biggest luxury group.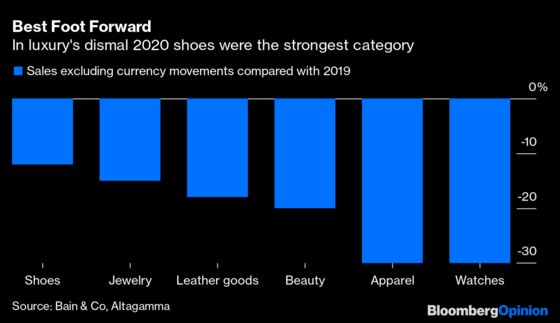 If the private equity fund can harness the ugly shoe trend and growing demand from young Chinese shoppers, it has a good chance of making the deal work, despite the high purchase price. Let's hope that's as comfortable as a pair of well-worn Birks.
This column does not necessarily reflect the opinion of the editorial board or Bloomberg LP and its owners.
Andrea Felsted is a Bloomberg Opinion columnist covering the consumer and retail industries. She previously worked at the Financial Times.