Billionaire Issa Brothers Face $1 Billion Asda Setback
(Bloomberg Opinion) -- Mohsin and Zuber Issa were looking like the cleverest men in retail.
A little over a year ago, the billionaire brothers and buyout firm TDR Capital agreed to acquire a majority stake in Asda Group Ltd from Walmart Inc., in a deal valuing the British supermarket at 6.8 billion pounds ($9.4 billion). This summer they sold the grocer's distribution centers for much more than the expected 1 billion pounds.
Since the brothers and TDR committed relatively little equity — together they put in 780 million pounds — they have already realized significant value from selling the in-demand properties. 
But last week, the new owners suffered a setback. It's a reminder that they may not be able to count on everything going their way in aU.K. supermarket frenzy.
EG Group, the fuel-station operator that the Issas and TDR also own, said it would not be going ahead with a plan to buy Asda's fuel stations for the 750 million pounds they'd agreed to as part of the buyout in February. That's bad news for Asda, as the proceeds from the sale were needed to pay off a bridging loan taken on to finance the deal. Consequently, Asda is looking to raise the equivalent of another 500 million pounds of debt, according to Bloomberg News. This, together with about 262 million pounds of cash from Asda's balance sheet, will be used to pay off the bridging loan plus fees.
The collapse of the transaction — which EG blamed on not being able to get a handle on the finer details of the business until the summer because of competition constraints — means Asda's leverage will be higher. Bellis Finco Plc, the Issas' and TDR's buyout vehicle, currently has almost 4.4 billion pounds of bonds and loans outstanding, according to Bloomberg. Moody's downgraded its debt further into junk territory, although it left the outlook as stable.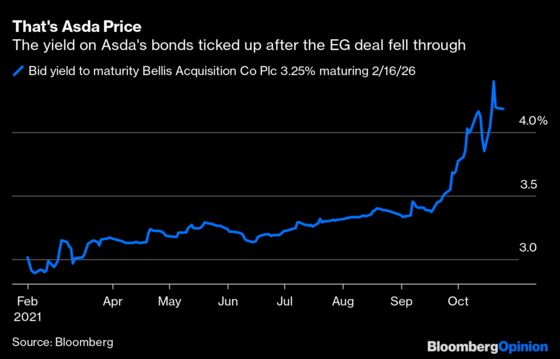 Asda is highly cash generative. It made more than 1 billion pounds in cash from operations in the year to Dec. 31, 2020. The Issas and TDR also have more room for maneuver after selling the distribution centers, although they now have to pay rent on these properties.
Nevertheless, the added debt is a worrisome development: One of Britain's biggest supermarkets will be enduring the most challenging trading environment in living memory, characterized by food price inflation and labor shortages, with significant borrowings. With Asda and Wm Morrison Supermarkets Plc in private hands, bigger rival Tesco Plc or one of the German discounters, Aldi and Lidl, may be tempted to start a price war. If this happens, Asda could have less firepower to respond.
Asda's higher leverage also comes alongside that of EG Group, which has borrowed heavily to fund a series of deals. It had 8.1 billion euros ($9.4 billion) of net debt at Dec. 31, 2019, the last accounts available. Add in leases, and net debt was more than 10 times Ebitda. While EG Group generated sales of about 20 billion euros in 2019, and had more than 4 billion euros of property, plant and equipment, reflecting its sizeable freehold estate, that's still a significant debt burden. Although Asda and EG are separate companies, they share common ownership.  
The setback also comes at a delicate time for the supermarket, Britain's third-biggest by market share.
Chief Executive Officer Roger Burnley departed in August, and a search for a successor is still underway. Given today's widespread supply chain problems, this is no time to be without an experienced CEO. And although EG Group will have benefited from the surge in Brits bulk-buying fuel, Asda may have been hurt by customers avoiding trips to its large, out-of-town supermarkets, preferring instead to shop at Tesco or J Sainsbury Plc's smaller convenience stores.
Meanwhile, the Issas and TDR are at the early stages of plans to rejuvenate Asda. Their ambitions include developing a chain of smaller convenience stores within EG fuel stations, filling the cavernous supermarkets with other retailers, such as fashion chain New Look, and installing drive-through food outlets, such as Starbucks, in parking lots. They have also introduced a customer loyalty program, something that Asda has long needed.
There is one wild card that could instantly transform the Issas' fortunes — if they and TDR were to sell EG Group, or at least its international operations. The business has been built through acquisitions, so piecemeal disposals are possible. Bloomberg News reported that EG Group, which recently appointed retail veteran Stuart Rose as chairman, was exploring options including a sale. It could be valued at about 10 billion pounds.
While that wouldn't bring an end to Asda's challenges, it would allow its new owners to concentrate on the supermarket without the distraction of EG Group's debt pile. In the meantime, they will need Asda to overcome the supply chain snarl-ups and deliver a cracking Christmas.
The price paid for the warehouses has never been disclosed. Some reports put it as much as 1.7 billion pounds.
This column does not necessarily reflect the opinion of the editorial board or Bloomberg LP and its owners.
Andrea Felsted is a Bloomberg Opinion columnist covering the consumer and retail industries. She previously worked at the Financial Times.