No Easy Fix for Broken U.S. Chip Supply Chains
(Bloomberg Opinion) -- U.S. supply chains may need fixing, but revitalizing critical American manufacturing won't be solved with knee-jerk proposals, and there's more to it than barrels of money. 
The White House is expected to order a 100-day review of factory capacity for semiconductors, large-capacity batteries, pharmaceuticals and strategic materials such as rare earths. It starts a necessary process of evaluating American manufacturing vulnerabilities, even if the timetable leaves immediate help out of reach for automakers whose production capabilities have been paralyzed by a severe shortage of chips. Moody's Investors Service estimated this week that the semiconductor supply logjam will trim earnings at General Motors Co. and Ford Motor Co. by about one-third this year and materially erode their profit margins. But there's not much the Biden administration can do about the current situation as much as it might want to: New U.S. semiconductor manufacturing capacity will take years to set up, and the power of the Treasury isn't terribly useful if there aren't any chips to be had. 
For the auto industry, the problem is something of a temporary one. Carmakers appear to have been overly dire in their estimates for the toll the pandemic would take on demand, so they cut orders. That led semiconductor manufacturers to reallocate capacity toward the home-computing gadgets that were flying off the shelves and left little slack in the system for when the auto industry decided it did need those chips after all. Without those semiconductors, cars can't leave the factory, leading automakers to close idle plants. Suppliers of other auto components — including Illinois Tool Works Inc. and 3M Co. — have said that they expect the pileups to ease and that carmakers will make up for the production slowdown over the rest of 2021. But this won't be the last chip crisis if current trends continue. 
Demand for semiconductors is only going to increase as manufacturers work to connect everything from toaster ovens to heavy-duty factory equipment. Advanced chips are also critical for the cloud-computing servers that corporations rely on to keep their businesses running and essential for the efficacy of military-defense equipment. It's untenable for the U.S. to rely so much on international countries for its chip supplies, which puts the country at a competitive disadvantage. According to the Semiconductor Industry Association, three-quarters of worldwide chip production is now based in East Asia. The U.S. share of global chip manufacturing declined to just 12% last year, compared with 37% in 1990.
The White House review could lead to financial incentives, tariffs or changes in procurement policies, among other options, according to an official who spoke with Bloomberg News reporters on the condition of anonymity. A recent defense policy bill authorized federal incentives for semiconductor manufacturing and research in the U.S. but didn't appropriate money for grants or tax credits. Earlier this month, a group of chipmakers — including Advanced Micro Devices Inc., Intel Corp., Nvidia Corp. and Texas Instruments Inc. — sent a letter to Biden asking him to include such funding in his Covid recovery and infrastructure plans.  
A boost in government spending is necessary to jump-start the process. If the U.S. wants more domestic chipmaking, it's going to have to make it worth companies' while. A September report from the Information Technology & Innovation Foundation found that the U.S.'s research and development subsidies lag significantly behind other countries — ranking 24th out of 34 major economies. China's subsidy is 2.7 times more generous, the report said. For a country that spends about $700 billion a year on national defense, ensuring reliable access to cutting-edge domestic chip supply seems like a good use of funds and one that should receive greater priority.
But the practice of trading tax incentives for manufacturing commitments has a tricky history in the U.S. Taiwan Semiconductor Manufacturing Co. recently secured a package of financial incentives and government support from officials in Phoenix for the construction of a $12 billion chip plant. The city will provide about $200 million to develop infrastructure around the chosen site, with the bulk of the funds going toward waterworks; at least $500,000 is budgeted for one traffic light. In all, the plant is expected to create 1,900 jobs over five years, but the development agreement is "not contingent upon the exact total job creation nor is contingent upon the jobs created by the company," according to a notice from the local city council. The plant will represent a fraction of TSMC's overall production capacity and capital spending budget. The risk is that the Biden administration throws billions at similar projects with similar results.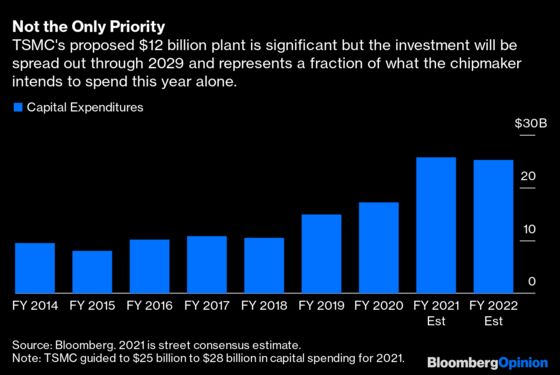 National security concerns aside, it's politically awkward for a president who campaigned on creating manufacturing jobs to subsidize an industry like semiconductors where production is so heavily automated. Biden also plans to review supply chains for products critical to national defense, public health, technology, transportation, energy and food production, with that process expected to take a year. He'll run into some of the same issues around jobs there. To make U.S. supply chains profitable and competitive, automation is necessary. Certainly jobs do still exist in these high-tech factories, and they tend to pay better than the manufacturing jobs of old. But companies across the industrial spectrum are complaining about a severe shortage in skilled laborers even amid the unprecedented employment crisis of the pandemic. Any plan to revitalize U.S. supply chains must also include investments in training the workforce with the skills necessary to work in automation and software-heavy factories.
The Biden review of U.S. supply chains is a good first step, but it's only a first step. 
This column does not necessarily reflect the opinion of the editorial board or Bloomberg LP and its owners.
Brooke Sutherland is a Bloomberg Opinion columnist covering deals and industrial companies. She previously wrote an M&A column for Bloomberg News.
Tae Kim is a Bloomberg Opinion columnist covering technology. He previously covered technology for Barron's, following an earlier career as an equity analyst.