Biden's Rushed Booster Plan Is Already Getting Messy
(Bloomberg Opinion) -- President Joe Biden didn't wait to get the blessing of health authorities before setting Sept. 20 as the tentative date to begin a broad booster rollout. That target is now very much in doubt, and jumping the gun may have messy consequences.  
The administration announced in mid-August that it was pushing forward with a plan for all double-vaccinated adults to receive a booster shot eight months after their second dose, citing the rapid spread of the delta variant and early evidence that vaccine protection is waning. The effort depends on review from the Food and Drug Administration and the Centers for Disease Control and Prevention's Advisory Committee on Immunization Practices. But on Monday, the CDC panel cast doubt on the administration's timeline and one-size-fits-all strategy for third shots. Then, a day later, news broke that two senior FDA officials leading vaccine reviews will leave the agency later this year, reportedly in part because of the premature booster announcement. 
The desire for speed is understandable; people are scared and want to be as safe as possible. But setting a date before experts weighed in was a mistake. It put improper pressure on scientific agencies to accept an overly broad policy based on scant data, raised expectations and now risks creating confusion when the focus should be on getting as many first vaccines out as possible in the U.S. and elsewhere.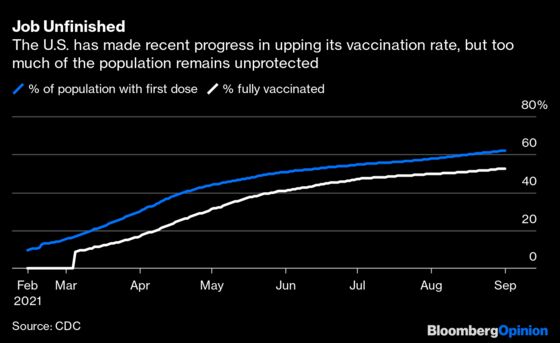 In a presentation Monday to members of the panel that sets federal vaccine guidelines, CDC scientist Sara Oliver proposed an alternative booster rollout starting with high-risk groups once regulators complete reviews, including older adults and health workers. Under this plan, recommendations for other populations would wait on careful analysis and additional expert votes. It's what the White House should have gone with from the start. As for the FDA, the agency only has a small amount of booster data at this point. It's unclear that it can or should make a broad decision within three weeks, especially if respected senior scientists have doubts. The CDC's vaccine panel won't vote to recommend any booster until after an FDA authorization and will likely have an additional meeting first to examine data in mid-September.
White House chief medical adviser Anthony Fauci has said the plan could change in response to data. But it's hard to change a date and policy once it has been broadly announced. It's likely more people will pursue boosters after Sept. 20 even if regulators haven't signed off, potentially putting themselves at risk. That's because these individuals might not have liability coverage, get reimbursed, be recognized as fully vaccinated in the future or be able to claim compensation in case of vaccine-related injury. 
The pre-determined start isn't the only problem. The assumption that boosters are effective, safe and universally needed is already a leap based on limited information. Deciding to boost all adults on the same schedule is an even bigger reach ahead of detailed regulatory review. It's true that vaccine-driven protection against infection and mild disease may be declining somewhat because of some combination of the delta variant and time. But efficacy against severe illness and death, the core function of vaccination, remains very strong for most.
Early signs of waning efficacy may warrant a boost in groups such as older adults who were vaccinated first and are at higher risk of bad outcomes. The same is true for health workers because even milder infections prevent them from working. But the Biden plan fails to acknowledge that the booster case is different for young and healthy people with low chances of developing severe disease. A third shot for them may provide only incremental protection against mild illness or infection. That amounts to a small public health benefit; boosting that population will likely save relatively few lives and may not do much to slow delta when 47.4% of Americans aren't fully vaccinated.
Given that there may be less benefit, safety risks require extra evaluation. And preemptively boosting to prevent mild illness fuels misconceptions about what pandemic vaccines should be expected to do. A more gradual booster policy would give regulators time to evaluate data in different groups and better account for potential downsides while allowing for more resources to be devoted to initial vaccinations, which are the best line of defense against deadly disease and the potential for new and deadly variants to emerge.
The Biden White House claims it follows the science. Let's hope it lives up to its ideals and admits its mistake. 
This column does not necessarily reflect the opinion of the editorial board or Bloomberg LP and its owners.
Max Nisen is a Bloomberg Opinion columnist covering biotech, pharma and health care. He previously wrote about management and corporate strategy for Quartz and Business Insider.