Biden's OPEC Plea Is Really Directed at Anxious Drivers
(Bloomberg Opinion) -- President Joe Biden is calling on OPEC+ to pump more oil and thereby ease gasoline prices. This has kicked off a paroxysm of schadenfreude and indignation. "Wasn't Biden all about getting us to use less oil?" say, oddly enough, both the advocates and antagonists of fossil fuels. It's overblown on both sides.
Gasoline prices have averaged more than $3 a gallon since early May. They are now back to where they were in late 2014, just as oil was beginning to crash that year. Yet as a share of expenditures, energy costs — of which road fuel is the biggest and most volatile element — remain close to their lowest in six decades of monthly data. Moreover, with summer winding down and Covid winding up, plus OPEC+ due to raise production anyway, there's a good chance prices will ease soon, regardless.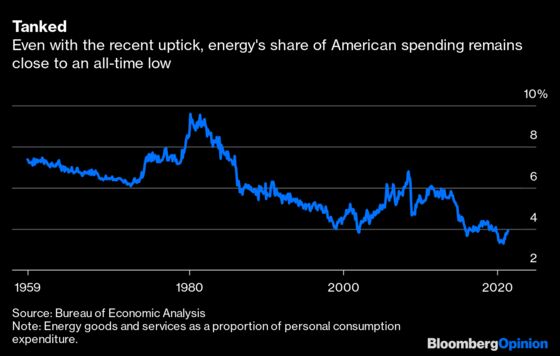 But that ignores the fact that "3" is the decidedly unmagic number when it comes to U.S. drivers. Even if gains in fuel efficiency and incomes since the 1970s have changed the economic math for the average American, such calculations don't quite ease the emotional pain. That is especially so in the middle of a continuing inflation scare. Trying to channel that angst away from Washington and toward Russia and some Arab monarchies is Politics 101 — as Biden's predecessor could tell you. 
As for the accusations of hypocrisy, there is something to that, but it calls for some nuance. Biden has clearly set an agenda of moving the U.S. away from fossil fuels — indeed, the collapse in energy's share of the wallet provides some cover to do so. This involves setting long-term targets and directing money toward realizing them, with Tuesday night's budget vote in the Senate the latest step toward that.
Why that would mean Biden would simply step back from what happens with gasoline prices is unclear to me. The country still uses millions of barrels of oil every day and will for years to come until, and if, those clean-energy targets are met. Was anyone on either side of this argument really expecting the revolution to be done by Labor Day?
For advocates of fossil fuels accusing Biden of hypocrisy, it must be asked: What's the alternative to setting long-term targets for a project of this magnitude? It's a little like saying anyone calling for decarbonization should stop driving or flying immediately even though they don't have viable alternatives — for now.
For environmentalists, the notion that Biden should stand pat and let rising pump prices spur everyone into an electric vehicle ignores the reality that the transition rests to an enormous degree on political support, part of which is subsidies to kick-start such markets. The only thing sustained high gasoline prices are likely to achieve in short order is a Republican sweep in next year's midterm elections, thereby curtailing that support. As Kevin Book of ClearView Energy Partners puts it:
In my experience, high prices tend to usher out incumbent politicians faster than they usher in new technologies. 
The other criticism leveled at Biden is that by moving to slow investment in domestic oil production and blocking projects such as Keystone XL, he has made the U.S. more dependent on the foreign petro-potentates he now calls on for assistance. Over time, this is a real risk for Biden and Democrats if changes on the demand side do not materialize quickly enough. Right now, though, it overstates Biden's role. The caution displayed by frackers in 2021 reflects the need to atone (and recapitalize) after the damage done to their balance sheets and investor relations by the prior era of drill-baby-drill.
The one near-certainty is that Biden is talking into a void. Russia's antipathy on a range of issues is well established. And while Saudi Arabia (and the wider oil trade) remain dependent on U.S. military muscle, Biden's agenda tends more toward what Riyadh would call La La Land. Squinting between the lines, the timing of this call for more oil might suggest acceptance that a renewed nuclear deal with Iran — and thereby bringing more of its barrels back to market — isn't happening. But the real audience is cruising around in SUVs and maybe casting a wary eye at those 3's on the price boards at the side of the road.
This column does not necessarily reflect the opinion of the editorial board or Bloomberg LP and its owners.
Liam Denning is a Bloomberg Opinion columnist covering energy, mining and commodities. He previously was editor of the Wall Street Journal's Heard on the Street column and wrote for the Financial Times' Lex column. He was also an investment banker.