Biden's Climate Policy: Move Fast and Fix Things
(Bloomberg Opinion) -- On Monday, I wrote about how the damage done to energy demand by Covid-19 provides one rationale for President Joe Biden to press ahead with his green agenda. But there are two others that might loosely be characterized as a green explosion and a Republican implosion. 
Energy has moved on in important ways since the failed attempt at sweeping climate legislation during President Barack Obama's first term. Chief among these is the stunning drop in the price of clean-energy technologies. Moreover, unlike his old boss, Biden is settling into the presidency in the midst of a green investment bubble.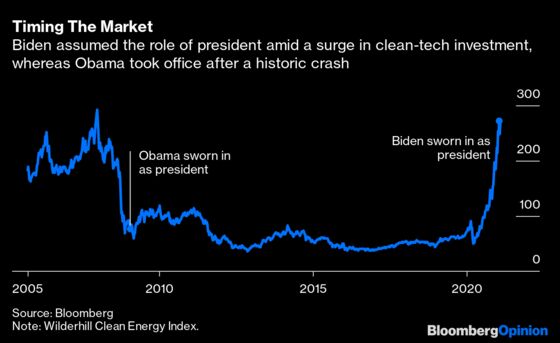 The world's largest money managers now demand companies craft strategies for a lower-carbon world. Stalwarts of the hydrocarbon age such as General Motors Co. and Ford Motor Co. are trying to outdo each other on electric-vehicle targets, while Exxon Mobil Corp. just announced plans for a carbon-capture business under pressure from shareholder activists. Meantime, the oil and gas sector, 14% of the S&P 500 Index when Obama took office, is now less than 3% of the benchmark.
This shift in capital flows and corporate mood music is of the utmost importance. When Obama took office, renewable energy and electric vehicles weren't anywhere near ready for primetime and, in the wake of the financial crisis, he needed all the jobs fracking could provide. Biden also needs to get Americans back to work. But as I wrote here, any fracking revival will depend largely on further productivity gains, meaning there will be no similar wave of shale jobs. A better bet: The manufacturing and construction jobs associated with a cleantech expansion that is already attracting private capital at a phenomenal rate.
One way to think about this is to consider the consequences of doing the opposite and working against market trends. President Donald Trump set his face against the forces undermining the U.S. coal business. By the end of 2019, though, coal-mining payrolls were virtually the same as when he took office (they've slumped since amid Covid-19). Meanwhile, coal's share of the nation's power generation had fallen from one-third to just over a fifth of output. Last May, Arch Coal — sorry — Arch Resources Inc. announced its rebranding with a press release that somehow didn't even mention the name of those black rocks it digs out of the ground. 
Bubbles, like unified government, are both useful and unlikely to last. So Biden must harness both to achieve as much as he can as quickly as possible. In an alternate reality, he could perhaps negotiate with moderate Republicans on some sort of market-based mechanism such as a carbon tax. In this reality, the Republican Party, hardly a reliable partner on climate anyway, is convulsed by infighting over loyalty to Trump and the aftershocks of the Jan. 6 insurrection.
Five times as many House GOP members voted against Representative Liz Cheney for her impeachment vote than voted to strip Representative Marjorie "Jewish space laser" Taylor Greene of her committee positions. Apart from the moral and intellectual degradation captured in that ratio, it raises a practical question: Who is seriously going to work across the aisle knowing that doing so will almost certainly attract a primary challenge from the hard right? 
The swift move toward budget reconciliation to enact Biden's $1.9 trillion relief plan shows he is ready to sideline Republicans if needed. This has stoked calls for Democrats to use similar mechanisms to push through climate legislation. Last week, Evergreen Collaborative, a climate advocacy group, issued a lengthy report detailing different ways of using budget reconciliation to enact a federal clean energy standard. Yet this runs into a problem: Centrist Democrats, especially Senator Joe Manchin of deep-red West Virginia, are loath to use such tactics.
It is useful for Biden all the same that such options, which also include overturning the Senate filibuster or declaring a national emergency on climate, exist in theory. Biden's rapid moves thus far, including that relief bill, suggest theory could turn to practice with enough provocation. That in itself might persuade at least a few Republican Senators to entertain supporting some climate measures, especially if they're couched as infrastructure or transportation initiatives rather than straight-up green bills. 
As for Manchin, he clearly would prefer legislation with at least a trace of bipartisan support. At the same time, he also appears to be on board with the energy transition, even if that means some disruption for his constituents. Last week, announcing he was joining an international commission examining the social and economic impacts of the transition, he had this to say:
I am proud to be part of a global effort that acknowledges and will examine the increased hardships on traditional energy-producing communities amid the shift to a cleaner energy technologies … I am honored to join this effort and to ensure we leave no worker behind as we move toward a cleaner energy future.
It is no accident that Biden and his domestic climate czar Gina McCarthy repeatedly emphasize help for such communities and utter the phrase "union jobs" as often as possible. In this respect, Biden's opportunity to advance federal support to cleantech under the aegis of stimulus is useful.
So, too, however, is the ability to embed climate policy in the DNA of federal government via rulemakings and executive orders. Biden's revival of social-cost calculations for greenhouse gases in federal permitting will effectively raise the cost of capital for fossil-fuel projects (even as the cost is falling for cleantech). A more subtle, but perhaps even more important move was his call for the Office of Management and Budget to modernize its approach on regulatory review. In effect, this would push the usual cost-benefit analysis to take a broader — and often less easily quantifiable — set of benefits, such as climate change and environmental justice, into account. In effect, it would reinforce the relative shift in capital costs against fossil fuels and in favor of cleantech.
Of course, a future president could continue the dance by reversing Biden's reversals of Trump's orders. Yet Biden's measures have the benefit of moving in the same direction as where states, capital markets, large companies and public opinion are headed already. While presidents must plan in increments of two years or less, these other constituencies are thinking increasingly in terms of what our hotter 21st century, and efforts to contain that, entail. Encouraged by the prospect of tapping into that, expect this administration to keep moving quickly.
This column does not necessarily reflect the opinion of the editorial board or Bloomberg LP and its owners.
Liam Denning is a Bloomberg Opinion columnist covering energy, mining and commodities. He previously was editor of the Wall Street Journal's Heard on the Street column and wrote for the Financial Times' Lex column. He was also an investment banker.