America Squandered Decades Living for the Moment
(Bloomberg Opinion) -- Congress is heading toward approval of a bipartisan infrastructure bill that will spend $550 billion over the next five years. That's a good start, but a modest one. The task at hand isn't simply to patch up America's roads and bridges, but to transform the U.S. economy from one focused on consumption to one focused more on investment.
Every society faces a fundamental tradeoff between consuming now and consuming later. There's a finite amount of labor, materials and other resources in the economy, which can be used either to produce goods and services for consumption — fancy meals, nice vacations, and so on — or to produce capital goods like machine tools, roads, and business software. The more a society invests in the latter,  the more it increases its productive power — and therefore its wealth — in the future.
Over the decades, the U.S. has been spending more of its resources on consumption: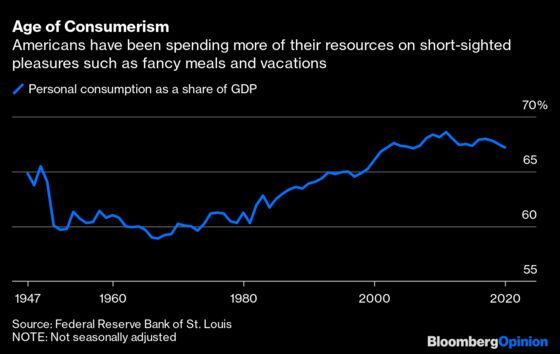 This means that America hasn't been building as much for the future. The stereotype of the early 2000s as a go-go era of reckless short-sighted consumerism is not entirely undeserved.  
But there are two sides to this coin; it's not just a factor of people consuming more, but of business and government investing less. Especially the latter: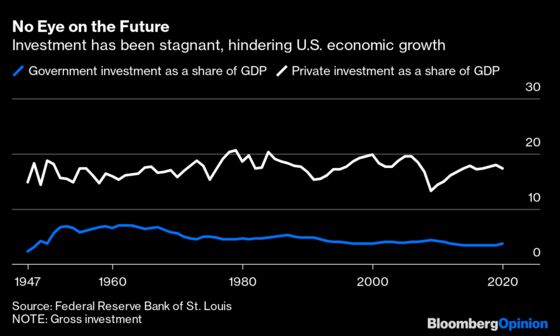 Hence the focus on infrastructure. A return to the government investment levels of the 1960s — or even the 1980s — would rebalance the U.S. economy toward the future. The current bipartisan bill will raise investment by only about half a percent of GDP. The Democrats' follow-up spending bill — which they hope to pass through  the budget reconciliation process to circumvent a GOP filibuster — would bring a more significant shift in the nation's trajectory.
It's not a matter of simply pouring concrete — the U.S.  needs investments that will actually produce a return, otherwise the production is wasted. In fact, this probably happened to Japan in the 1990s when they dealt with an economic slowdown by building an excessive amount of infrastructure. But in fact, there is a useful place for all of that capital spending to go: the transition to green energy. Climate spending is a small part of the recent bipartisan bill, but it's the primary focus of the Democrats' proposed follow-up.   
There are two reasons the U.S. government needs to be spending a lot more on transitioning to solar, wind and electric vehicles. America needs to do its part to allay the global climate crisis, of course. But also, renewable energy technologies have become massively cheaper over the past two decades, to the point they're now competitive with fossil fuels in most regions. Making the transition will thus deliver not only environmental value, but solid dollar value as well.
The government's role is to build green infrastructure that many different private companies can use — for example, a modernized electrical grid to distribute power from places where the sun is shining or the wind is blowing.
But the government can also push private companies to do more far-sighted investment. Companies may not always take the long view; they may be too focused on the next quarterly earnings call than on productive capacity 20 or 30 years in the future.
In the case of the energy transition, one way to fix this is with a clean electricity standard. This is a policy that rewards utilities that get their power from green sources, and penalizes those who continue to pollute. Democrats see the clean electricity standard cutting fossil fuel use in the power sector by 80% by 2030. And in so doing, it would push the private sector to invest more, potentially bringing private investment back to its late-1990s share of GDP.
Including private investment incentives makes it clear that the overarching goal here isn't just to spend a bunch of government money, or even to halt climate change. Something deeper is at stake here — the transformation of the U.S. from an economy focused on living for the moment to one focused on building for the future.
Since the late 1990s, the U.S. has been partying and forgetting about tomorrow, cashing out its inheritance from 20th century investments. Continuing down that path means a poorer future and a weaker nation for Americans' descendants. Moving back toward an investment-focused society, in contrast, would be a vote of confidence in America for generations to come.
This column does not necessarily reflect the opinion of the editorial board or Bloomberg LP and its owners.
Noah Smith is a Bloomberg Opinion columnist. He was an assistant professor of finance at Stony Brook University, and he blogs at Noahpinion.