Beyond Meat's Pepsi Partnership Awakens Animal Spirits
(Bloomberg Opinion) -- A new partnership with PepisCo Inc. is adding some fizz to Beyond Meat Inc.'s stock price.
The plant-based meat startup and the packaged-food giant announced a joint venture on Tuesday through which they will collaborate to develop and market plant-based snacks and beverages. Given that the terms of the partnership were not disclosed and the companies didn't offer much detail, it's difficult to say whether the jump in Beyond Meat's shares — which was as much as 39% before settling at around 18% — is warranted. But the broad contours of the arrangement make for a smart, well-timed move by a newcomer whose competitive landscape and growth pathways were dramatically upended by the pandemic.   
Allying itself with a global behemoth such as PepsiCo will give Beyond Meat a leg up in distributing whatever products it creates. That is no small thing when so many startups are crowding into its lane. Another prominent competitor, Impossible Foods, announced a $200 million fundraising round in August, giving it more firepower. Alternative proteins in general have been a hot category for venture capital investment. It appears that the pandemic, in heightening consumers' focus on health and revealing vulnerabilities of the traditional meat supply chain, has only increased interest.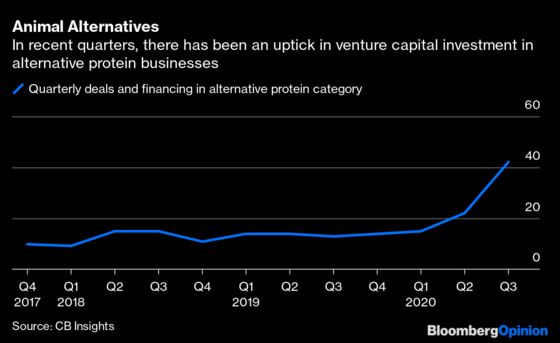 Beyond Meat's brand is gaining traction with consumers, which is evident in the significant market share it has claimed in certain categories in its relatively short life as a company.  If it branches into beverages and snacks, I expect those new items will benefit from a halo effect. Couple that with PepsiCo's marketing know-how and distribution capabilities, and Beyond Meat could quickly vault to market leadership positions in new product areas.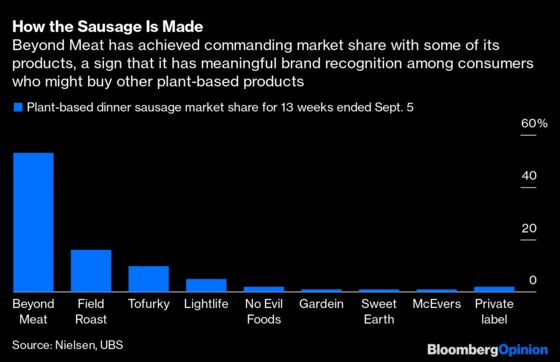 Beyond Meat has frequently tended to see boomlets of investor enthusiasm whenever word comes of its partnerships with big restaurant chains, such as its collaboration with McDonald's Corp. on the fast-food giant's McPlant platform or its recently announced plans to team up with Taco Bell. I've written before that it was prudent for the company to seek entree onto restaurant menus, as the imprimatur of those trusted brands might encourage non-vegetarians to try the product.  But Peter Saleh, an analyst at BTIG, points out in a recent research note that restaurants, in the short term, might not be as fertile ground for Beyond Meat to pursue growth.
The pandemic has pushed restaurant operators to cut back on menu items as a way to preserve operational efficiency while also focusing on ways to flex more muscle in emerging food-delivery channels. Adding innovation to menus is unlikely to be a top priority until some sense of normalcy has returned, so it makes sense for Beyond meat to put more focus toward expanding its offerings — especially items it might sell at grocery stores.
The surge in Beyond Meat shares comes in a wild week when a variety of consumer stocks are riding high on the impulses of retail traders confabbing on Reddit. Given that Beyond Meat has enjoyed stock price bounces of this magnitude on news events like this one, I suspect the share price movement is not primarily being driven by that crowd, but it can't be ruled out. Wherever Beyond Meat's shares end today, though, and whoever is driving their climb, the PepsiCo partnership looks to be a sensible step toward expanding its reach.
This column does not necessarily reflect the opinion of the editorial board or Bloomberg LP and its owners.
Sarah Halzack is a Bloomberg Opinion columnist covering the consumer and retail industries. She was previously a national retail reporter for the Washington Post.