The Cereal Industry Had a Very Weird Year
(Bloomberg Opinion) -- When the country began closing up in the face of the Covid-19 pandemic last March, it was clear that keeping food supply chains from breaking down was going to be a big challenge. Shortages of meat, fresh fruit and vegetables and other foodstuffs were feared and in many cases came to pass.
Nobody predicted, though, that the country would run out of Grape-Nuts in early December and not get them back for at least three months. And while the disappearance of Grape-Nuts, a breakfast cereal manufactured by Post Holdings Inc., has been an extreme case, General Mills Inc.'s Cheerios, Kellogg Co.'s  Corn Flakes and Frosted Flakes, and Post's Honeycomb and its various peanut-butter cereals were all also beset by what their manufacturers termed "capacity" or "supply" constraints.
The past year has been a very weird one for the breakfast-cereal industry. Not a bad year, mind you — sales were up, in some cases by a lot. But for companies that had gotten in the habit of managing their way around decline, or at least stagnation, the sudden increase in demand was a shock. It's not at all clear what comes next, either. Do Americans really love cereal again? Or after a year of hanging out at home and stocking up on nonperishables are we about to go back to eating other things for breakfast?
In trying to get a sense of how unprecedented the demand shift during the pandemic was for the industry, I was pleased to discover that the Commerce Department's Bureau of Economic Analysis has, along with estimating gross domestic product, been keeping track of monthly U.S. spending on cereals for at-home consumption since 1959.
Before 2020, the biggest one-month percentage increase in cereals consumption was 5.6%, in July 1973. Last March it was 26.9%. The BEA's definition of cereals is a broad one, encompassing things like pasta, rice and flour as well as Cheerios, but you get the idea.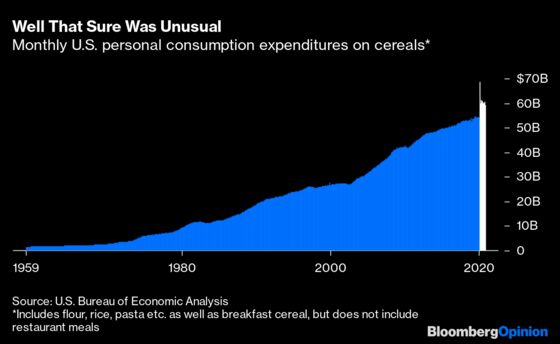 For the two biggest U.S. breakfast-cereal makers, the 2020 demand increase came after years of sales declines. The sharpest turnaround was at General Mills, maker of four of the six most-popular cereal brands in the U.S. (Honey Nut Cheerios, Cinnamon Toast Crunch, Cheerios and Lucky Charms), according to Information Resources Inc. data for January — and possibly the country's biggest seller of breakfast cereal overall.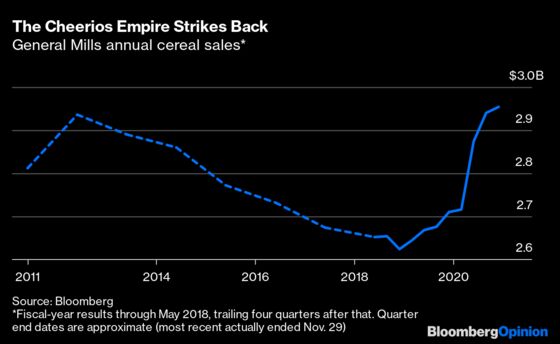 I say General Mills is "possibly" the country's biggest cereal seller because it reported just over $2.5 billion in U.S. cereal sales for the four quarters ending in November, 85% of its global total (it makes and sells cereals abroad through a joint venture with Nestle SA). Kellogg, which sells much more cereal worldwide than General Mills, doesn't break out its U.S. cereal sales. In 2016, when it last reported sales for "U.S. Morning Foods," which included "toaster pastries, health and wellness bars, and beverages" as well as cereal, they amounted to 54% of its global cereal total. So while Kellogg U.S. cereal sales are definitely up over the past year, they might not be up to $2.5 billion.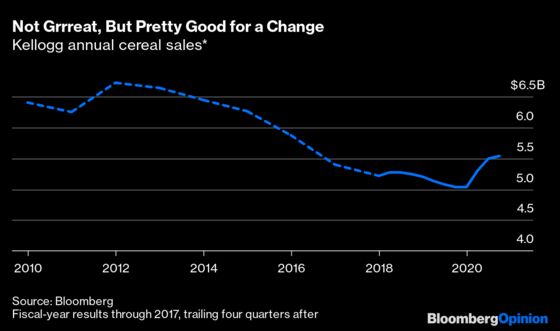 At Grape-Nuts maker Post Consumer Brands, the U.S. cereal arm of Post Holdings (which also owns U.K. cereal-maker Weetabix, but reports those results separately), the past few quarters didn't stand out quite so much but were still pretty solid.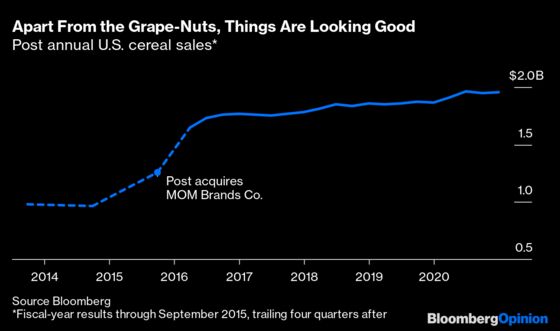 The "MOM" in MOM Brands Co., mentioned in the above chart, stands for Malt-O-Meal, the creamed-wheat hot cereal that was the company's original product. In 2002
Malt-O-Meal acquired
the bagged-cereal business of No. 4 U.S. cereal maker Quaker Foods and Beverages, which had itself just been acquired by PepsiCo Inc., and it is that line of
low-priced knockoff brands
(Cinnamon Toasters, Honey-Nut Scooters, Fruity Dyno-Bites, etc.) that made it an attractive acquisition target for Post Holdings in 2015 and has since helped drive Post's cereal sales growth as it introduces the MOM cereals to new markets and distribution channels. Along with them, Post Holdings defines its core cereals as Honey Bunches of Oats, the fifth-best-selling U.S. brand, Pebbles (which includes Fruity Pebbles, the No. 8 seller, and Cocoa Pebbles) and Great Grains.
Not on that list: Grape-Nuts, a cereal made not of grapes or nuts but flour, salt and yeast. Just over a decade ago, the since-retired master of the Wall Street Journal's humorous "
A-hed
" front-page stories, Barry Newman,
described the manufacturing process
in vivid detail:
On the factory's fourth floor, all day every day, objects with the proportions of hewn firewood and the heft of cinder blocks hurtle along a conveyor, dive into a steel chute, disappear down a black hole -- and emit what sounds like a startled scream.

All the while, Fernando Vargas, who has operated the Grape Nuts machine for 32 years, stands next to the chute in a hard hat yelling, "Dropping the bombs! Dropping the bombs!"
That was in Ceres, in California's San Joaquin Valley. Post closed that factory in 2013 and shifted the bomb-dropping to its original manufacturing complex in Battle Creek, Michigan. "During November and December," Post Holdings Chief Executive Officer Rob Vitale explained in the company's earnings call this month, "our Covid absenteeism at our Battle Creek facility required us to temporarily suspend production for one building. In fact, this resulted in the highly publicized Grape-Nuts shortage."
Grape-Nuts was the original Post cereal, but it's now a niche product, made in only one place on earth by a different process than any other cereal that I'm aware of, and when push came to shove late last year Post seems to have opted to stop making it rather than cut production of something else.
Again, it was an extreme case, but this is the kind of thing that's going to happen from time to time in a slow- to no-growth industry where cost-cutting and rationalization have been the norm for years. There was a Wheaties shortage in 2018, for example, which manufacturer General Mills doesn't seem to have explained beyond a brief earnings-call mention of "capacity constraints in our flakes." As with Grape-Nuts at Post, flake cereals have become something of an also-ran at General Mills, so there probably wasn't a huge amount of capacity to begin with.
Will the pandemic-induced cereal boom change this dynamic? After reading through a lot of earnings-call transcripts I have concluded that Post Holding's Vitale is the closest thing the industry has to a philosopher, and he offered these nuggets of wisdom (which I have edited slightly for clarity) this month:
What has this experiment and all this trial meant to the long-term growth rate of these categories? Our assumption is that it's a positive number. Whether that's positive one or positive three, I think there is an element of putting your finger in the wind. But we think it's positive number and has implications on how we think about innovation, capacity management and well beyond.
So cereal is back, maybe.
It isn't exactly what it used to be, though. Both Kellogg and Post were founded as health-food companies, inspired by the teachings of doctor/nutritionist/entrepreneur John Harvey Kellogg, whose Battle Creek Sanitarium was the Canyon Ranch of the late 19th century. Kellogg's brother W.K. started manufacturing corn flakes for the sanitarium in 1894 and founded the company that became Kellogg in 1906, while Kellogg's patient C.W. Post started producing the grain-based coffee substitute Postum in 1894 and branched into cereal with Grape-Nuts in 1897. General Mills, a flour producer looking to diversify, introduced Wheaties in 1924 and then used the new "puffing gun" devised by one of its engineers to produce Kix starting in 1937 and Cheerioats, later shortened to Cheerios, in 1941.
Whether a breakfast built around such cereals is truly healthy I am not qualified to attest, but they are generally wholesome, low-sugar products. By contrast, most of today's leading breakfast cereals seem better suited for dessert. Because the sugar content of cereal is a long-running obsession of mine, I compared the top-selling cereal brands plus a couple of others mentioned here with Famous Amos chocolate chip cookies, which coincidentally were made by Kellogg until 2019.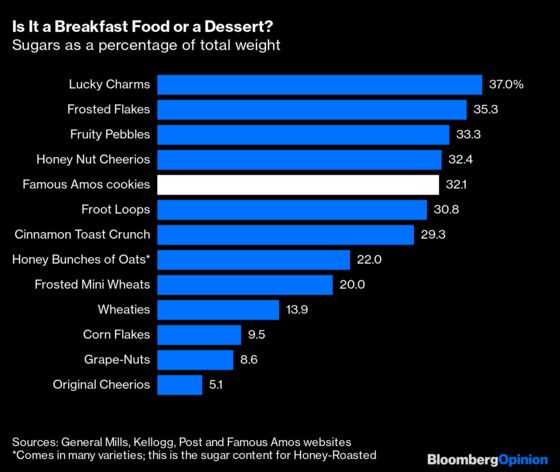 I don't know that the other things people were eating for breakfast before the pandemic were significantly better for them than this. A glazed donut from Dunkin appears to have a sugar content of 22.8%, which would land it right in the middle among the cereals on the above chart. Still, I'd find it easier to root for a cereal revival if it were more about Grape-Nuts than Honey Nut Cheerios.
This column does not necessarily reflect the opinion of the editorial board or Bloomberg LP and its owners.
Justin Fox is a Bloomberg Opinion columnist covering business. He was the editorial director of Harvard Business Review and wrote for Time, Fortune and American Banker. He is the author of "The Myth of the Rational Market."