For Best Buy, the Hard Part Comes Now
(Bloomberg Opinion) -- Best Buy Co. has deftly navigated its business through the pandemic. The hardest part may come now. 
The consumer-electronics retailer's range of products put it in a good position to take advantage of the surge in demand for gadgets, PCs and other devices people could use at home during lockdowns. And by beefing up its online sales and curbside pickup service, Best Buy was better able to thrive even when stores were closed. Now, as the economy steadily reopens, its physical locations are benefiting as customers migrate back to in-person shopping. On Tuesday, Best Buy reported better-than-expected financial results with revenue of $11.85 billion in the quarter ended in July, up 20% compared with figures from a year earlier and higher than the $11.55 billion Bloomberg consensus. Its earnings per share of $2.98 handily beat the average analyst estimate of $1.87.
After the report, Best Buy shares rallied more than 7%, on track to post their biggest daily gain in more than a year. Despite the initial positive reaction, I'm skeptical that the retailer's strong performance will be sustainable. For one, management spelled out several drivers for its latest quarter that seem one-time in nature. In the earnings release, Best Buy Chief Executive Officer Corie Barry said the company's growth was boosted by government stimulus payments and the lapping of the prior year's unique period when its physical stores were limited to just curbside service for about half the quarter. These factors are unlikely to help results going forward.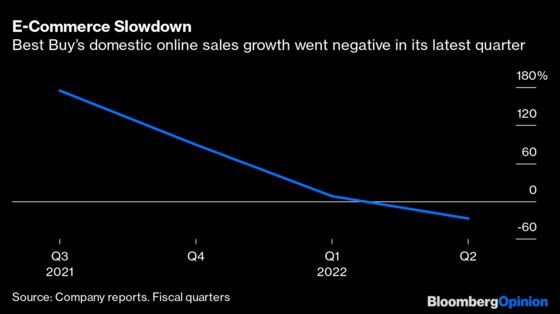 More worrisome is the slowdown in what is supposed to be Best Buy's most promising business unit: e-commerce. The retailer said its domestic online sales fell 28% in its July quarter after impressive growth in earlier quarters. Here again, it's unlikely to improve soon. Bank of America credit card data shows that electronics category e-commerce spending has continued to decelerate, from a 19% drop in the second quarter to a 23% decline so far in the third quarter. The deteriorating figures also make sense logically. As the public spends more time outdoors, they are unlikely to spend as much for technology gadgets for their homes. And because some of their pandemic purchases were bigger-ticket items, they are unlikely to be repeated soon.
And then there's the overall guidance for the rest of the fiscal year. Best Buy said it expects comparable sales to be flat to down 3% compared with those last year. While that's an improvement from its prior guidance of a high single-digit decline, it is still negative growth at the midpoint. It's hard to get too excited about that. 
This column does not necessarily reflect the opinion of the editorial board or Bloomberg LP and its owners.
Tae Kim is a Bloomberg Opinion columnist covering technology. He previously covered technology for Barron's, following an earlier career as an equity analyst.