Bed Bath & Beyond Serves a Warning for All Holiday Shoppers
(Bloomberg Opinion) -- Freight costs are crushing Bed Bath & Beyond Inc., and the retailer's executives are warning that it isn't alone. Shoppers and investors alike will have to brace for a difficult holiday season marked by soaring prices, empty store shelves and pessimistic forecasts from U.S. retail chains as earnings reports kick off. 
"Best of luck," said one analyst after Bed Bath & Beyond's executives took his question on Thursday morning's call to discuss second-quarter results. "Good luck with the rest of the year," two other analysts echoed at their turns. When the customary "great quarter, guys" is replaced with well-wishing, that's when you know things aren't looking good. While Chief Executive Officer Mark Tritton and Chief Financial Officer Gustavo Arnal were speaking, shares of the home-products retailer plunged as much as 29%, dragging down other consumer stocks along with them, not to mention delivering a blow to the meme-stock crowd. The Container Store Group Inc. fell 11%, William-Sonoma-Inc. fell 7% and TJX Cos. fell 3.7% to a nearly two-month low.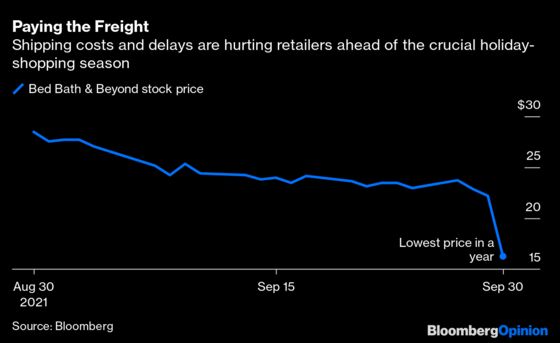 Bed Bath & Beyond reported a 26% drop in sales for the three months through August, and the business swung to a loss. It also reduced its projection for full-year revenue to a minimum of $8.1 billion, compared with a forecast of at least $8.2 billion in June. The company attributed much of the summer slowdown to rising Covid-19 cases in three "key states": Florida, Texas and California. But analysts were quick to point out that demand in other industries temporarily hurt by the spread of the delta variant, such as travel and restaurants, is already rebounding — so what gives? Well, margins — they're giving way to supply-chain difficulties. 
Arnal said the company's business plans originally baked in an anticipated 240 basis point increase in freight costs, to get its products from factories to the stores, for the latest quarter. But the actual costs outpaced that estimate, climbing instead by 360 basis points, or 3.6%. "It's just gotten significantly tougher in the last couple of months," he told listeners of the call. Tritton added that while Bed Bath & Beyond could have moved more quickly to raise prices to offset the pressures, other retailers that are on a different earnings calendar and haven't had to disclose August results yet are no doubt experiencing the same challenges. Despite a still-booming housing market, the entire home-furnishings space is experiencing weaker traffic and interest. "There is pressure across the board, and you will hear about that from others," Tritton said, sending markets an ominous message heading into earnings season.
Already, Nike Inc. said last week that container-ship congestion, virus-related shutdowns in Vietnam's manufacturing hub and a shortage of truck drivers in the U.S. are causing products to take twice as long to make their way through the supply chain. Costco Wholesale Corp., Home Depot Inc. and Walmart Inc. are all chartering their own vessels as a workaround. Inflation has also hit grocery stores and gas pumps on both sides of the Atlantic. Now, even Dollar Tree Inc., for which $1 price tags are synonymous with its brand, is being forced to raise them on some goods above that sacrosanct level. 
Bed Bath & Beyond's managers seemed more optimistic for the rest of the year — not that supply-chain or inflation struggles would ease, but that the retailer will better adjust to these new realities. The chain, at one time known for its incessant 20%-off coupons, cited more targeted marketing efforts and promotions to try to bring customers back to its stores. Still, investors and analysts are skeptical, and one metric shows why: After Bed Bath & Beyond's gross margin shrank 640 basis points to 30.3% on a GAAP basis last quarter compared with figures a year earlier, it's forecasting a hard-to-believe rebound to as high as 35% on an adjusted basis for the full year. That would require pushing prices skyward when consumer demand for its products is already showing signs of waning.
This column does not necessarily reflect the opinion of the editorial board or Bloomberg LP and its owners.
Tara Lachapelle is a Bloomberg Opinion columnist covering the business of entertainment and telecommunications, as well as broader deals. She previously wrote an M&A column for Bloomberg News.