The Hut Discovers That Age Comes After Beauty
(Bloomberg Opinion) -- Selling beauty online amid the pandemic lifted THG Plc to dizzying heights, as its 4.5 billion-pound ($6.1 billion) initial public offering proved a year ago. But the company's makeup is beginning to run, exposing some flaws, or at least reasons for investors to ask questions.  
To recap: THG, formerly known as The Hut Group, listed in September 2020 at a price of 500 pence. Apart from its online beauty business, THG has a division that sells protein shakes and a third, Ingenuity, that provides services from websites and apps to marketing and translation for other consumer businesses.
Some of the issues of concern today have been present since the listing. Investors were willing to gloss over them while THG rode the pandemic e-commerce wave, but not so much now that the shares are trading below their debut price.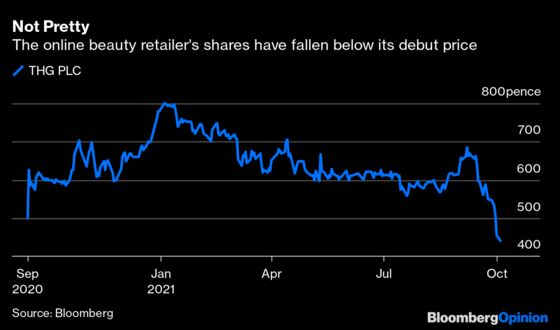 First of all, there's corporate governance. Matthew Moulding, founder, executive chairman and chief executive officer, has a golden share that gives him the power to veto any hostile takeover attempt for three years. THG also transferred ownership of some warehouses, two boutique hotels and a country club and spa to the entrepreneur before listing.
Then there's financial performance. In the six months to June 30, THG made a pre-tax loss of 81 million pounds, compared with a deficit of almost 50 million pounds the year earlier. Hefty one-time charges have also been regular events, including some extra distribution costs it incurred as a result of the pandemic. Most companies treat such expenditures as the cost of doing business.
Meanwhile, despite a 42% increase in sales in the half year, THG had a 10.5 million pound cash outflow from operations, compared with an 86-million pound inflow in the year-earlier period. In 2020, it benefited from an exceptionally high level of cash from sales to locked-down consumers; and the first six months of 2019 also had an outflow. It will be worth watching the amount of cash that comes in during the second half of the year.
The company has grown by way of acquisition. And that raises the risks that come from integrating its various parts, which will stretch the capacity of management. Such expansion also makes it hard for investors to ascertain how the underlying business is performing. Even though the metric would be useful, the company doesn't disclose what growth would have been without the deals. Many of them add behind-the-scenes functions such as manufacturing plants, rather than sales.
And there's now another worry add to this list. In May, Moulding struck a deal with Masayoshi Son, giving his SoftBank Group Corp. the right to buy a 20% stake in Ingenuity for $1.6 billion, valuing the division at about 4.5 billion pounds. Because of the structure created by SoftBank's investment, the division will have to start charging THG's other businesses for the digital services it provides. THG hasn't specified how much they will pay Ingenuity.
Simon Bowler, an analyst at Numis Securities Ltd., says this affects how much Ingenuity is worth. If it is charging the other businesses more, its sales and profits will expand. But, on the flipside, the more the beauty and nutrition businesses are paying, the lower their own profits and value. THG stops short of disclosing divisional profitability. And so it remains a mystery.
This is of more than academic interest: THG announced plans in September to list its beauty arm next year. The nutrition division could follow in due course.  A possible break-up shines a spotlight on whether Ingenuity can live up to Moulding and Son's ambitions, let alone the lofty valuation implied by the deal.
With all these unknowns, it's hard to figure out what THG is worth. That may be part of the reason the shares are sliding. Bowler has estimated the value of each business separately and gets to 520 pence per share, which is well above the market price. The shares fell a further 5% on Tuesday to 418 pence.
THG has to do several things to restore shareholder confidence. A good dose of transparency and disclosure will help. An investor event next week focused on Ingenuity would be a good place to start.
The company has to stop categorizing so many items as one-off charges. While that might not be pretty initially, investors would have a clearer picture of the underlying performance. This will become even more necessary if each division is to become a stand-alone unit.
Finally, THG must address the corporate governance issues, for example, splitting Moulding's role and appointing a strong independent chair to act as a counterbalance. 
But even with these improvements THG will face an uphill struggle. The online boom is fading. Rivals such as Boohoo Group Plc have warned of the cost of supply chain snarl-ups. Still, a more conventional governance structure and disclosure regime would boost THG's corporate health. The effect would be more than cosmetic.
This column does not necessarily reflect the opinion of the editorial board or Bloomberg LP and its owners.
Andrea Felsted is a Bloomberg Opinion columnist covering the consumer and retail industries. She previously worked at the Financial Times.