Here's How We Have Crowded Concerts, Clubs and Sports Games Again
(Bloomberg Opinion) -- Gemma Recoder, one of the organizers of a mass concert last month in Barcelona, recalls the moment live music entered the Covid-19 era. When Spanish indie pop band Love of Lesbian started playing, she told me, "everybody, artists, organizers and the public, we were all crying, because it was so emotional to be together again." 
The performance, for an audience of 5,000 with no social distancing, offers one potential route to resuming live events. The Netherlands is also trialing club nights in Amsterdam and a small number of music festivals, and it is allowing the Eurovision Song Contest to go ahead with a live audience in May.
These experiments bring some hope for an industry that has cratered during the pandemic. In the U.K. alone, live events, including festivals, sports games and conferences, generated 42.3 billion pounds ($58.1 billion) of direct spending in 2018, according to ticket platform Eventbrite. Globally, the market was worth more than $1.1 trillion in 2019, according to data provider Allied Market Research, and the industry is set to expand to $1.6 trillion by 2028, despite the effects of the past year, which has seen live music cancelled and conferences move online.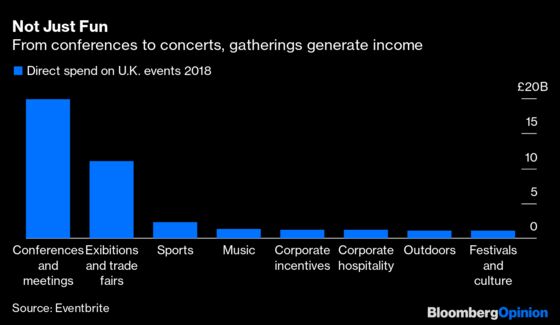 But experiences like the Barcelona concert will be difficult to replicate, and even impractical for all but a handful of large gatherings.
The event took months of organizing with health authorities, doctors and epidemiologists at a nearby hospital. It cost 250,000 euros ($297,000) and was only viable with support from local authorities. It relied on testing to create "health bubbles." 
Ticket holders could only gain entry if they downloaded an app, input their contact details and booked a rapid Covid test (available at three locations in the city) on the day of the concert. Those who tested negative could attend; they were given masks and assigned to one of three areas where they could mingle. Each of these sections contained about 1,600 people and had separate facilities. Those who tested positive for the virus were refunded and required to isolate.
Although this model could help stage similar large-scale events — such as festivals or sports games, where people buy tickets in advance and large venues offer ample space for testing centers — there would be a question mark over who pays for testing and monitoring. Public health departments could explore this as a way to detect infections in young, asymptomatic people who wouldn't otherwise be tested.
For most other activities that bring groups of people together, the logistical challenge of the Barcelona concert approach would be prohibitive. It simply wouldn't work for entertainment that relies on impulse and spontaneity, such as dropping by a bar or a nightclub or even going to the cinema. In these cases, vaccine passports, although controversial, could be a lifeline.
While the hospitality industry has railed against such certifications, due to the cost of policing them and the risk of discriminating against customers who have not had the jab, there is a case for using them for large in-person events, as well as for leisure activities (think, that late-night decision to stop by the club) that are not often planned in advance. Little wonder, then, that Boris Johnson's government is thinking along these lines.
As my colleague Therese Raphael has noted, vaccination passports is a shorthand. People could also show a very recent negative Covid test or proof of natural immunity from a previous infection to gain access to events like concerts and games. There may also be more acceptance for this approach among sports and music promoters, who have lost income from the total shutdown of mass gatherings, than from pubs and restaurants, which have found other ways to keep operating.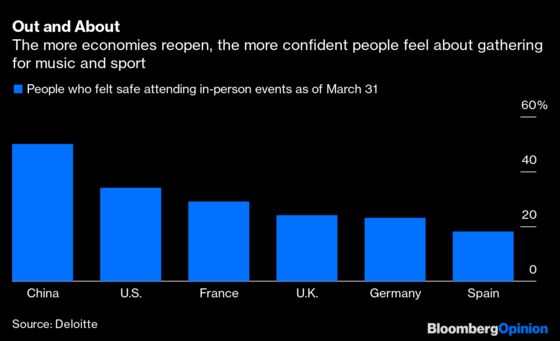 A series of trials will take place in England later this month, bringing people together for the World Snooker Championship in Sheffield, comedy nights, club nights and cinema screenings. Like the concerts in Europe, these could provide valuable clues for how to proceed with events amidst Covid.
After the last year, we could all use that euphoric moment when the lights go down and band starts up. Having to show some proof of being virus free, no matter how unpalatable, may be the key to regaining that feeling again.
This column does not necessarily reflect the opinion of the editorial board or Bloomberg LP and its owners.
Andrea Felsted is a Bloomberg Opinion columnist covering the consumer and retail industries. She previously worked at the Financial Times.