Banks Will Need More Patience for Lending Rebound
(Bloomberg Opinion) -- The first wave of big bank earnings paint a picture of consumers who've been made whole from the pandemic through a combination of government aid and a strong economic recovery. But U.S. consumers remain cautious about taking on new debt, showing they're still not ready — or don't need — to extend themselves in a bet on the future.
Bank executives expect that to change as the recovery shifts from a pandemic bounce-back into a typical economic expansion next year. That's a reasonable assumption given the state of household balance sheets and the trajectory for employment and wage growth, though I'm skeptical it's going to happen over the next couple quarters.
For the second quarter in a row, the improvement in households' finances showed up in bank results through a reduction in the amount of credit losses the banks expect to take on their loans. JPMorgan Chase & Co.'s estimate for those losses fell by $5.3 billion since their peak a year earlier, wiping out 80% of the rise the bank saw at the start of the pandemic. That suggests their customers' balance-sheet risks have nearly abated — a remarkable achievement of fiscal policy and a testament to the speed of the economic and employment recovery over the past year. Other banks showed substantial improvements as well.
Meanwhile, consumers are spending more with their credit cards, spurred by a mix of government pandemic aid, pent up demand and a rebound in employment and incomes. Bank of America Corp. noted that its consumers have spent at a 22% higher rate year-to-date than they did in the first half of 2019.
The problem for banks, and an uncertainty for the economy going forward, is that all this card spending hasn't translated into loan growth. Balance sheet-constrained Wells Fargo & Co. is the poster child for this dynamic, with their consumer-loan portfolio down by 11.3% compared with the second quarter a year ago. Even so, JPMorgan said on its earnings call Tuesday that it believes the same dynamics driving spending growth will soon lead to more borrowing. Households are coming into this expansion with much better balance sheets than they had coming out of the 2008 financial crisis. Citigroup also said it expects loan growth later this year.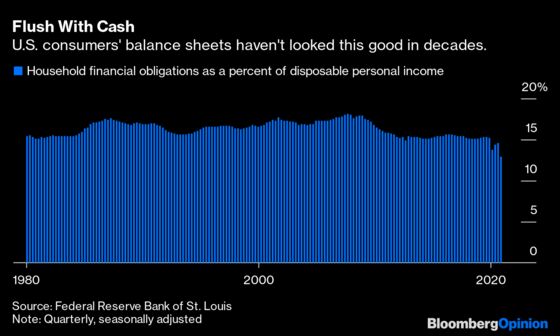 In the short run, consumers are so flush with cash that they might not need to borrow money. My colleague Lisa Abramowicz noted that Bank of America reported a 21% increase in deposits in a quarter when credit- and debit-card spending increased 16% over the previous period, all while credit-card delinquencies fell below pre-pandemic levels. This week also happens to be when households with children start getting monthly checks from the federal government thanks to the American Rescue Plan.
Yet big-ticket items that often require consumers to take out loans have seen price run-ups and inventory shortages over the past year, particularly homes and used vehicles, giving consumers a reason to hold off buying until they're more readily available.
So that's the challenge for banks hoping to see consumer loan growth over the next six months — consumers should be flush with cash for the balance of the year thanks to all the saving they've accumulated during the pandemic and from multiple rounds of fiscal support from the government, and even those willing to borrow might find that the houses and automobiles they're hoping to buy aren't available at the price points they want, causing them to sit on their hands well into next year.
The biggest reason to be optimistic about people continuing to increase their spending and take on more debt is that the financial burden on households is at record lows. The financial-obligations ratio put out by the Federal Reserve, a measure of household spending on categories such as rent and mortgage payments, and credit card and auto payments, relative to incomes, is at record lows, and crashed lower since the start of 2020. That's a result of households curtailing their spending during the pandemic, fiscal support from the government and the decline in interest rates. 
Merely getting back to pre-pandemic levels — which were already historically low — would involve a significant amount of borrowing and spending.
Over the past year, the positive surprises in bank earnings have mostly been about what's happened on Wall Street — elevated trading volumes, security issuance and the like. But what this quarter's bank results are telling us is that the hope and expectation is that Main Street is back, and should be the source of positive surprises going forward.
This column does not necessarily reflect the opinion of the editorial board or Bloomberg LP and its owners.
Conor Sen is a Bloomberg Opinion columnist and the founder of Peachtree Creek Investments. He's been a contributor to the Atlantic and Business Insider and resides in Atlanta.