A Perfect Storm Threatens to Engulf the Bank of England
(Bloomberg Opinion) -- All of the world's major central banks face a tricky test as they contemplate slowing and unwinding the various stimulus packages introduced to ameliorate the economic impact of the pandemic. But a combination of domestic factors threatens to make life harder for the Bank of England than for its peers.
The Old Lady of Threadneedle Street should be starting to slow the pace of bond-buying in its quantitative easing program, paving the way for official interest rates to eventually rise from their current ultra-low level of 0.1%. But an anticipated rebound in growth is stumbling. And policymakers' claims that the recent surge in inflation is only temporary are being undermined by a perfect storm of events outside the central bank's control.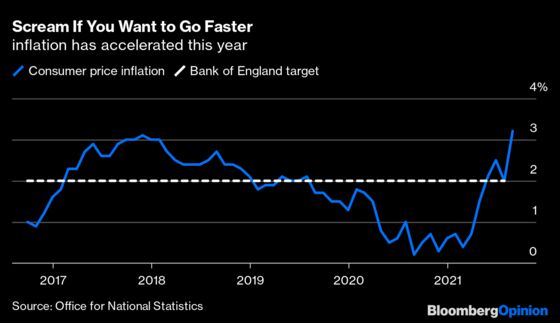 On Thursday, the central bank's Monetary Policy Committee voted to keep policy unchanged for now. But it said inflation could remain at more than double its 2% target until the second quarter of next year, and that the argument for tighter policy has "strengthened." Almost half of Brits already say their cost of living has increased since the beginning of the pandemic, the fourth-biggest cohort among 17 countries surveyed by YouGov last month, Bloomberg News reported last week.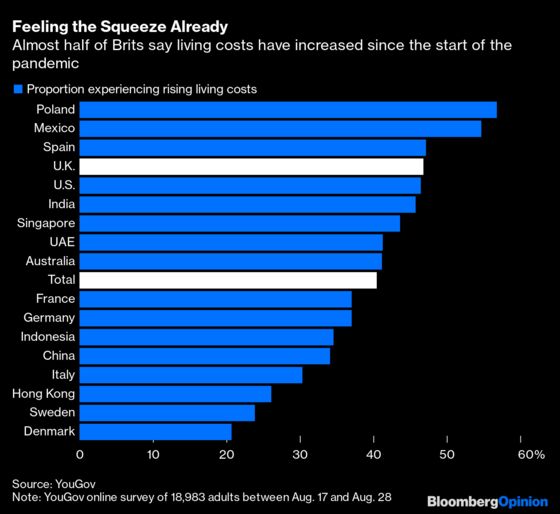 And price pressures continue to build. A lack of wind in the past few weeks stilled the country's 11,000 turbines, which generate a fifth of the U.K.'s electricity. That, coupled with nuclear power stations going offline, a fire closing a key energy interconnector with France and a squeeze on natural gas prices across Europe, has seen several British power suppliers go bust. Customers face price hikes in their energy bills.
That surge in power costs will have a knock-on effect on food prices. The energy market turmoil prompted fertilizer plants to close, which in turn led to a carbon dioxide shortage. Who knew that the gas is used in everything from slaughtering pigs and chickens to keeping lettuce fresh? Or that 60% of the U.K.'s carbon dioxide supply comes from two fertilizer factories? The food industry was already struggling to cope with a post-Brexit shortage of delivery drivers; on Thursday, that lack of truckers plus a shortfall in fuel supplies prompted BP Plc to close some of its service stations.
Those increased price pressures coincide with the government withdrawing some elements of support for people's incomes. A temporary uplift in Universal Credit payments is being withdrawn, and next week will see a halt in furlough assistance that paid 80% of wages to workers laid off during the pandemic. Each of these subsidies reached 1.6 million people. In April 2022, tax rates are scheduled to rise to their highest levels ever to pay for health and social care.
And Brits are expecting monetary conditions to get tighter. A survey of 6,000 retail investors published this week by Hargreaves Lansdown Plc, which runs the biggest U.K. consumer platform serving more than 1.6 million customers, showed two-thirds of respondents expect higher interest rates in the coming year. That's the highest percentage since Jan. 2019. The anticipation of higher borrowing costs risks inhibiting consumer spending whether or not rates actually rise.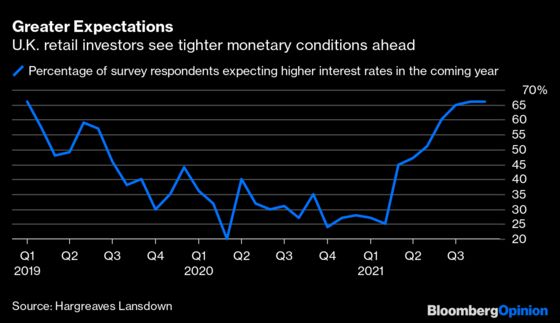 Central bankers know that inflation expectations are at least as important as the actual changes in consumer prices. The Bank of England's August quarterly inflation attitudes survey by research firm Kantar showed Britons expect inflation to be above the bank's 2% target in the next 12 months, the following year and in five years' time. That kind of de-anchoring will be a worry for policymakers.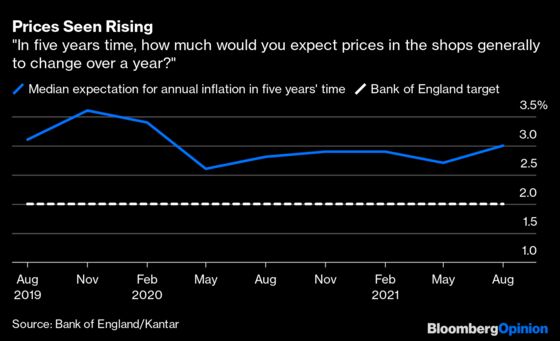 This column does not necessarily reflect the opinion of the editorial board or Bloomberg LP and its owners.
Mark Gilbert is a Bloomberg Opinion columnist covering asset management. He previously was the London bureau chief for Bloomberg News. He is also the author of "Complicit: How Greed and Collusion Made the Credit Crisis Unstoppable."