Bank Executive Bonuses Feed a Bull Market in Bragging Rights
(Bloomberg Opinion) -- When was the last time the chief executive officer of a major bank was poached for a more lucrative job elsewhere? Go ahead, I'll wait…
There was Boris Collardi quitting as CEO of Switzerland's Julius Baer Group AG in 2017 for more money at an unlisted rival private bank, Pictet & Cie. But someone of the prominence of Goldman Sachs Group Inc.'s David Solomon?
And yet when Solomon and John Waldron, his top deputy, were handed an extra bonus share package worth upwards of $50 million in October, it was billed as a defense against the risk they could switch allegiances in the war for talent.
Theirs wasn't the first generous slug of extra pay handed out this year. Jamie Dimon, the longest-serving CEO on Wall Street, who has painstakingly built one of the world's biggest and most profitable banks over 21 years, got some. He seemed to need $50 million of stock appreciation rights in July to stay committed to the cause at JPMorgan Chase Inc.
Then there were the bonus plans worth up to $5 million apiece crafted in August for three Citigroup Inc. executives (though not the CEO) to be awarded when they hit some "transformation goals." OK, these aren't just extra, they are normal plans with targets. But they were criticized for being cash not stock and because the targets are undefined. Shareholders will be told the goals probably in March next year.
The latest pay-me-more news is that Goldman's top executives have been looking around the bank for businesses where maybe they can  take a personal cut of the profits on top of their publicly reported income. 
"This all smacks of old-school Wall Street, when the leaders always took a greater share of the profits," said Mike Mayo, banking analyst at Wells Fargo. "What does it say to all the other employees about what they're worth?"
Industry leaders have complained in recent months that it's hard to find experienced bankers and that young people keep leaving to go and do other things. So, they have to pay everyone more, lifting basic salaries to more than $100,000 for junior bankers in many places. They're offering  more soft benefits too.
They are signaling to investors that costs might be higher this year and beyond. But that's after banker pay was relatively constrained in 2020: Total salaries and benefits as a proportion of revenue were lower than the average for the past decade at Goldman, Morgan Stanley, JPMorgan, Citigroup, Barclays Plc, UBS Group AG and Credit Suisse Group AG.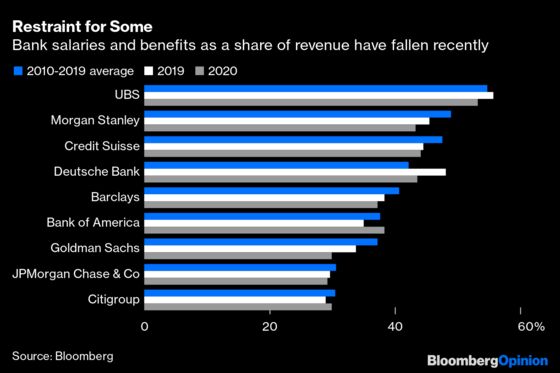 But there is something else going on here, and, really, it's just boom-time one-upmanship. At the highest level, it's not even about the money any more. Mainly it's whether your number is bigger than your rival's.
And it's worth remembering that money is just different in the U.S. compared with other countries. Jes Staley, the outgoing CEO of Barclays, which is no small fry, was paid more in his last two years running JPMorgan's investment bank than he was in his first five years as CEO of Barclays, according to Bloomberg data.
We ought to keep asking what top U.S. banking executives deserve and why — especially now. There's an old Wall Street saying: Don't confuse brains with a bull market. (Hat tip, Mike Mayo.)
The past 18 months have seen record levels of investment-banking revenue from dealmaking, capital markets and trading. Many people have benefited. Executives in technology especially are drowning in rewards. CEOs and corporate insiders have sold record amounts of stock this year, CNBC reported this week, including $10 billion each for Tesla Inc.'s Elon Musk and Amazon.com Inc.'s Jeff Bezos.
The British CEO of Lucid Group Inc., an electric-vehicle maker listed less than a year ago, is on track for an early handout of shares currently worth hundreds of millions of dollars just because its stock price went nuts — so long as the price retains its altitude for a few more months.
The single biggest reason that this is all happening is the trillions of dollars pumped into economies and financial markets by the Federal Reserve, U.S. Treasury and other central banks and governments to keep the world afloat during the Covid pandemic.
All of life's successes are down to a mixture of luck and skill. Solomon and these other executives are all highly competent people without a doubt. But the idea that the huge profits reaped in a market flooded with public money are due mostly to management know-how is a stretch.
Existing pay is already generous. Extracting extra bonuses at the top of the market is, in hindsight, never a good look.
This column does not necessarily reflect the opinion of the editorial board or Bloomberg LP and its owners.
Paul J. Davies is a Bloomberg Opinion columnist covering banking and finance. He previously worked for the Wall Street Journal and the Financial Times.